Fordham's 'Best Kept Secret' Prepares for the Fall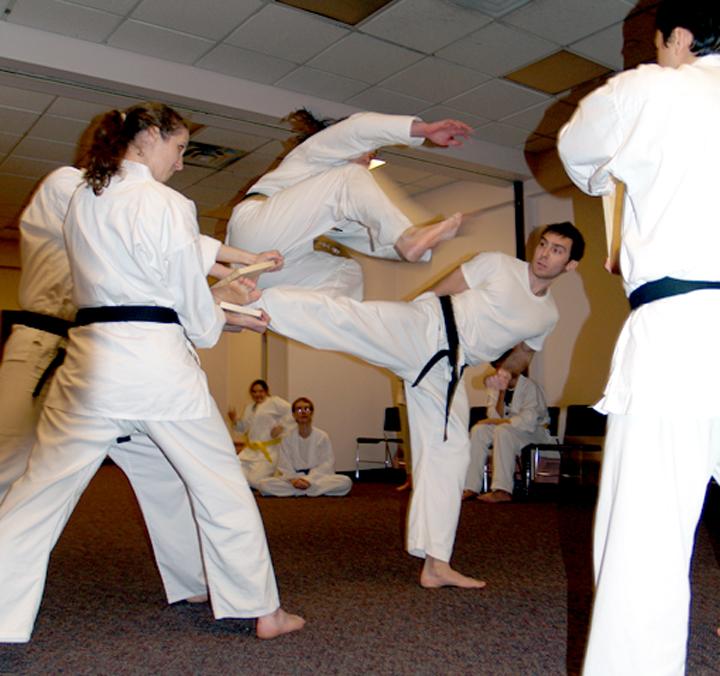 Published: August 28, 2008
Walking the halls of Fordham College at Lincoln Center, you may spot members of this club in your vicinity. You may see them stroll around campus with white pants and different colored belts. You may see them barefoot, jogging around the plaza during cold winter evenings. You may hear the reverberating rumble of their synchronized shouts coming out of Franny's Space.
These are members of Fordham's Tae Kwon Do (TKD) club, a club with a strong and rich history.
"I consider the martial arts training I have received at Fordham to be at least as valuable as my academic classes," said Andrew Hudson, FCLC '09, secretary of the club and a brown belt. "Free Tae Kwon Do is one of the best things that FCLC has to offer. Sometimes we call it 'Fordham's best kept secret'."
The Tae Kwon Do club was started in 1995 by Pat Natoli, FCLC '99, a 1st degree black belt in Tae Kwon Do at the time. According to Natoli, at first, the club was more of a meeting rather than a TKD class. Over time that first year, the club quickly grew from one member to 10.
"(Pat Natoli) decided to offer TKD lessons here under the pretext that as long as there were students who wanted to learn, he would be there to teach them," said Alex Rabinovich, FCLC '09, president of the club and also a brown belt.
As the club grew and become an official club, the club took advantage of whatever area they can practice in. The club started strictly at the fitness center, but has since branched out to other locations throughout the campus. You can see the TKD club practice in Room 205/206 in McMahon Hall, Franny's Space, and the White Box, just to name a few.
The TKD club teaches Chung Do Kwan, a traditional Korean school of Tae Kwon Do. Most times, participants are lined up by belt order so they can learn more from those with more experience. Classes consist of warm-ups, stretching, hitting bags, sparring, and learning basic forms and techniques. In addition, students are able to learn and practice other techniques like break falls and rolls as well as self-defense against knives and weapons.
In its 13 years of existence, the club has seen hundreds of students come and go through the ranks. According to Natoli, more than 20 Fordham students have made it up to black belt, most recently Kit Byrne, FCLC '07, last February. The TKD club is part of the World Martial Arts Assocation (WMAA), run by Headmaster Michael T. Dealy, a Fordham alum who was the president of the original TKD at Rose Hill decades ago.
Perhaps the most important aspect of the club points to the lasting friendships that are made.
Speaking about the start of the club, Natoli said "the club also stuck together and looked out for one another outside of class as well. (The club was) a place where everyone was accepted."
"Members of the club, even those who graduated before I started at Fordham, have become some of my closest friends in the time that I have gotten to know them," said Rabinovich.
The club offers many opportunities to present their knowledge of the martial art. The club hosts movie nights and special exhibitions throughout the year, which includes board breaking. In November and May, club members are invited to compete in a WMAA-sponsored tournament in Brooklyn. According to Natoli, for those interested in moving up the belt ranks, the club tends to have two Exhibition/Promotion tests throughout the year.
"As my knowledge of the martial arts grows, so does the diversity in the class," Natoli said.
Now, a 4th degree black belt, Natoli attempts to expand the diversity of the class by introducing elements of different marital arts. In addition to the Korean form, students are exposed to techniques and theories from MMA (Mixed Martial Arts), Judo and Jiu-Jitsu. Natoli says students should look for the addition of several MMA conditioning regiments added to the experience of the class for the fall.
For commuters who may not be able to make the evening practices, Patrice Kugler, FCLC '11, a 2nd degree black belt, will be teaching additional practices in the afternoon this year.