Lunar New Year Recipe: Jai or Buddha's Delight
January 31st, 2014 is the first day of the Lunar New Year, arguably the most important Asian holiday of the entire year.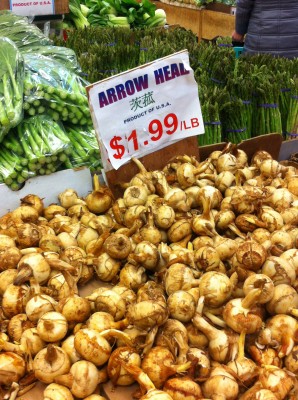 Family members will gather together for huge dinners during New Year's Eve and Day to eat an auspicious amount—like eight because it sounds like "prosperity" in Chinese—of symbolic dishes like steamed whole fish, nian gao, a brown sugar glutinous rice cake or jai, better known as Buddha's delight.
Each family has their own specific recipes on how to make their dishes but below is my grandmother's recipe on how she makes her version of jai.
Jai (Buddha's delight):
Jai is a vegetarian dish that commonly consists of at least eight ingredients. Each ingredient holds a symbolic meaning and essentially, the more ingredients are in the jai, the more happiness and fortune one will consume for the New Year. There is a wide variety of vegetarian options one could choose to compose their jai but listed below are my grandmother's personal favorites. All ingredients could be found in all Asian supermarkets and costs around two to five dollars per dried packaged item and two to three dollars per pound for fresh vegetables.
Serves 2
1.)  1 packaged mung bean thread noodles—longevity
2.)  1½ ounces packaged Dried lily flowers—wealth
3.)  3 water chestnuts each diced into three slices—togetherness
4.)  3 arrow heads each diced into three slices—prosperous life
5.)  1 packaged (6 pieces) fried tofu soybean cake—happiness
6.)  ½ ounce packaged Black fungus—longevity
7.)  1 ounce of packaged Dried black sea moss—prosperity
8.)  3 ounces packaged bean curd sticks—blessing
Water, several tablespoons of oil, ½ stick of brown sugar, several small pinches of salt, a carrot peeler, knife, pot, large cooking pan, spatula and several bowls are the rest of the ingredients and materials. Soy sauce could be substituted for the sugar if one wish to serve the dish salty instead of sweet and a cup of chicken broth could be substituted for the water used to simmer the dish.
Preparation:
1.)  Submerge the dried lily flowers, black fungus and bean curd sticks in warm water and in separate bowls for at least six hours or until soften.
2.)  Repeat for noodles and sea moss except only this time for an hour.
3.)  Boil a pot of water enough to submerge the soybean cakes and place them inside. Simmer them lightly for a minute.
4.)  After a minute, turn off the stove and let the cakes rest inside the pot for ten additional minutes to rid themselves of excess oil.
5.)  After the cakes have rested for ten minutes, take them out and place them in a separate bowl to cool. When they are cool to touch, gently squeeze the remaining liquid within them and then put aside.
6.)  Wash the water chestnuts and arrow heads until thoroughly cleaned and using a carrot peeler, gently peel their skin off. Do not peel off the arrow heads' stem.
7.)  Once again, wash the skinned chestnuts and arrow heads in cold water and after patted dry, cut them into three slices. Put aside.
8.)  After all packaged ingredients soften, take them out of their bowls and dump the water. Remove any excess water on packaged ingredients by patting or squeezing them lightly.  Return them to their original bowls to sit until cooking.
9.)  Chop the black fungus into halves and the bean curd sticks into three or five pieces, depending on the sticks' lengths.
10.) Heat the cooking pan or wok to a medium-high heat and coat well with one tablespoon of oil. Add hydrated bean curd sticks, sea moss, lily flowers and a light pinch of salt into pan. Stir-fry for two minutes.
11.) Next, add the arrow head, chestnut slices and a small pinch of salt into the mixture and stir-fry lightly for another two minutes. Add another tablespoon of oil into mixture if it is too dry.
12.) Then, add the rest of the ingredients into the pan and stir-fry for two minutes. Add a tablespoon of oil if needed.
13.) Pour a cup of water or a can of chicken broth into the mixture, cover the pan and wait for the water or broth to boil. When it boils, add the stick of sugar into the mixture and cover the pan. Simmer for 15 minutes or until the mixture absorbed the liquid.
14.)  After everything is absorbed, add a pinch of salt or tablespoon of soy sauce for taste. Stir-fry all the ingredients one last time before serving.