American Hustle, Breaking Bad Lead the 71st Annual Golden Globe Awards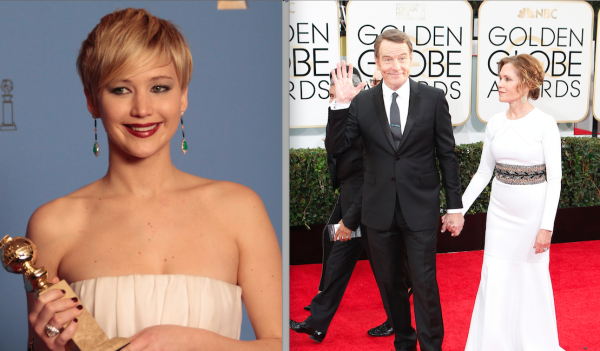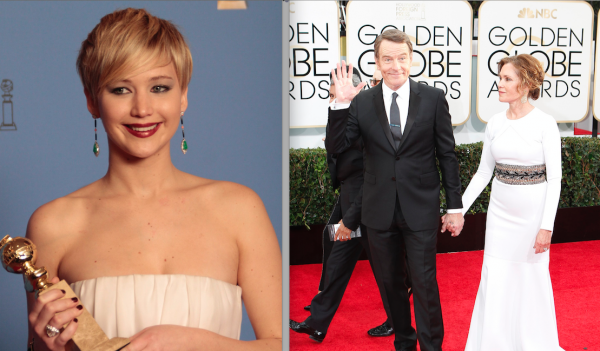 The 2014 Golden Globe Awards, hosted by Tina Fey and Amy Poehler for the second year, took place on Sunday, Jan. 12 in Los Angeles, awarding excellence in television and film.
In the film categories, "American Hustle" took home three awards, increasing chances of sweeping the Oscars when nominations are announced on Thursday, Jan. 16. In addition to winning the Golden Globe for Best Motion Picture – Comedy, Amy Adams and Jennifer Lawrence took home the Golden Globe for Best Leading and Supporting Actress in a Musical or a Comedy, respectively. Both actresses heralded director David O. Russell, with Adams praising him for for writing "amazing roles for women. Thank you so much for showing that a princess can punch and wear a low cut gown."
"12 Years a Slave" won the Golden Globe for Best Motion Picture – Drama, but failed to win any of its other seven nominations.
Cate Blanchett won the Golden Glove for Best Leading Actress in a Drama for her work in "Blue Jasmine," while Leonardo DiCaprio won for Best Leading Actor in a Comedy for his performance in "The Wolf of Wall Street."
For their performance in "Dallas Buyers Club," Matthew McConaughey and Jared Leto were awarded the Best Leading Actor and Best Supporting Actor in a Drama.
In the television categories, AMC's "Breaking Bad," which recently ended after five critically-acclaimed seasons, took home two Golden Globes: Best Television Drama Series and for Best Leading Actor in a Drama Series for Bryan Cranston. "This is such a wonderful honor and such a lovely way to say goodbye to the show and what it means to me," Cranston said. On the comedy side, Fox's "Brooklyn Nine-Nine" also took home two Globes: Best Television Comedy Series, and for Best Leading Actor in a Comedy Series for Andy Samberg.
In their opening monologue, Fey and Poehler set the tone for the event by throwing zingers at the nominees, for the "women and gay men watching at home." No nominee was safe, with jovial shots hurled at Meryl Streep, Tom Hanks, Matt Damon, Jennifer Lawrence, Jonah Hill, and most memorably, Julia Louis-Dreyfus.
The Cecil B. DeMille Award, an honor bestowed by the Hollywood Foreign Press Association for outstanding contributions to the entertainment world, was presented to Woody Allen. Notorious for skipping award ceremonies, Diane Keaton was on hand to accept the lifetime achievement award. "I think it's safe to say that Woody Allen is an anomaly. He's made 74 movies in 48 years," Keaton said. "He's directed them, he's starred in them, he's produced them and of course, he's written them. He's written all of them, every one."
A complete list of winners and nominees can be found below.
 Complete List of Winners and Nominees:
BEST MOTION PICTURE – DRAMA
12 Years A Slave
Nominees: Captain Phillips; Gravity; Philomena; Rush
BEST PERFORMANCE BY AN ACTRESS IN A MOTION PICTURE – DRAMA
Cate Blanchett (Blue Jasmine)
Nominees: Sandra Bullock (Gravity); Judi Dench (Philomena); Emma Thompson (Saving Mr. Banks); Kate Winslet (Labor Day);
BEST PERFORMANCE BY AN ACTOR IN A MOTION PICTURE – DRAMA
Matthew McConaughey (Dallas Buyers Club)
Nominees: Chiwetel Ejiofor (12 Years a Slave); Idris Elba (Mandela: Long Walk to Freedom); Tom Hanks (Captain Phillips); Robert Redford (All Is Lost)
BEST MOTION PICTURE – COMEDY OR MUSICAL
American Hustle
Nominees: Her; Inside Lleywn Davis; Nebraska; The Wolf Of Wall Street
BEST PERFORMANCE BY AN ACTRESS IN A MOTION PICTURE – COMEDY OR MUSICAL
Amy Adams (American Hustle)
Nominees: Julie Delpy (Before Midnight); Greta Gerwig (Frances Ha); Julia Louis-Dreyfus (Enough Said); Meryl Streep (August: Osage County)
BEST PERFORMANCE BY AN ACTOR IN A MOTION PICTURE – COMEDY OR MUSICAL
Leonardo DiCaprio (The Wolf of Wall Street)
Nominees: Christian Bale (American Hustle); Bruce Dern (Nebraska); Oscar Isaac (Inside Llewyn Davis); Joaquin Phoenix (Her)
BEST ANIMATED FEATURE FILM
Frozen
Nominees: The Croods; Despicable Me 2
BEST FOREIGN LANGUAGE FILM
The Great Beauty
Nominees: Blue is the Warmest Color; The Hunt; The Past; The Wind Rises
BEST PERFORMANCE BY AN ACTRESS IN A SUPPORTING ROLE IN A MOTION PICTURE
Jennifer Lawrence (American Hustle)
Nominees: Sally Hawkins (Blue Jasmine); Lupita N'yongo (12 Years a Slave); Julia Roberts (August: Osage County); June Squibb (Nebraska)
BEST PERFORMANCE BY AN ACTOR IN A SUPPORTING ROLE IN A MOTION PICTURE
Jared Leto (Dallas Buyers Club)
Nominees: Barkhad Abdi (Captain Phillips); Daniel Bruhl (Rush); Bradley Cooper (American Hustle); Michael Fassbender (12 Years a Slave)
BEST DIRECTOR – MOTION PICTURE
Alfonso Cuaron (Gravity)
Nominees: Paul Greengrass (Captain Phillips); Steve McQueen (12 Years a Slave); Alexander Payne (Nebraska); David O. Russell (American Hustle);
BEST SCREENPLAY – MOTION PICTURE
Her
Nominees: Nebraska; Philomena; 12 Years A Slave; American Hustle
BEST ORIGINAL SCORE – MOTION PICTURE
Alex Ebert (All Is Lost)
Nominees: Alex Heffes (Mandela: Long Walk To Freedom); Steven Price (Gravity); John Williams (The Book Thief); Hans Zimmer (12 Years A Slave);
BEST ORIGINAL SONG – MOTION PICTURE
Ordinary Love (Mandela: Long Walk to Freedom)
Nominees: Atlas (Hunger Games: Catching Fire); Let It Go (Frozen); Please Mr Kennedy (Inside Llewyn Davis); Sweeter Than Fiction (One Chance)
BEST TELEVISION SERIES – DRAMA
Breaking Bad
Nominees: Downton Abbey; The Good Wife; House Of Cards; Masters Of Sex
BEST PERFORMANCE BY AN ACTRESS IN A TELEVISION SERIES – DRAMA
Robin Wright (House Of Cards)
Nominees: Julianna Margulies (The Good Wife); Tatiana Maslany (Orphan Black); Taylor Schilling (Orange Is The New Black); Kerry Washington (Scandal)
BEST PERFORMANCE BY AN ACTOR IN A TELEVISION SERIES – DRAMA
Bryan Cranston (Breaking Bad)
Nominees: Liev Schreiber (Ray Donovan); Michael Sheen (Masters of Sex); Kevin Spacey (House of Cards); James Spader (The Blacklist)
BEST TELEVISION SERIES – COMEDY OR MUSICAL
Brooklyn Nine-Nine
Nominees: The Big Bang Theory; Girls; Modern Family; Parks & Recreation
BEST PERFORMANCE BY AN ACTRESS IN A TELEVISION SERIES – COMEDY OR MUSICAL
Amy Poehler (Parks & Recreation)
Nominees: Zooey Deschanel (New Girl); Lena Dunham (Girls); Edie Falco (Nurse Jackie); Julia Louis-Dreyfus (Veep)
BEST PERFORMANCE BY AN ACTOR IN A TELEVISION SERIES – COMEDY OR MUSICAL
Andy Samberg (Brooklyn Nine-Nine)
Nominees: Jason Bateman (Arrested Development); Don Cheadle (House of Lies); Michael J. Fox (The Michael J. Fox Show); Jim Parsons (The Big Bang Theory);
BEST MINI-SERIES OR MOTION PICTURE MADE FOR TELEVISION
Behind The Candelabra
Nominees: American Horror Story: Coven; Dancing on the Edge; Top of the Lake; White Queen
BEST PERFORMANCE BY AN ACTRESS IN A MINI-SERIES OR MOTION PICTURE MADE FOR TELEVISION
Elisabeth Moss (Top of the Lake)
Nominees: Helena Bonham Carter (Burton and Taylor); Rebecca Ferguson (White Queen); Jessica Lange (American Horror Story: Coven); Helen Mirren (Phil Spector)
BEST PERFORMANCE BY AN ACTOR IN A MINI-SERIES OR MOTION PICTURE MADE FOR TELEVISION
Michael Douglas (Behind the Candelabra)
Nominees: Matt Damon (Behind the Candelabra); Chiwetel Ejiofor (Dancing on the Edge); Idris Elba (Luther); Al Pacino (Phil Spector)
BEST PERFORMANCE BY AN ACTRESS IN A SUPPORTING ROLE IN A SERIES, MINI-SERIES OR MOTION PICTURE MADE FOR TELEVISION
Jacqueline Bisset (Dancing on the Edge)
Nominees: Janet McTeer (White Queen); Hayden Panettiere (Nashville); Monica Potter (Parenthood); Sofia Vergara (Modern Family)
BEST PERFORMANCE BY AN ACTOR IN A SUPPORTING ROLE IN A SERIES, MINI-SERIES OR MOTION PICTURE MADE FOR TELEVISION
Jon Voight (Ray Donovan)
Nominees: Josh Charles (The Good Wife); Rob Lowe (Behind the Candelabra); Aaron Paul (Breaking Bad); Corey Stoll (House of Cards)