Dr. Dog to Headline Second Annual WinterFest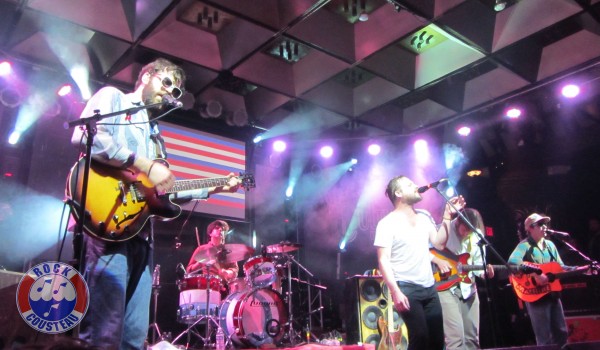 The Campus Activities Board (CAB) announced that Dr. Dog will be performing at Winterfest 2014.
Dr. Dog, a psychedelic rock band from Philadelphia released their eighth album, "B-Room," earlier this year on Oct. 1 and will headline a national tour in 2014. The band performed at the Coachella Valley Music and Arts Festival in 2009 and has been featured on television talk shows like "Late Show with David Letterman," "Late Night with Jimmy Fallon," "The Late Late Show with Craig Ferguson" and  "Conan."
Greg Pfeiffer, FCLC '14, had mixed feelings about the announcement. "I was slightly disappointed that the headlining band wasn't one of the more popular artists listed on the survey taken last year, like A Fine Frenzy or Augustana," Pfeiffer said. "But I'm looking forward to hearing some new music."
Many students were not familiar with Dr. Dog's music. "Who? I think they're a folk band," Christopher Cordeiro, FCLC '14, said, when asked about his reaction to the announcement that Dr. Dog would headline Winterfest. To the same question, Paola Aguayo, FCLC '17, said, "I won't be going to Winterfest because I don't know them." However, Isabella Gianatiempo, FCLC '14, said, "I've never heard of them, so the concert will be a nice chance to discover new music."
However, some students were familiar with the artist and were pleased to hear the announcement about their upcoming performance. "I can't wait for Dr. Dog to perform!" Wilson Yuen, FCLC '14, said. Tania Bello, FCLC '14, said, "I'm so happy! I know a few of their songs and I love them!"
Marie Cascione, FCLC '17, was unsure if she is going to attend Winterfest. "I've only heard one or two songs from Dr. Dog," Cascione said. "So I think I am going to listen to some more of their music and see if I like it."
Alyssa DiScipio, FCLC '14, was looking forward to her last Winterfest. "I have never heard their music before," DiScipio, said. "But regardless, I am excited to attend their performance as my last Winterfest!"
The second annual Winterfest will be on Jan. 24, 2014 at Pope Auditorium at FCLC. Tickets are $5 and will be sold at the beginning of next semester.