"The Dreamer Examines His Pillow," Fordham's Last Studio Show of the Season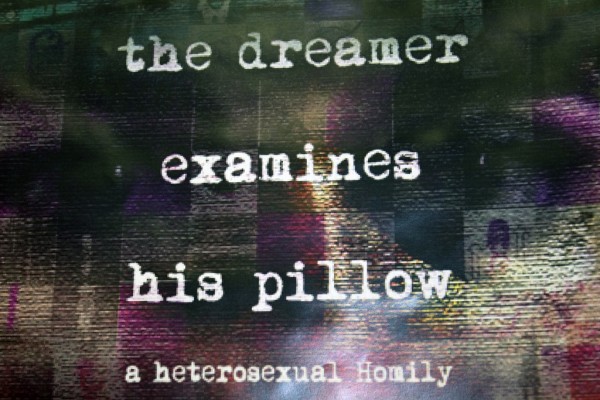 On Dec. 2 in the Veronica Lally Kehoe Studio Theatre, the final studio show of the semester will give its audience plenty to think about as they wait for the spring 2014 season. Full of soul-searching, life-questioning and romantic drama, "The Dreamer Examines His Pillow" by John Patrick Shanley was practically written for the twenty-something crowd.
"'Hail to you, O my refrigerator. Is my self in you?' He's literally looking for himself in his refrigerator," Director David Loose, Fordham College at Lincoln Center (FCLC) '15 said, as he mimed the actions of Tommy, one of three characters in "Dreamer." "He's done the soul-searching thing for months and months, and he's just devolved into literally looking for his soul, like, under his chair, under his bed, in the refrigerator."
"Dreamer," which won the Pulitzer Prize for Drama in 1988, tells the story of Tommy and Donna, who ended their love-hate, on-again-off-again relationship four months before the start of the play. When we meet the characters, Donna has returned to Tommy's rundown $200-a-month Manhattan apartment because she heard he has been hitting on her sister Mona. Tommy is 27 years old, while Mona is 16.
"He's not an evil person [but] he just feels like he's out of control of himself,"  Loose said. "Not like, 'Oh, I can't control myself. Whatever' but like, 'I don't even feel like I'm the one doing these things.' Donna comes in and just tries to talk sense into him and is like, 'No, there's not a devil in you. That devil is your soul. That's where your soul is. You need to figure yourself out!'"
Loose was initially drawn to the piece because of how he related to the main character. "Tommy is a little bit older than us but when I was first reading it, I said, 'Oh my God, I am Tommy! This is me!'" said Loose. "Donna's Dad has a line to Tommy where he says, 'You're, like, a too-typical, too-human kind of guy.' Tommy is very human and I really feel, specifically male. A lot of his problems are [along the lines of fear of commitment] that basically all men have, including me. It's time for him to grow up and be a man, not a boy, and take responsibility for himself, his actions, and their consequences."
Meanwhile, Donna's fears are described by her father as "women fears." "She's afraid of what's going to happen if she stays with Tommy and she's afraid of what's going to happen if she leaves Tommy," Loose said. "She wants to avoid ending up like her mother and avoid ending up with someone who is remotely like her father."
Loose, instantly recognizable by his brightly dyed hair that seems to change color every day, understands the importance of finding one's own path, even if it is a bit unconventional. "I'm coming back for a whole super-senior year," he said. "I came into the theatre program freshman year strictly on the performance track and then I decided I wanted to double-concentrate in directing even though that's not really [an option]."
"It's given me so much clarity of mind to think about this play and what I want to do with it and also about my own life," Loose said. "Tommy's whole thing is that he loves to admit that he needs to change, he loves to talk about how he needs to change, and he loves to talk about how committed he is to changing … with no action. The thought doesn't even enter his brain."
"It's been so interesting to be thinking about this play constantly and what it means and then to realize that, at the same time, I have locked myself in my room, not spoken to anyone all day for the eighteenth day in a row except for when I went to class or rehearsal. I had this moment of 'I'm Tommy right now! I need to quit being Tommy!'"
"This has been the best rehearsal process I've been part of,"  Marshall Taylor Thurman, FCLC '15, said, who plays Donna's dad and is also sound-designing the production. "Every day of rehearsal, I've learned something and had to overcome a challenge. That usually only happens once in a rehearsal process. This happens every day. I've never been more aware of the growth I've had than during this process."
"This is not a warning, it's not a cautionary tale," Loose said, but he "decided ultimately to include a subtitle from a later edition that Shanley added." The addition of "A Heterosexual Homily" to the title "points out to the audience that this a homily, this is a sermon. Yes, it's a fascinating story, it's intense, but at the same time, there are things to be learned here."
Loose feels the play is about the importance of figuring out who you really are, a universal theme that may resonate especially with other college students. "I feel like a lot of people who have midlife crises start like this. They feel like they have no control and that's why they wake up one morning and buy a Ferrari. 'What kind of guy am I? I'm a guy who drives a Ferrari!'"  Loose said.
"One of my biggest goals for this production is that the audience who sees the show, at least for a little while, at some point in their lives, thinks about this play and their own lives and whether or not they know themselves," Loose said. "I will feel like I was completely successful, if everyone, at least for one minute, just thinks a little bit about this play in relation to their own lives."
IF YOU GO:
"The Dreamer Examines His Pillow"
Where: Veronica Lally Kehoe Studio Theatre
When: Mon.-Wed. Dec. 2-4
Time: 7:30 p.m.
Price: Admission is free, but seating is limited. Email [email protected] for reservations.