Douglas Brinkley Wins the Sperber Award for "Cronkite"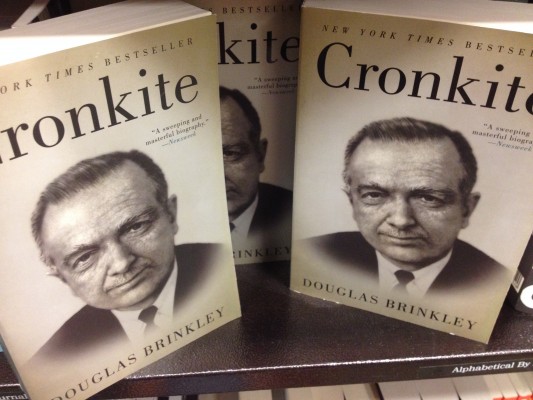 On Nov. 25, Douglas Brinkley, winner of  Washington Post Book of the Year Award for 2012 and writer of a New York Times Bestseller, can claim yet another accolade: winner of the Ann M. Sperber Biography Award for 2013. Winning for his biography on Walter Cronkite, entitled "Cronkite," Brinkley speaks a bit about the famous journalist, teaching on the road and being the person who CNN once referred to as "a man who knows more about the presidency than just about any human being alive."
"Cronkite," is the first biography of the journalist, aside from Cronkite's autobiography, details the career and private life of the man who delivered news to Americans for the greater part of the 20th century. "Up until [the 1950s], people got their news from magazines and newspapers," Brinkley said. "TV was really a huge innovation in the 1950s and Cronkite was there to bring it into our homes." Brinkley's book tells of the man who played a pivotal role in the Camp David Peace Process, a meeting between Israeli and Egyptian leaders. Cronkite also had two presidents eulogize him and "when he wasn't broadcasting or writing he was the real life of the party," Brinkley said. Cronkite was there to inform the country during tragedy and joy, always signing off with his trademark catchphrase: "And that's the way it is."
According to Albert Auster, associate professor of communication and media studies at Fordham College at Lincoln Center (FCLC) and   a judge on the Sperber Award committee, the award is based on the coverage of "a major figure in journalism" and on  "excellence in research." Brinkley's book certainly qualifies, even based on only the first criterion. Cronkite is a well-known name that is synonymous with journalistic excellence; his famous coverage of President John F. Kennedy's assassination, which is nearing its 50th anniversary this year, helped shape how the nation coped with the tragic loss of President Kennedy and "Camelot," the nostaglic nickname given to the Kennedy Administration and the near utopian sentiment of America in the 1950s and early 1960s. "Everybody in the older generation says they remember Vietnam and Watergate and Martin Luther King Jr. and going to the moon—but what we all remember is Cronkite broadcasting it into our living rooms," Brinkley said.
Brinkley claims he first developed an interest in politics and history in early childhood. "I grew up in Ohio and we have a lot of presidents from that state, so I became very interested in presidential history as a boy," Brinkley said. Before Brinkley became a professor of history, teaching at Tulane University, Hofstra University and Rice University, where he currently works, he attended Ohio State University as an undergraduate and earned an M.A. and Ph.D. from Georgetown University.
In the '90s, he started an incredibly popular program at Hofstra, called "The Majic Bus," where students could earn credit by touring America on two natural gas-fueled buses,. "[The program was] sort of a 3D, all-purpose Americana class and the idea was to read about 30 seminal books of American history and literature while living on the road," Brinkley said. He took students across the nation to see presidential libraries, Civil War battlefields, national parks and homes of writers like Willa Cather, John Steinbeck and W.E.B. Dubois. According to Brinkley's philosophy: "If you're going to read about Valley Forge, go see Valley Forge."  Brinkley later wrote a book inspired by his travels, entitled "The Majic Bus: An American Odyssey," about which The Associated Press (AP) said, "if you can't tour the United States yourself, the next best thing is to go along with Douglas Brinkley aboard 'The Majic Bus.'"
Brinkley is more than just a historian and a professor. He is also an avid conservationist. He has publicly spoken about in favor of environmental causes, including advocating in Congress to declare a part of the Alaskan National Wildlife Rescue a national monument to prevent drilling on land occupied by caribou herds and polar bears. Republican Representative Don Young of Alaska and Brinkley reportedly exchanged words during the infamous Congressional hearing. According to Brinkley "things got heated." Brinkley finds that the greatest political challenge America is facing today is conservation, and believes that it is necessary "[to save] our planet from ruin," citing Superstorm Sandy as an impetus for change and a need to conserve natural resources and reduce carbon emissions.
Brinkley advises hopeful writers to simply sit down and write, and "be an enthusiast about your topic and read, read, read…the more you read the better your own writing gets." He is taking his own advice in that department and is currently working on a book discussing President Franklin D. Roosevelt and the environmental policies of the 1930s and 1940s.
Brinkley will accept the Sperber Award during the ceremony which will  be held in the 12th floor lounge at FCLC on Nov.  25 at 6:00 p.m. The ceremony will be open to the public.