Ronaldo vs. Ibrahimovic: There Can Only Be One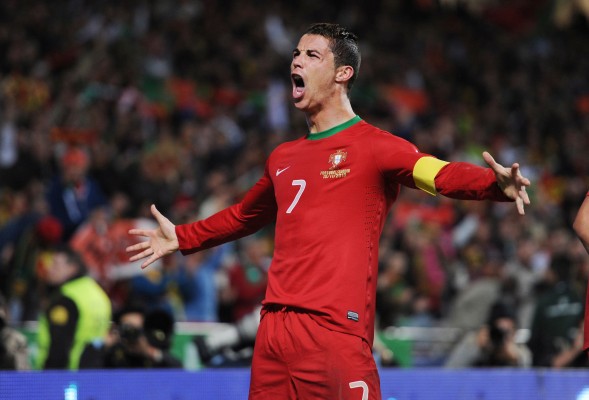 This week two of soccer's elite players will duke it out in an elimination match to make it to the 2014 World Cup in Brazil. It will be Cristiano Ronaldo of Portugal against Zlatan Ibrahimovic of Sweden. At the moment, Portugal has a one-goal advantage, thanks to Ronaldo's header in Lisbon this past Friday. However, that can all change. The final game will be played in Stockholm, Sweden and it is far from over due to what's at stake for both of these players.
It is hard to imagine soccer today without thinking about Cristiano Ronaldo. He's well-dressed, good looking, wealthy, and flashy. His style of soccer reflects all these qualities. He plays for Real Madrid, a dream team for any player to play for let alone be the image of. Plus, he is already regarded as one of the sport's greatest players.
He is 28 years old and at the peak of his career, and so for him to not make the World Cup next year would be a disaster for him personally as well as for the sport. The World Cup would be missing a great player along with his potential profits through jersey sales and his sponsors who, according to Forbes.com, include Nike, Castrol and Konami.
If Ronaldo does not make it to the World Cup in Brazil, it will destroy him mentally. He would have to wait four more years in order for another chance to add a World Cup to his legacy, something that he'd need to do to be considered, without a doubt, the best player ever. At 32, Ronaldo will not be as good as he is now at 28. Age never bodes well for a soccer player.
Also there's the chance that Ronaldo and Portugal could face his rival Lionel Messi and Argentina as they both seek their first World Cup trophy of their careers. That is pretty enticing.
Messi has already qualified for the World Cup in Brazil with Argentina. So if Portugal lose to Sweden and do not even compete next summer, Ronaldo will continue to be seen as an inferior player to Messi, which drives him crazy enough in regards to their trophy counts. If Messi wins the World Cup, which is a big if, and Ronaldo wasn't even good enough to get his team a chance to compete, he would be devastated. The World Cup trophy is what critics of both players say they need in order to be considered the best ever, even better than Pelé.
If Messi wins it and Ronaldo doesn't, no matter what Ronaldo does, he will never be considered the greatest player. He wants to be the best; it's part of his nature. What he has to do is beat Sweden in Stockholm because this is probably his last chance to win the World Cup. He is 28 years old and in his prime on a team that heavily relies on him. He can't wait, because when he's 32 years old it may be too late.
Now let's not forget about Zlatan Ibrahimovic; he is also one of the best players today. Ibrahimovic is a striker who scores what are, probably, the most impressive goals out of any player ever seen. Look at his bicycle kick against England and you will agree. He also wants to win the World Cup. At 32 years old, he knows this is his last chance at winning the World Cup because after waiting four more years he will be 36 and it would be futile.
The Swedish National Team isn't that great of a team without him. According to ESPN, the Paris Saint-Germain striker who has scored 8 goals in 12 games so far, compared to Ronaldo's 16 goals in 13 games, is in good form.
He doesn't care if more people want Ronaldo to play in the World Cup than him; he wants to make himself and Sweden proud in the summer of 2014. According to ESPN, Ibrahimovic said, "I think that the World Cup needs Zlatan more than Ronaldo." Not every player has a stamp of themselves in their home country, but Zlatan does. The least he can do is bring them to the World Cup.
These two great individual players will have a lot at stake such as their pride, legacy, image and futures. With Portugal having a 1-0 aggregate, the pressure is on Sweden. However, with their home advantage, Sweden will be fired up with their fans rooting for their national team. Will it be Ronaldo or Ibrahimovic?