Are Too Many A's a Problem?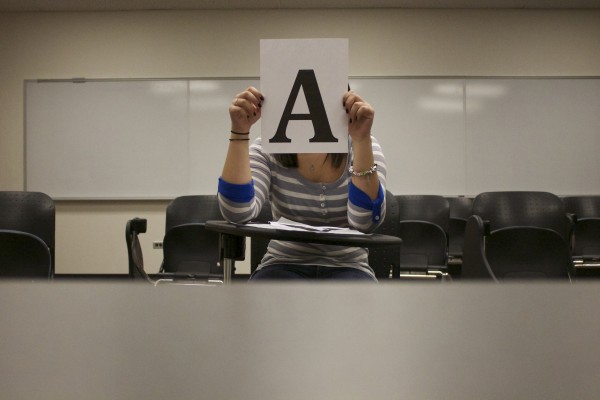 In recent years, universities such as Yale and Columbia have encountered issues with grade inflation. Although it also occurs at Fordham, some professors do not view grade inflation as problematic.
A similar rise to Fordham's GPA and distribution of A's is not viewed positively, according to Mattson. "This is a cause for concern; if we had a reputation of being grade inflators, people would discount the grades that students got at Fordham," Mattson said. "For instance, if everyone thought that an A at Fordham might be a B somewhere else, then that would be a bad thing. That would be a danger if people perceived us that way—we don't want a reputation [for being grade inflators], if we see that the GPAs are enhanced."
According to Mattson, the reason for the rise in the college and departments' GPAs is due to the flexibility professors have when grading; they have the freedom to choose whether or not they want to follow Fordham's template grading policy. "The grading policy at Fordham is just a suggestion; it is not a mandated policy," Mattson said. "Grading in courses is an academic freedom issue. It is up to the faculty member to specify that in their syllabus. We have guidelines at Fordham, but it is not mandated for professors to follow."
Mattson said that professors have different approaches to grading, which contributes to the difference in the department and the college GPA. "People do the rounding differently, but some do not round at all. If you have the grade of an 89, some professors would round up to an A."
The only way to fix grade inflation is by advising the faculty, according to Mattson. "[The department chairs would] give feedback. For instance, you might have a case where a lot of seniors in your class that are on the top of their game – you might have more A's in that class. But if we see the same pattern [in that professor's] introductory math course, then it would be surprising to see everyone getting A's. It depends on the course and the department, but you do want to give people feedback of where they stand, relative to the other professors in the department," he said.
However, according to Doron Ben-Atar, former associate chair of history, grade inflation is not an issue in subjects in the humanities. "There is grade inflation in the history department, but it is not a problem," he said. "Grading in general is so uneven. What we are looking for in history papers is analysis; there is much room for interpretation."
Daniel Ott, associate chair of art history and music, agreed with Ben-Atar, saying that grade inflation is not problematic. "Our department wants to make classes challenging; we want to set a high level of excellence for students. Departments look at grades, and see that students who earn an A have honors level work," he said. "[Grade inflation] never affected me personally; our department never had to limit grades."
"There is no one way to grade," Christopher Maginn, associate professor of history, said in regards to grading. "I try to adhere as fairly and as literally to the definition that Fordham attaches to its grades, such as an A is counted as honors, excellent work. I think I've worked here long enough to know an A paper—I know when a paper is an A when I see one," he said.
When speaking about grade inflation, Maginn addressed the different meanings of grade averages. "It gets more complicated when you talk about an average [grade]; an average at Fordham is a C+. But in these days of grade inflation, most people aren't happy with a C+; the average is a B, but that's supposed to be clearly above average," he said.
Associate Professor of English Anne Fernald said that it is up to the professor to determine whether the work is worthy of an A. "I teach an English class, but then I grade papers and essays that don't use number grades like math or science classes. It is a judgment call on what is an A, A-, or a B+," she said.
Joseph Rametta, FCLC '17, has not noticed any evidence of grade inflation at Fordham. "Getting A's at Fordham is not easy; it is definitely a challenge. Most of the assignments in college are very tough, especially when writing papers; professors expect us to be strong writers," he said. "I think A's are hard to get because [the college] is trying to be more competitive with other schools."
According to Karman Chao, FCLC '16, and Emily Capuano, FCLC '15, grades given out depend on the professor and the students in the class.
"It really depends on the professor when getting A's, or it may be the people and the effort they put in the class. Professors make their classes hard on purpose; being challenged is helpful in this environment," Chao said.
"It depends on the professor and the subject they're teaching," Capuano said. "There are professors who are critical and demanding; some expect a lot from students."