Eric Foner Talks Lincoln at Anne Mannion Memorial
On Nov. 7 at Fordham College Lincoln Center (FCLC), Columbia University's History Professor and Author Eric Foner, Ph.D, spoke at the Anne Mannion Memorial Dialogue about President Lincoln in film and history.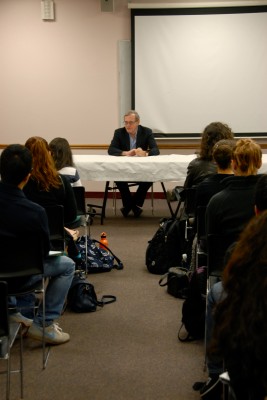 Foner and students discussed the accuracy and quality of two movies. "['Abraham Lincoln: Vampire Hunter'] has insight deeper than anything in the 'Lincoln' movie. Plantation owners are living off the blood of their slaves. . .The 'Lincoln' movie is completely superficial compared to that," Foner said. "Slavery [was] dying on the ground; it's not dying in Congress."
Marie Cascione, FCLC '17, found Foner's opinion on Spielberg's "Lincoln" movie shocking. "It surprised me how critical the speaker was of a movie that seemed so accurate to me," Cascione said. "The speaker made me [think] twice about the historical accuracy of Hollywood movies."
In the conversation, Foner said he challenged the American current perception of Lincoln in his 2010 book, "The Fiery Trail: Abraham Lincoln and American Slavery."
"People didn't like my idea. . .that Lincoln grew. If Lincoln grew, he didn't start off perfect. And many people believe that Lincoln was born with a pen in his hand, waiting to sign the Emancipation Proclamation. . .The assumption is that he was always perfect," Foner said.
Rosana Smith, FCLC '17, enjoyed Foner's talk. "I really enjoyed the speaker's candid presentation. It was amazing to be able to talk to such a renowned historian without leaving campus," Smith said.
Foner closed by talking about the role of a historian. "There's the saying: 'The historian is the enemy of the nation.' The historian breaks down the national myths that the country needs to create a sense of national pride," he said. "We [as scholars] have an obligation to insure that the information out there is as accurate and up-to-date as possible."