FCLC is Not a "Branch School"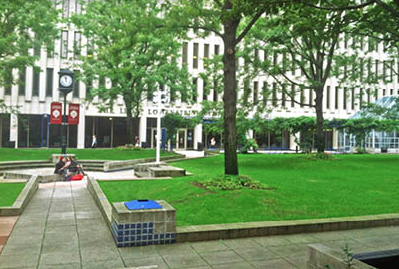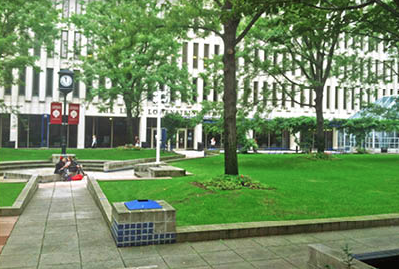 Dear family and friends back in Ohio,
I do not attend what you all refer to as "a branch school."
To me, the statement above seems obvious. Fordham University is a school that has several campuses—one in the Bronx, one in Manhattan and one in Westchester. One look at Fordham's website and you will see that the University does not refer to Rose Hill as their "main" campus; rather, the site calls Rose Hill the "original" campus. Although it is common knowledge that Westchester is the campus that caters mostly to working adults, Fordham College at Lincoln Center (FCLC) and Fordham College at Rose Hill (FCRH) are both equally challenging and desirable for prospective college students to try to get into—one is not necessarily better than the other.
Yet, as many times as I try to explain the dynamic of Fordham's campuses, I am still forced to brace myself for a conversation like this every time I return home:
"Where do you go to college?"
"Fordham University."
"Oh, the Bronx! How do you like it?
"Well, no, you see, I go to the Fordham University in Manhattan."
"Oh. I see. So when are you transferring into the real one?"
Fordham prides itself on having two-main-campuses-in-one, but this seems to be a foreign concept for you back in Ohio. Ohio State University (OSU) is a classic example of how most of you assume college campuses work. At OSU, the "main campus" is in Columbus, Ohio. Although OSU has campuses in the areas of Wooster, Lima, Mansfield, Marion and Newark, they don't seem to be taken as seriously because they aren't the Columbus campus. This is the campus that "everyone wants to get into" and therefore, the Columbus campus is able to uphold higher standards for admission that the other campuses do not. For the most part, people generally assume that students at the branch campuses did not have high enough test scores or GPAs to get accepted into the main campus.
The struggle that out-of-staters have when trying to understand Fordham's Rose Hill/Lincoln Center set-up is frustrating. While I applaud the students who opt to spend a semester or two at branch schools to boost their GPAs and stay on track to graduate in four years, nothing offends me more than when people presume I go to a branch of Fordham College at Rose Hill. I will never understand why some people truly believe I would travel 500 miles away from home to attend college at a knockoff Fordham.
So, no, family and friends, I do not go to FCLC because I was "rejected" by Rose Hill—which, to be honest, is especially insulting considering that many online college discussion forums often deem FCLC as the academically stronger of the two due to factors such as smaller class sizes and the fierce competition for Manhattan-based internships. In fact, I did not even apply to FCRH. I appreciate everything that is traditionally collegiate about Rose Hill, but I just knew that if I was going to attend college out of state, I wanted to be in the heart of the city. For me, it was either big state school or big city—no in-betweens.
That being said, I still consider FCRH "my school." When Fordham's football team tacks on another victory to their record, my heart swells with immense pride because that's "my school." When I read that a Fordham business student landed a great job on Wall Street, I am excited because that successful person goes to "my school." The fact that the "37 Signs You Went to Fordham" article on BuzzFeed mentioned that there is an underground "rivalry" between the two campuses is ridiculous; when my FCLC classmates and our FCRH counterparts reach graduation day, our diplomas are all issued from the same university.
Let me stress that again: the same university.
So, please stop assuming I go to an academically weaker campus just because Fordham does not follow the traditional mold. I go to FCLC, which is different than FCRH in many ways, yes. But for the things that matter, these two campuses are exactly the same.
Sincerely,
A Frustrated FCLC Student