The Whitebox Studio Theater Presents: "The Fork"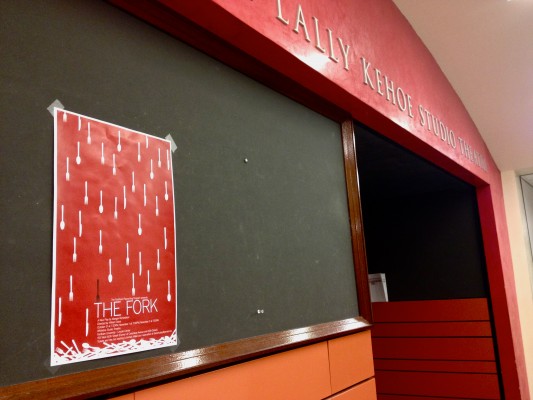 Oct. 31 marked the opening of "The Fork," an original work by playwright, Morgan Richardson, Fordham College at Lincoln Center (FCLC) '14. The play is about a family dinner; a reunion that results in clashes and strains between the family's members and focuses on relationships.
"The Fork" is an organic Fordham production and, like so many other FCLC plays, conveys the interdependence in the theater community. One part of production cannot function if it is not in direct communication with the others. In these new productions the playwright is very present. "They act as producer as well as playwright. They participate in the casting process. They revise the script, manage the budget and work on publicity, making sure that everything goes smoothly," said Richardson.
Anna Abowd, FCLC '15, is the costume designer for "The Fork" and her job, which might seem like an independent project, requires dialogue with the rest of the production team. "Theater is collaborative at its core," said Abowd, "I work closely with the playwright, Morgan Richardson, but also with the director… I also have to talk to the set designer and the light designer and communicate a lot during the process to make sure nothing's going to clash." Abowd even collaborated with the four actors, who contributed items from their own closets to use in the production.
This dialogue is cardinal to the play's functionality. "There are set pieces that are purple and once they decided on purple I was like, 'I can't do anything that's purple otherwise they're going to sink into the chair and they'll just be a floating head,'" said Abowd. This comment perfectly conveys how even little miscommunications can hurt productions. Communication fosters growth and change, especially during a play's first run. The director, Will Davis, through his collaboration with Richardson, closely observed the way "The Fork"' changed throughout the rehearsal process. "She and I had a big conversation about what I would call 'the heart of the play,'" said Davis, "Morgan sat down and two hours later there was a new draft of the ending. It's so key that you allow as much room for the thing to morph and shape-shift because that means that you're ending up with something that is better than how it started, something that can move onto its next phase in the world."