Internship Smarts for Liberal Arts: The Interview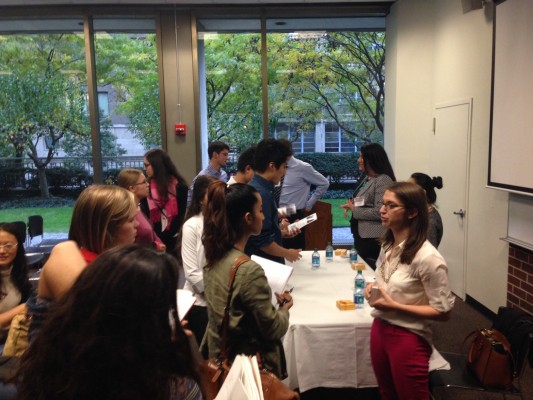 The Internship Smarts for Liberal Arts: The Interview event took place on Oct. 30. It brought together representatives and interns from AOL, New York One (NY1) News, Madison Square Garden and JetBlue. The panel discussed the importance of a liberal arts degree in today's competitive job industry.
Liberal arts students are offered a diverse skill set that includes reading and writing proficiently and strong critical thinking skills. These all make for an excellent foundation for people who are interested in applying to internships. The fact that an individual with a liberal arts degree is exposed to such a wide range of topics throughout his or her time of study provides him or her with a well-rounded knowledge of the world.
Former NY1 intern Jenna LaMagna, Fordham College at Rose Hill (FCRH) '15, interned on "The Call," an interactive, nightly newscast where viewers decide the lead story that they would like to hear about. She recounted a time when a particular skill that she learned from her liberal arts degree came in handy during her internship. "Having an editorial background came in handy in my internship," LaMagna said. "I was specifically in charge of editing and piecing together man-on-the-street interviews and sometimes, I would have to conduct those interviews. Knowing what questions to ask people on the street, being able to listen and pull out valuable sound bites, all of those things came from my liberal arts background." She said that having a reading and writing background also aided her in pulling out the best details from the interview.
JetBlue rpresentative and Campus Recruiting Manager Shivani Amin is personally responsible for hiring all 30 of JetBlue's interns. In addition to being able to read and write adeptly and utilize programs like Excel, Amin emphasizes other key abilities interns should master. "Presentation and communication skills are huge," Amin said. "You want to be able to write effectively, as well as present thoughts and ideas." Amin mentions that JetBlue interns work with a lot of senior leaders on projects. Thus, public speaking and writing are major skills to have in a company that values the ideas of every single employee, including interns, she said.
Something that all four panelists were able to agree on is the fact that you can apply to an internship or job with any kind of degree, liberal arts or not, have impressive credentials and have a decent shot at the internship or job. However, at the end of the day, what can set you apart from other candidates is how passionate you are. Amin echoes this fact, stating that she is impressed by an intern's evident ambition because it shows that the individual is willing to grow and foster innovative ideas, ultimately pushing JetBlue in a positive direction.
Every representative and intern also agreed on the importance of being well-versed in certain kinds of technologies. AOL representative Lauren Bloch revealed that all of the interns she hires know basic HTML, as well as their way around programs like Photoshop and Final Cut Pro. She understands that while not everyone is able to take classes catered towards sharpening those skills, there are websites that provide a sufficient enough amount of information that can be very helpful.
In terms of tips for recent graduates or students striving towards acquiring a liberal arts degree who are interested in interning, LaMagna strongly suggests to never stop telling people what you want to accomplish. While she highlights the fear of coming off more annoying than determined to an employer, she encourages persistence and ambitious action. "What's the harm in saying, 'Hey, I want to be on air one day' or 'I want to go into journalism' or 'I want to produce a news show.' It's attractive when you're not afraid to say what you want to do and you're not afraid to dream big."