Jennifer Tepper Explores Broadway
On Nov. 12, Jennifer Ashley Tepper's new book, "The Untold Stories of Broadway: Volume I" will hit bookshelves across the country. Her debut nonfiction book will document stories and experiences about important moments on the stage, as told through the eyes of actors, stagehands, composers, dressers, company managers, designers, ushers and even doormen.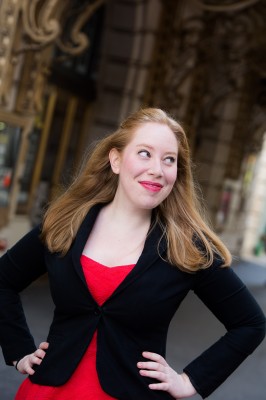 Tepper, a transplanted New Yorker by way of Florida, is known around the theater community as one of the most encouraging bright stars in the industry. As a producer, she has put together concerts and shows, most notably, the award-winning concert series "If It Even Only Runs a Minute," a showcase of Broadway's lesser-known shows that failed commercially.
She has worked on Broadway,  both creatively and administratively.  Acting as assistant director on "[title of show]" when it ran at the Lyceum Theater in 2008, Tepper has also worked under producer Ken Davenport promoting the most recent revival of "Godspell" and the one-man production of "Macbeth" starring Alan Cumming. As of this past September, Tepper began working a few blocks away from Fordham College at Lincoln Center (FCLC) as director of programing at 54 Below, a snazzy speakeasy cabaret room for Broadway talent. Now, Tepper is well on her way to becoming a published author and certified musical theater historian.
The idea for this book came from a "pamphlet that a bunch of theater folk[s] created when they were knocking down theaters in Times Square in the early '80s," Tepper said. The pamphlet contained essays filled with personal experiences and memories about each theater that was demolished. Tepper, after being shown seeing the pamphlet by her mentor, performer Mana Allen ("Merrily We Roll Along," "Smile"), realized the potential for an entire series of stories about all of the Broadway theaters. Each volume will focus on a different set of theaters.
After getting the green-light from Dress Circle Publishing, a printing company producing literature for theater lovers, Tepper "interviewed everyone about a variety of theaters they've worked in," she said, conducting 202 interviews. "On hand to assist in transcription was a team of interns, including Sierra Fox, FCLC '15," Tepper said. Her duties included "transcribing, fact checking, doing other forms of research, and then a lot of editing and proofreading," Fox said.
Tepper has interviewed people from every sector of the Broadway community for her book—from actors and directors to ushers and doormen. Having grown up more than a thousand miles away in Florida, Tepper grew up listening to cast recordings of shows like "Merrily We Roll Along" and "Rent," sitting down with cast members from some of her favorite shows has been a treat.  "It's been so cool…I've sat down with so many people that are so fancy and crazy and cool to me, like [Broadway director] Joe Mantello and [Broadway producer and director] Hal Prince," Tepper said.
On the flip side, Tepper has also had the opportunity to sit down and interview friends of her own. "I've also [gained] kind of different perspectives by sitting down with people that I know and that I'm friends with and really askong them questions about their Broadway careers," Tepper said. "It adds another layer to my idea of their stories."
For Fox, the experience has been stressful but worth it. "It's not a standard 9 to 5 internship, so it's really eaten up a lot of free time, but it's also something I love and it's amazing and fascinating, so I've been lucky that way," Fox said. Fox has "learned a lot about shows that I didn't know anything about before. I've learned a lot about different jobs in  theater that I obviously knew about but I learned more about the day to day and the specific things involved in them."
Presenting facts while "also making it true to what people meant and their stories is a challenge," Tepper said. "A lot of times people will tell you something they think is truth…but it isn't the truth." For example, sometimes they forget who their co-star was, or what year they did what show.
"I've always wanted to be a musical theater historian," Tepper said. Writing this book has opened her eyes to the circular pattern of history. "If people really knew the history of theater and of shows and of people's personal experiences, it would inform so many decisions in such a great way," Tepper said. "Theater is still just people doing a show for other people."
The first volume of "The Untold Stories of Broadway" will be available for purchase online and in select bookstores on Nov. 12. To learn more, follow Jennifer Ashley Tepper on Twitter @JenAshTep.