Take a Big Bite Out of Big Nick's Burger & Pizza Joint Too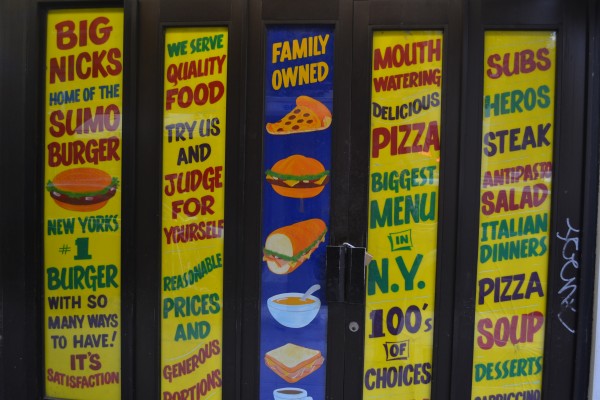 Sometimes you just need good, solid junk food. I'm not talking about potato chips or chocolate chip cookies; I'm talking about good old American classics done right, no-frills, just cooked with love and a little grease. I found myself craving this kind of food this week. When one is battling the last few midterm tests and is swamped with homework and essays, this kind of classic food can rejuvenate a hungry student. So I headed down to Big Nick's Burger & Pizza Joint Too and was not disappointed. Big Nick's is a slightly hidden pizza place right off the corner of West 71st Street and Columbus Avenue.
Big Nick's is owned by a Greek family and thus, have incorporated Greek classics with American and Italian favorites. Hence, the sometimes-odd-sounding, but delicious creations, like the Gyromania Pizza or Taztziki Burger in a pita. The menu is vast and offers Greek comfort food to satisfy a myriad of preferences such as Souvlaki in a pita and gyro platters with Greek salad. In addition to the Greek and Italian mix, Big Nick's is known for their critically-acclaimed pizzas and burgers.
Their pizza is not the normal pizza you get at a dollar pizza joint. The restaurant offers unique and creative pizza combinations, like the Gyromania Pizza that includes "savory strips of gyro and onion with feta cheese, fresh tomato and parsley." For those who like a simpler pizza there is the Farmers Pizza that features "fresh tomato & hard boiled egg." If one of their unique pizzas isn't of interest, you can always opt for a classic plain slice, which is what I did when I visited on Wednesday night. You can always tell how good a pizza place really is by ordering a plain slice of Neapolitan pizza. Without all of the extra toppings, one can taste the sauce, cheese and crust. I like to think of myself as an amateur pizza connoisseur and Big Nick's passed the test.
While Big Nick's pizza is not the best I have ever had—my grandma makes the best pizza—they do deliver a solid slice. The sauce is on the sweeter side and complements the slightly blackened, crispy, charred crust. The thick layer of mozzarella cheese was not overwhelming because the sweetness of the sauce cuts through, creating a nice balance of salty and sweet. The portion was very generous seeing as the slice was as big as my head! Also, Big Nick's offers vegetarian and gluten-free pizza to accommodate all dietary restrictions! In addition to the slice of pizza, I got a cheese calzone, a personal pizza place favorite. The calzone was also a generous size and worth the $5.95 I shelled out because the portion is enough to fill a hungry student and comes with a cup of marinara sauce that one can dip the delicious mixture of crust, ricotta and mozzarella cheese into. Without the sauce, the calzone is decent, but with the sauce the calzone is elevated to fantastic. For $8.95, I got a meal that tasted homemade and was generous in size.
Like their pizza menu, in addition to a classic burger, Big Nick's offers unique flavors such as the Sumo Burger which is a "100% Angus steer beef," a one-pound burger that is sure to fill even the most hungry of study-lagged students.
Later in the week, I got to sit down with storeowner Nick Galanopoulos and asked him a few questions about Big Nick's. When asked about the unique Greek, Italian and American mix of the menu, Nick told me he comes from a Greek family and that all of the "Greek recipes are passed down from family." He also said that, "Italian food is popular," and this prompted him to include pizza on the menu. He gets his ingredients from "mostly Italian-based companies" and "small guys," preferring to keep the mass-produced ingredients from bigger distributors out of the food. When asked why he thinks Big Nick's is a good place for college students to eat, he responded that it is "affordable" and that you can get "a good meal under $10, everywhere else is $20." A meal under $10 consists of a main dish, vegetables and side dishes. He also said they are open late, so students can take a study break and indulge in comfort food until 4 a.m., seven days a week. So next time you are craving some homemade comfort food with the right amount of grease and love, stop by Big Nick's Burger & Pizza Joint Too.
IF YOU GO
Big Nick's Burger & Pizza Joint Too
Rating: 4/5
$ out of $$$$$$
Where: 70 W 71 St. between Central Park West and Columbus Ave.