The Great Debate: Who is the Better Player, Ronaldo or Messi?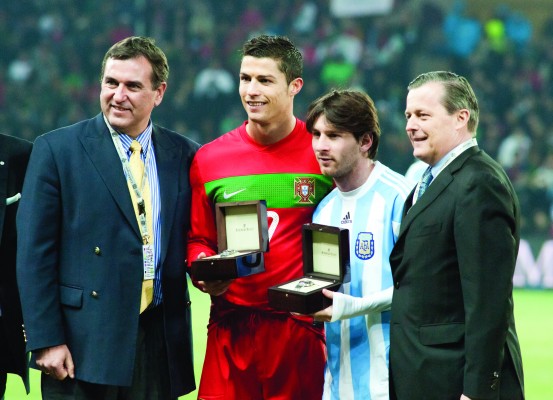 On Oct. 26, one of soccer's biggest games will be played. Real Madrid and Barcelona will battle for El Clásico, and each team's star players will be on the field. It is nearly impossible to think of soccer today without thinking of Cristiano Ronaldo and Lionel Messi. They are phenomenal players, each playing for great teams and getting paid the highest wages out of any other players, deservedly so. So far this season, Ronaldo has scored 12 goals and had two assists in 12 appearances. Messi has had 11 goals and three assists in nine appearances.
Now, when someone asks, "Who is the best player today?" what they are really asking is, "Who is better, Messi or Ronaldo?" Even though there is constant debate over this issue, the answer is quite clear—it is Messi.
For 40 years, the most goals scored in a calendar year have been 86 by Gerd Müller. In 2012, Messi shattered that record with 91 goals, according to ESPNFC.com. 91 is an outrageous number of goals for one player in a year, making it unlikely that anyone will ever get close to that again. However, I wouldn't be surprised if Messi broke his own record, because that's what he does; he breaks records. Messi has scored the most hat-tricks in a season, became the top scorer in Champions League for four straight years, scored the most goals in a La Liga season and had the longest consecutive game scoring streak ever. These are only a few of many records that Messi has broken in his career thus far. However, what good are goals if you don't win?
Messi has won plenty of games with Barcelona, forget about trophies. Since 2009, Barcelona has won La Liga three times, the Spanish Super Cup four times and the UEFA Super Cup two times. But, that's not all. They have also won the Club World Cup twice, the Copa Del Rey once and, most importantly, one Champions League title. In that span, Ronaldo with Real Madrid has not collected much silverware only getting La Liga, the Copa Del Rey and the Spanish Super Cup only once. That is why since 2009, Messi has beaten Ronaldo for the prestigious Ballon d'Or each year. The Ballon d'Or trophy goes out to the best player of the year in all of soccer. Based on the silverware, the best player from the best team has, without a doubt, been Messi for the past four years.
Ronaldo hasn't been too shabby either. He had won the Ballon d'Or in 2008 with a Champions League title from the same year, which was the last year he played for Manchester United. Ronaldo also came in second place for the Ballon d'Or in 2007, 2009, 2011 and 2012. Ronaldo also played in the English Premier League for several years, winning the league title and the FA Cup a couple times from 2003-2008. He also proved that he could win in England, which is arguably the most competitive league in the world, and in Spain, something that Messi can't say. After all, Ronaldo isn't too far behind from Messi's goal total year after year, an amazing feat for someone who is not a striker, but a midfielder.
However, these feats are completely overshadowed by Messi's dominance of the game. Messi has broken more records and has won more trophies than Ronaldo so far. Sure Ronaldo drives the ladies crazy with his looks and is more athletic than Messi, but Ronaldo is not the better player. Real Madrid is just as great a team as Barcelona. However, since Ronaldo has been at Madrid, Barcelona has had the upper hand. Just look at their trophy count. What makes it even worse for Ronaldo is that Messi is two years younger than him at 26 years old. The good thing is that both players are still young, so the tables could always turn on who is better.
What is clear is that this rivalry between the two is beautiful; both players are pushing the other to their maximum potential to be the best. No matter which player's style you like more, you have to respect both players. What I do believe is that if Messi never played soccer, Ronaldo would undoubtedly be the best player today. However, that is not the case.
That's why you just have to sit in awe when these two play. We'll just have to wait and see what happens at the first El Clásico of the season on Barcelona's turf at Camp Nou.