What Can You Say About That New York Giants Offense?
You can't say much, besides how horrible they have been playing this year. Two years ago, the New York Giants found themselves with a record of 4-2 by the end of the sixth week. That squad went on to win Super Bowl XLVI with just a mediocre regular season record of 9-7. This year's team is a pitiful 0-6 and even though they are currently playing in a second-rate division, it's safe to say that the Giants are probably not making it to the playoffs this season. And as fans around the tri-state area are shaking their heads in disgust, while simultaneously screaming "off with their heads" and pointing fingers at players and coaches, it's time to calmly look at how the team can be fixed.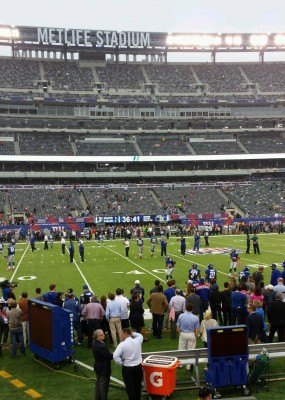 Firstly, it's important to note that the collapse of this team isn't just based on the fault of one person. That's right. Eli Manning isn't the sole reason why the Giants aren't doing well this season. It's obvious that Manning has been feeling the pressure to win for weeks. With only 30 seconds to go before the team was handed their sixth straight loss on Thursday night against the Chicago Bears, he appeared physically distraught. "It's difficult. Not on me. I feel bad for my teammates. I feel bad for my coaches. Everybody is fighting every day. I'm fighting, too," he told the New York Daily News after the game. "I'm trying to get a win for these guys. It's tough. It's tough at times when you don't feel like you are playing your best."
Manning and his offense weren't lacking in the first game of the season, despite the six turnovers. They were just barely beaten by the Dallas Cowboys, 36-31, for their first loss. But it appeared that the offense would be the same old reliable offense. After getting defeated by his big brother, Peyton Manning and his stacked team, the Denver Broncos, the Giants quickly fell into a 0-2 hole. And the pressure mounted from there. Since then, Eli has thrown 15 interceptions in a six- game span. According to NFL.com, he threw 15 interceptions all of last season combined. Some of his interceptions were downright ridiculous, by his own fault, while others shouldn't have been interceptions at all.
A reason for the interceptions may be that the offensive line has been unable to protect Manning in the pocket for enough time for receivers to get free. The offensive line has a bunch of new players, such as Will Beatty and rookie Justin Pugh, who don't seem to be comfortable at the line. Veteran offensive linesmen, such as 10 year Giants' guard Chris Snee, are hurt and missing from action. In games like the third week matchup against the Carolina Panthers, the lack of a protective offensive line led to seven Manning sacks. Six of the seven came within the first 17 minutes of the game. Out of a fear of getting sacked, anyone could see how it forces Manning to scramble and throw the ball before he or any of the receivers are ready for it.
Yet, when the offensive line comes together, the receivers are then the ones that make it difficult. Time and time again, players like Hakeem Nicks or Rueben Randle, are either running too far out or they can't get to the ball quick enough. In Thursday's game, Randle was the intended receiver on two of Manning's interceptions. Randle also almost fumbled the ball late in the fourth quarter. Those are moves that the rookie receiver cannot be making during game time. The Giants are probably not going to make it to the playoffs this season, so Manning needs to work on communication with his receivers. During the off season, Manning didn't get much practice in with some of the receivers, like Victor Cruz. According to NFL.com's Chris Wesseling, Cruz and others were in the midst of negotiating contracts up until the end of the preseason. They need to practice as much as possible during the week and on the field.
The Giants' offensive woes extend to the running back position as well. David Wilson, a running back selected from the 2012 NFL Draft, turned over the football twice in the season opener. He too had been struggling with control of the ball and rushing yards. To make matters worse, early in the week-five game against the Philadelphia Eagles, Wilson got injured. As of right now, doctors are not sure whether he will be returning to play this season or if he will ever play again.
Wilson has a herniated disc and  spinal stenosis, which is the narrowing of the spinal column. It's an injury that many NFL players are affected by from, forcing them to end their careers early, according to Josh Alper of NBC Sports. With or without a healthy Wilson, the Giants are left improvising players to fill his spot, including re-hiring the fired running backs Da'rel Scott and Brandon Jacobs. The mixing and matching of the two roles still didn't equate to a Giants win on Thursday.
"There are no excuses. We're 0-6, we are an 0-6 team. We're not better than 0-6, we're not worse than 0-6. We are an 0-6 team," safety Antrel Rolle said after the game to Michael Eisen of Giants.com. "Until we go out there and prove that we're better and go out there and win some games, that's what we'll be."
The Giants have a tough schedule ahead of them, which includes facing the Green Bay Packers, the Seattle Seahawks and a visit to San Diego to play the Chargers. Of course, there are problems with the defense, but the pressing issue is that the team works on their offense this week. They need to come back strong, so they can win multiple games; although Giants fans would just appreciate a win, any win, at this point. Their next game is on Oct. 21 at 8:40 p.m. against the Minnesota Vikings.