Getting Your Freak On: Halloween Edition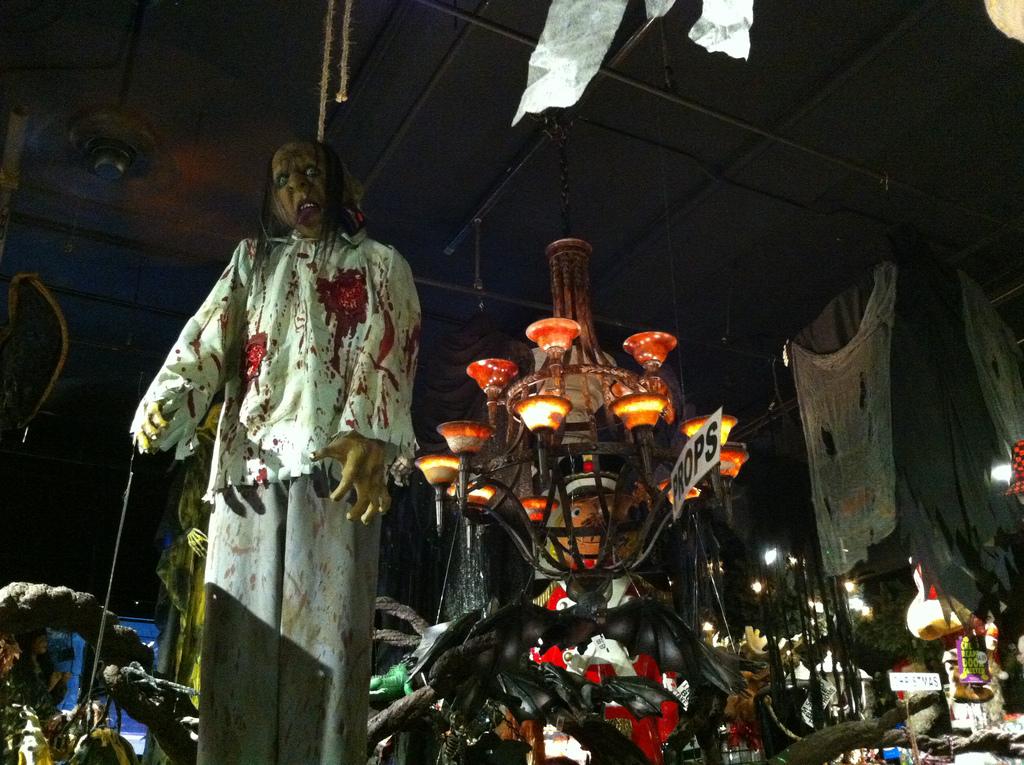 The witching hour is nigh and what is scarier than doing last minute Halloween costume shopping and planning a belated Halloween night excursion?
For those of us who are not making our own costumes or mixing, matching, or borrowing our friends' clothing to make an ensemble or just do not want to settle being a "college student," – although at times that might be scary enough – for Halloween, Halloween Adventure in the East Village will provide and fulfill all your costume and Halloween needs – minus candy and pumpkin squashes.
"We're the biggest, the best organized, and we have more goods than anybody else in the world here," Store Manager Tony Bianchi, clad in a Batman chest armor and a floppy black explorer-esque hat, said.
Some of the most popular costumes sold so far in Halloween Adventure are the traditional witches and vampires but the store has much more to offer. "We got [costumes] Despicable Me, Monster High, anything related to Breaking Bad, Iron Man because of the recent Iron Man movie, The Great Gatsby, particularly flappers costumes, Duck Dynasty, and Miley Cyrus," Bianchi said. "We have the 'finger' and her shirt."
Other Halloween classics such as nurses, pirates, devils, and their ubiquitous sexier versions could also be found in their own little sections within the two entranced, two-leveled, ghoulishly designed fun house.
Last year's favorite?
"The Avengers," Bianchi said. "Costumes' popularity is related to current movie licensing and sex scandals or something like that!"
But for those who are looking for something more personalized, Bianchi said they make custom fangs and costume orders. A seamstress, magician instructors, a costume rental shop, and a life-sized and freakishly real Freddy Krueger statue that randomly cackles at unwary customers are all residents of the lower level.
Demons and bloody half-sawed off puppets might spook you once or twice in Halloween Adventures but in A Nightmare Haunted House: Killers 2, New York City's first haunted house at the Lower East Side, the demons are actually real, breathing, and walking beside you.
"We've done a bunch of different haunted houses and this is our 10th year and we have done eight different themes," Creator and Co-Director of Nightmare: Killers 2 Timothy Haskell said. "And every theme has its own value. 'Serial Killers' is particularly scary because things that are real are the scariest and there is nothing scarier than actual monsters that walk amongst us."
Unlike most haunted houses that focus on delivering scary things that jump out at you, Haskell said Nightmare: Killers 2 concentrates on creating real scenarios and character development, something that likens that of a "successfully well-made horror movie."
Among the returning killers from last year's hit theme are John Wayne Gacy, an American serial killer who murdered around 33 to 34 victims and subsequently buried them in his house's crawl space or dumped in the Des Plaines River and H. H. Holmes, another American serial killer but one who confessed to had killed 27 victims but was suspected of killing many more victims in a hotel he created himself for the sole purpose of murder.
For this year's Haunted House, Haskell said there will be some repeated subjects but there will not be repeated rooms.
"Actors take about 45 minutes to an hour to get ready and we have about two weeks worth of sporadic rehearsals," Haskell said. "There are a lot of actors – 40 actors – so we don't work with all of them at the same time. We work with them individually in individual rooms in the course of about two weeks."
Nightmare: Killers 2 is not for the faint of heart. If you're looking for scary, they will deliver. Haskell points out that there had been plenty of customers throughout the years who suffered panic attacks and in one year, someone fainted.
"I like to scare the hell out of people but I'm not trying to hurt anybody," Haskell said. "Faint level makes me a little nervous but for the most part, it's mostly panic attacks and people realizing their limitations and they just have to get out."
But one thing that do scare him are rats.
"Rats in the subway do not bother me as much but any rodent in my house, I'm terrified," Haskell said.
IF YOU GO
A Nightmare Haunted House: Killers 2
When: Various times during the month of October and November. Look on their website for further details.
Where: 107 Suffolk St. (between Rivington and Delancy)
Price: Various door and online ticket pricing. Look on their website for further details.
More Info: (855)-235-2867, Groups Sales of 10 or More (347)-577-9999; www.nightmarenyc.com
Halloween Adventure
When: Various opening and closing hours. Look on their website for further details.
Where: 104 4th Ave. (Between 1st Ave and 12th St.)
Price: $40 to $80
More Info: www.newyorkcostumes.com
Have body measuremants prepared before purchase because you cannot try on costumes under $100.