Fordham Student Writes, Stars in One-Man Show "Diva"
To see a Fordham student working in theater outside of campus walls , students need to look no further than West 42 Street. Sean Patrick Monahan, Fordham College at Lincoln Center (FCLC) '14, talks about his latest project, "Diva," a one-man show about a high school drama queen, his creative process and potentially taking this show on the road.
The Observer: What is "Diva" about?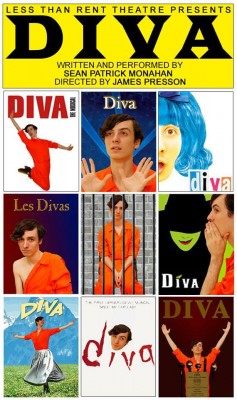 Sean Patrick Monahan: "Diva" is about Desmond Channing, who is a dethroned high school drama queen. The play is about the moments before his impending execution, where his life flashes before his eyes as a cabaret act. It is a mash-up. "All about Eve" meets "Sunset Boulevard," but concerning sexually confused high school students in a drama program.
Observer: Can you talk about the initial stages of this project? How did "Diva" begin?
S.P.M.: Well, I had the idea for "Diva" when I was in high school-not as a one-man show. It was kind of a "joke" idea. I thought, "Wouldn't it be funny to have a show that would be the anti-"Glee?" What would it be like if Lea Michele actually killed her nemesis?" And this past April, when I was in a Less than Rent Theatre production, James Presson, my director, asked me if I had any interest in developing a solo show for the United Solo Theatre Festival with the company. He said, "Would you be interested in writing one in three weeks? That's the deadline." So, I wrote it in three weeks! It is a one-man musical. I wrote the script, songs and music. I threw everything I could into it. There is also a one-man sword fight. We submitted it in time and very luckily got accepted into the festival.
Observer: Let's talk about the rehearsal process. What was it like to work with your creative team?
S.P.M.: Part of my deal with James was that we start in September and I come in off-book. My first stage of rehearsal was just a lot of solo work, in a practice room at Fordham. Going through the music by myself, shouting at myself. In September, we did a read through, and I performed for James and Rachel B. Joyce and Nora McNally, additional members of Less than Rent Theatre. Adrian Bridges really helped me flesh out the music. I've never written music before, and I didn't want the songs to be direct parodies, more like little pastiches. We have a Fordham costume designer, Sara Donovan, giving me all of the sequins I could ever ask for. Emily Auciello, also a Fordham alum, doing sound. The design elements are the only other things I have to interact with, really, and so I wrote out the most specific stage directions I've ever written in a play. It was like trying to create a character out of a school bell or a buzzer.
Observer: Do you have any particular artists that you look up to?
S.P.M.: Oh yes, many. For the solo show, I've been looking to Ruth Draper. She did the most incredible solo work. She was really the one who made solo work possible. She didn't just do monologues; she projected her scene partners. She did a show called "A Children's Party in Philadelphia," with twelve other characters, and you don't hear any of the other characters, but you get such a sense of the characters and the world they live in just hearing this woman speak. Other artists include David Drake, Charles Busch and Lily Tomlin.
Observer: After its run on Theatre Row, do you have any other plans for "Diva?"
S.P.M.: Yes. There are no solid plans yet, but the idea is to have something we could have shipped all over the country, maybe festivals around the country. Indie Theater Now just published the play yesterday. It was an incredible honor when Martin Denton asked me to publish this play. I would love to see someone other than me perform "Diva." The next step would ideally be packing up the set and driving around from city to city. I would love to travel and perform the show for audiences all over the country.
Observer: Do you have any upcoming projects we can get a sneak peek on?
S.P.M.: My next project is my last Fordham production, my senior thesis, and it will be in the Veronica Lally Kehoe Studio Theatre next semester. I am a playwriting and performance double major here at Fordham, and I've obtained permission to write as well as perform in my own piece! The play is actually based on two years of living in apartment 17F in McMahon Hall. My roommates and I had a lot of wonderful, crazy times there, and I just thought it would be interesting to try and write a narrative about that. I am very close with these guys, these gentlemen I lived with for two years, and so I thought it would be a really nice gift to ourselves before we graduate.
IF YOU GO
Diva
Written and Performed by Sean Patrick Monahan
Directed by James Presson
Presented as part of the 4th Annual
UNITED SOLO THEATRE FESTIVAL
October 7 at 6 p.m.
October 10 at 7:30 p.m.
October 23 at 7:30 p.m.
Theatre Row
410 West 42nd Street
For tickets: $18, available for purchase at the Theatre Row Box Office, 410 West 42nd Street, via www.unitedsolo.org or 212.239.6200.