FCLC's Center Gallery Renamed Ildiko Butler Gallery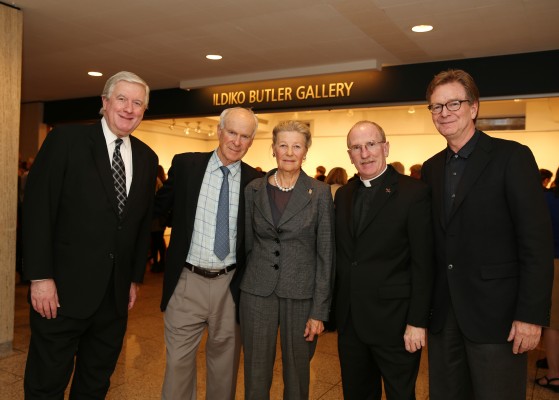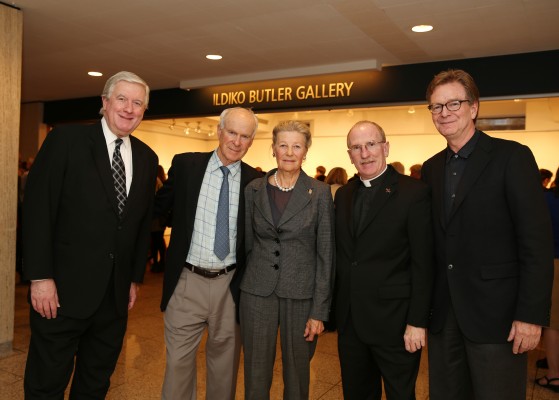 On Sept. 23 the Fordham College at Lincoln Center (FCLC) gallery formerly known as The Center Gallery was opened under a new name and with a whole new series of photography pieces, including some by its new namesake, Ildiko Butler, FCLC '85.
Butler recently offered a generous $500,000 donation which will be used for the development of Fordham's Visual Arts program. The funds will be designated to increase the number and quality of the gallery exhibitions and underwrite the IIdiko Butler International Travel Award for Excellence in Visual Arts, a travel scholarship that will be offered to Visual Arts students. By both widening the breadth of what the gallery can curate and funding scholarships for travel, this gift introduces new pedagogical planes.
The Ildiko Butler International Travel Award for Excellence in Visual Arts will annually grant three teacher-selected Visual Arts students with a travel stipend for individual artistic study. Butler, whose education was funded by scholarship, said in an interview for Inside Fordham, that "Scholarships are important for people who can't afford education. It helps them to start a new life." The artistic concentration in Fordham's programs for travel has a whole different level of intensity than in any of its regular session courses. "You come back to the States with a completely different relationship with your medium, a whole different level of understanding," Stephan Apicella-Hitchcock, artist-in-residence and gallery director, said. "If you spend that much time with something, you learn it, you understand what is of note for you…It's a commitment and when you commit yourself to something, you acknowledge its significance" the professor said on the significance of pursuing an academic-based travel.
"The Dedication and Opening Exhibit" to inaugurate the renamed gallery highlights the works of Fordham's alumni—including Butler's—which stress the concept of travel. The exhibition also features professor Joseph Lawton, visual arts program director, and alumni Tiffany Edwards, FCLC '02, and Dylan Chandler, FCLC '04. Each one of them focused on a different part of the globe and captured with their photographs, their personal interpretation of the world around them. These aim to stress in this way the important impact that travel can have on the artists' formation.
Butler's donation will also benefit a more efficient flow of exhibitions that professors will be able to use as examples in their classes. Visual arts professors will have the opportunity to bring classes to the gallery, which will provide clear examples of artistic method. "The focus of it is for pedagogical reasons," said Apicella-Hitchcock, "we try to curate shows that we can use in our classrooms, that we can use as teaching shows."
The money set aside for the gallery will be used for reparations and to meet the requirements for more fragile, expensive art pieces, which require insurance and a reliable means of transportation.