Fordham Presents "What of the Night?"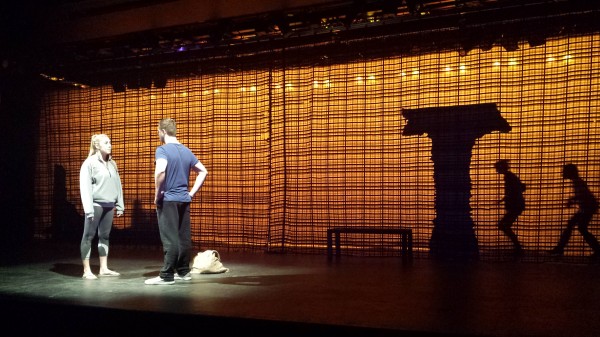 Fordham College at Lincoln Center's (FCLC) production of "What of the Night?" directed by Lou Moreno and written by Maria Irene Fornes, opens Thursday, Oct. 3 in Pope Auditorium. In addition to being the first New York City showing of the play, "What of the Night?" is also the first mainstage production of the Fordham Theatre Program's 2013-14 Season: A Season of Facing Demons.
In her saga of human interdependence, "What of the Night?" Fornes familiarizes her audience with destitution and incriminates the drive for wealth. The play is composed of four one-act plays, each of which poses its own moral question. Set in the years from 1938-1998, "What of the Night?" chronicles the social evolution of an interdependent familial unit.
Three of the four one-acts are set in low socioeconomic areas rampant with crime and seedy-but-necessary transactions. In the first act, "Nadine," a mother, Nadine, played by Alex Porterfield, FCLC '16, and her son, Charlie, played by John Donchak, FCLC '14, must cast away their scruples in order to collect money to feed their family.
The second act, "Springtime," again exhibits moral dilemmas in the hands of the impoverished, as well as issues of fidelity and homophobia.
The third act, "Lust," shows the monetary success of Ray, played by Connor Dunlap, FCLC '16, and his issues with classism and sexism.
The last act, "Hunger" is apocalyptic, dark and an admonition against the loss of interdependence and sympathy.
"The difficulty was in determining a style for each of the different acts. They're all so distinct and one of the main challenges… is tackling all the controversial topics included in the show" cast member Mandy Heiser, FCLC '16, who plays Lorraine, said. Set designer Joey Mendoza took a minimalist approach to his set and aptly conveys each act's mood with the use of backdrops and lighting. "You have to kind of watch thematically instead of trying to follow a plot line," Heiser said. "Even if you don't understand it, it's going to  be so visually stimulating that you're going to have this awesome experience regardless."
The moral struggles highlighted by "What of the Night?" are extremely relevant to Americans today, who can walk down Columbus Avenue, flanked on the left by a homeless, cup-shaking man and on the right by two well-groomed, sweater-wearing, dog-walking, wage-earning businessmen. Evident are the effects of the opportunity gap as well as capitalism's choke-hold on American democracy. These are the offspring of personal-interest that Fornes labels as "greedy" and "heartless."
Fornes stresses the loss of human interdependence as detrimental to the human spirit. "She kind of explores all these different facets of how poverty can affect a person," Heiser said. In the "What of the Night?" program notes, Fornes said, "I was deeply moved by the spirit of compassion and concern for the underprivileged that I found [in America]. Now I ask myself what has happened to this spirit." Through these tales of moral and financial destitution, Fornes aims to awaken in her audience that old pathos for our fellow humans that have disappeared. "In these plays," Fornes said, "I ask that we give thought to what would happen to our civilization if we don't reverse the course we have taken." With that question in mind, Fordham theater sets out to find an answer within its community.
IF YOU GO
"What of the Night?"
When:Thurs. Oct. 3 – Sat. Oct. 5; Wed. Oct. 9 – Fri. Oct. 11
Where: Pope Auditorium (113 West 60th Street)
Price:General Admission: $15
Fordham Alumni and Faculty: $10
Students and Senior Citizens: $5
TIME: 8:00 p.m.