Four Exercises Based in Central Park This Fall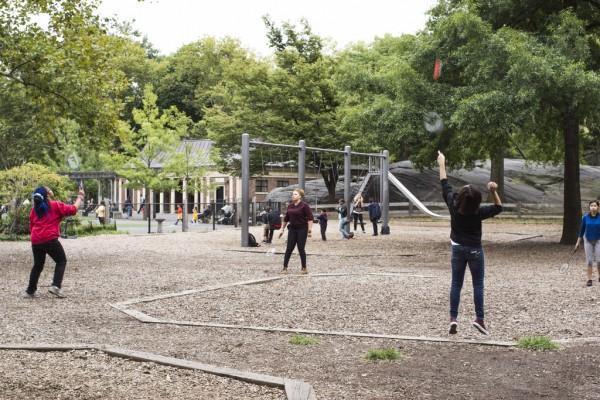 With fall here, it can be tempting to just throw on layers of clothing and stay indoors drinking pumpkin spice lattes all day long. But there are still activities in Central Park that will get you feeling energized and healthier. Here are four ways to get fit in the colder weather.
Bouldering
Bouldering is an offshoot of the traditional rock climbing. It's a sport for thrill seekers as the main goal is to climb rocks up to 10 feet tall with your body being the only thing to support you.
"This is one of the only places in the world where you can climb inside a city on real rock," Gareth Leah, the author of "New York City Bouldering Guide," said to the NY Daily News. "But not many people know it."
The activity is designed to increase muscle tone and strengthening, according to Leah. All you need is a chalk bag to keep your hands dry on slippery slopes. Oh, and comfortable athletic sneakers. Then you can scale boulders left and right. But be sure to bring a friend along to spot you and help out if the climbing situation gets difficult.
There are many popular bouldering locations in Central Park. These include Worthless Boulder, located near 110th Street; Cat Rock, near Wollman Rink; and Rat Rock, near the Heckscher Ballfields. For beginners, Rat Rock is the least intimidating. If you think you're up to the task of climbing a more challenging boulder, Worthless Boulder works best.
Flag Football
Fall is the time for football. But, as much as we love the game, we would rather watch it on television than get roughed up by tackles in reality. Flag football proves to be a safer and fun exercise alternative.
The rules to flag football are pretty simple since it is similar to regular American football. However, there is no physical contact with other players. There are two teams and each team member wears a belt of flags around his or her waist. A defensive player must pull off a flag from the offensive player, who possesses the ball, to stop the play.
Flag football gives you an intense cardiovascular workout. Expect to be running, sprinting and jogging constantly while chasing and being chased by friends. Depending on your weight, you can burn between 531-725 calories an hour playing flag football, according to fitness writer Jeremy Hoefs at LiveStrong.com. If you're new to flag football, warm up for this high intensity workout by stretching your limbs and going for a long walk.
So grab some friends and head out to the North Meadow, located at 97th Street, near the 97th Street Traverse. Flag football is allowed onsite from mid-September through mid-November.
Health and Race Walking 
Walking is such a simple exercise that many of us take for granted by using subways and taxis. But if you want to get into tip-top shape with a weekly, low impact fitness program, Central Park can be your best friend. That is, if you're willing to get up early on a Saturday morning.
The class is every Saturday morning from 9:00 a.m. to 11:30 a.m. A group of people aged 18 years and older, warm up and then go on a 6-mile walk through Central Park together. The free walks are led by the New York Walkers Club, a nonprofit organization that promotes physical fitness and good community relations through walking for exercise, according to their website.
However, the walks are not just a simple walk in the park. They are moderate to brisk walks aimed at building muscle tone, strength and increasing cardiovascular health. Although it's more of a race than a walk, the NY Walkers Club prefers using the term, "health walking." "Saying race scares people off, and health walking sounds less intimidating," the club's executive director, Lon Wilson said to the New York Times.
There is no registration for this program. Just visit the North Meadow Recreation Center, located at mid-Park at 97th Street, to find the group. Health and Race Walking classes continue until the end of November.
North Meadow Recreation Center Kits
If you find yourself in fairly warm weather in October, but aren't willing to commit to an intense workout, you can still head to Central Park for a more informal exercise. Bring a photo I.D. to the North Meadow Recreation Center and you can borrow any kit for the day. You can pick up basketballs to use at the basketball courts in the Recreation Center's complex, as well as frisbees, hula hoops, jump ropes and other items. There are also baseball, soccer, and softball courts at the Recreation Center. The Center is open from 10 a.m. to 6 p.m. on Tuesdays to Fridays, and on weekends from 10 a.m. to 5 p.m