Thanks for the Mo-Ments: Mariano Rivera Says Goodbye to Baseball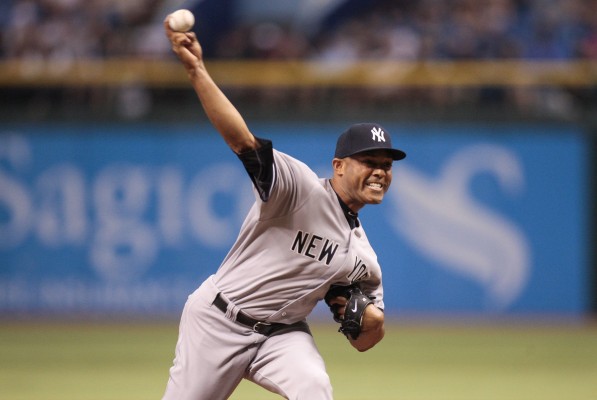 After spending hundreds of millions of dollars on players' salaries, the New York Yankees finished their season before the playoffs began. This season was packed with injuries and a player who brought negative publicity onto the team almost on a regular basis. Yet, despite all of this controversy, the spotlight has shifted to the team's gentleman, Mariano Rivera, when he closed his pitching career on Thursday night, Sept. 26.
Rivera tipped his cap and shut the door on his career in a 4-0 loss to the Tampa Bay Rays.  Two of his teammates, Derek Jeter and Andy Petite, came out onto the field during the ninth inning with two outs left in the game. From there, Rivera was able to address his teammates and the crowd to an emotional final goodbye. Unlike other players, Rivera did not fill his games with theatrics. He allowed his performances to speak for themselves. And they have. Since he began relief pitching in 1996, Rivera has earned an incredible reputation. With 652 regular-season saves, 44 saves this season alone, as well as 13 All-Star games and helping to win five World Series titles, it is obvious why he became a silent weapon.
Even the Boston Red Sox, the Yankee's number one rival, have the utmost respect for Rivera. John Farrell, the Red Sox manager, told the New York Times, "He's a role model, and I mean that in the greatest sense that I can say it. Everyone should look up to him, the way he lives his life."
A special ceremony was held for Rivera in mid-September to honor his final appearance at Fenway Park, where the entire Red Sox team gave him a standing ovation. Other rivals all paid tribute to Rivera as well. This included the Tampa Bay Rays, who built a sandcastle for "The Sandman," a nickname that Rivera has been called for years.
The respect and admiration for Mariano Rivera has not been earned by impressive statistics alone.  In fact, his attitude seems to be what has made the greatest impact. His grace under pressure, immaculate skill and ability to tailor his pitch to shattering strength and impeccable accuracy has left room for a big ego. But, at the end of it all, Rivera is just a good guy. He has been married since 1991 to the woman he met in elementary school; he has a family, a charitable foundation and a clean reputation. Baseball fans everywhere agree that if anyone should be wearing Jackie Robinson's number, it should be Mariano.
Originally from Panama, Rivera was signed to the Yankees in 1990 for only $3500, according to the New York Times. After getting injured in 1992, he was made eligible for the draft and nearly got traded to either the Tigers or the Mariners. The Yankees weren't happy with any of the trade offers, and eventually they tried him as a relief pitcher instead of a starter. Once he became a relief pitcher and then earning the position of the team's closer, Rivera started to set almost every record for relief pitchers in the regular season and the playoffs.
"I'll tell you one of the most amazing things about Mariano. In all the years I caught him, he never threw a ball in the dirt," Joe Girardi, the current Yankees manager and a former teammate of Rivera's, said in an interview with Sports Illustrated.  "I don't ever remember having to drop to my knees to block a pitch. I know he never threw a wild pitch that bounced. His control is that good." And that seems to be a general consensus. He has mastered control of his pitches, control in his demeanor, control of his career and control in his life.
Rivera wanted his last trip around the league to actually mean something to people outside of the players and coaches. In every road trip game, he did something nice for the people working behind the scenes. The tour was dubbed a "paying it forward" tour by the media because of the charitable work and visits he made. Whether it was an Oakland Athletics' mailroom clerk, a group of Anaheim Angels' employees, or other workers, Rivera wanted to show his gratitude for the hard workers. This cannot be said for many other professional players in any major league sport.
It especially can't be said about some of Mariano's own teammates. For instance, the highest paid player on the Yankees, Alex Rodriguez, has a salary totaling $29,000,000, according to ESPN's payroll information. For years he has been under investigation for performance enhancing drugs. Rodriguez is now accusing his team of discrediting him and attempting to strip him of his 10- year, $207,000,000 contract. The team's star-studded business model may fill their seats, but it's difficult to look at the remaining players and see the same respect and passion for the game that Rivera has.
And even though the Yankees did not make it to the playoffs for the first time in six years, and just the second time in 19 years, Rivera was still appreciative. "Yes, we didn't make the playoffs, but this was still wonderful," he said to NY Daily News following Thursday's game. After a 23-year professional baseball career, 43-year-old number 42 will leave behind a legacy that the divas surrounding him should only wish to achieve.