Rams Move to 5-0 Record after Explosive Fourth Quarter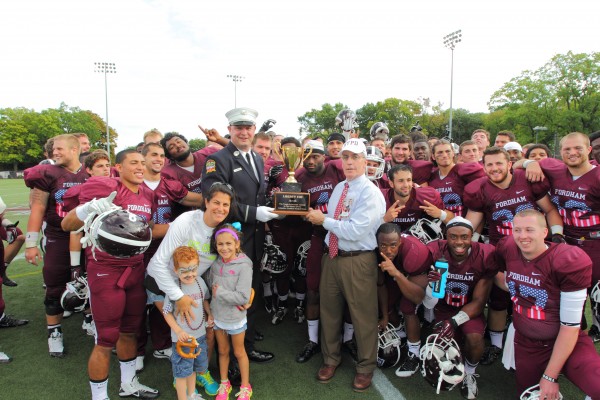 After a 52-7 blowout win versus Columbia University at the Homecoming game, the Fordham football team traveled to Pennsylvania for a much tighter game. Playing the Saint Francis University Red Flash team, the Rams won their fifth straight game of the season with a score of 38-20. It was the first time since 1988 that a Fordham squad started their season with an undefeated five wins.
Kickoff time was 12:00 p.m., and just 15 seconds later, Fordham took the lead. Jorge Solano, Fordham College at Rose Hill, (FCRH) '17, returned a 96-yard kickoff to put Fordham 7-0 with 14:45 left in the first quarter. For the next 10 minutes, neither team scored. But, with almost five minutes left in the first quarter, Fordham scored yet again and were up by 14. After a 70-yard drive, Dan Light, FCRH '15, caught a 10-yard pass from quarterback Michael Nebrich, FCRH '15.
Saint Francis' first scoring drive didn't occur until a few minutes into the second quarter. Covering 75 yards in six plays, Saint Francis' Kyle Harbridge rushed 67 yards for a touchdown. Unfortunately for Saint Francis, their kicker didn't kick a successful field goal, so Red Flash still remained down by two scores. Harbridge's touchdown was the only scoring drive for either team in the second quarter.
After half-time, Saint Francis scored yet again. The team started on their own 28-yard line and got all the way down to Fordham's 2-yard line after Harbridge rushed for 66 yards. Saint Francis scored with 13:37 left in the third quarter. Instead of a field goal attempt, the Red Flash tried for two more to even the score with the Rams. But the one opportunity pass from the Red Flash quarterback Max Warb couldn't get completed. Although Fordham didn't score a touchdown in the third quarter, for the second straight quarter, they eventually scored a field goal.  After 12 plays of passing and rushing with some loss of yardage Fordham finally made it to Saint Francis' 13-yard line. At 3rd down and 7, Nebrich was sacked by the Red Flash's Neal Bishop. The sack forced a fourth down and a field goal attempt from Michael Marando, FCRH '15. With the drive lasting exactly five minutes, Marando kicked in a successful 39 yarder. Fordham led 17-12.
However, the lead didn't hold for long. With 3:32 left in the third quarter, Harbridge again made a big play. He was definitely the Rams' biggest obstacle that day, as he rushed yet again for big yards. In ten seconds he turned a 17-12 Fordham lead to a 71-yard rushing touchdown to give the Red Flash an 18-17 lead. Then, Saint Francis decided to go for two again, and this time Ward's pass to Harbridge was good. The Red Flash then led 20-17.
Nonetheless, the St. Francis Red Flash was going to be held to only 20 points in this game. Once the fourth quarter began, it was all Fordham. With great field position, Fordham made it to Saint Francis' 23-yard line, and then Nebrich threw a 23-yard pass to Tebucky Jones, FCRH '15, for a touchdown, just nine seconds into the fourth quarter. After St. Francis failed to score on their possession, Fordham recovered the ball with a little over 12 minutes left in the game. Carlton Koonce, FCRH '14, one of Fordham's biggest stars over the last few years, rushed for 27 yards while Nebrich threw a total of 55 yards passing to Jones and Sam Ajala, FCRH '15. Fordham got to first and goal at St. Francis' eight yard line. From there, Koonce rushed eight yards to give the Rams another touchdown, and kicker Marando netted a field goal. Fordham moved to 31-20.
With nine minutes remaining, Saint Francis had enough time to score once more. But, they failed to after only reaching fourth down and 12 at their own 45 yard line. A little over six minutes were left when Fordham took the ball once more. It only took a minute and a half for the Rams to capitalize and score another touchdown. Fordham's Brian Wetzel, FCRH '15, rushed for an 84-yard kick return, following a 43-yard punt from the Red Flash's kicker Zack Drayer. This gave the Rams an amazing field position at Saint Francis' four-yard line. From there, Nebrich himself rushed for one yard, and in the next play, Koonce rushed for no gain. The team was third and down when Nebrich threw a pass to Wetzel for three yards, completing the touchdown for Fordham. It was Fordham's third touchdown, and 21st consecutive unanswered point, of the fourth quarter. The touchdown put the Rams on top 38-20, and that would be the final score of the game.
The Rams hope to continue their winning streak with a win against Lehigh University on Oct. 5 at noon in the Bronx. If they win, it will be the first time since 1988 that Fordham starts their season 6-0.