Fordham English Majors Make Top Salaries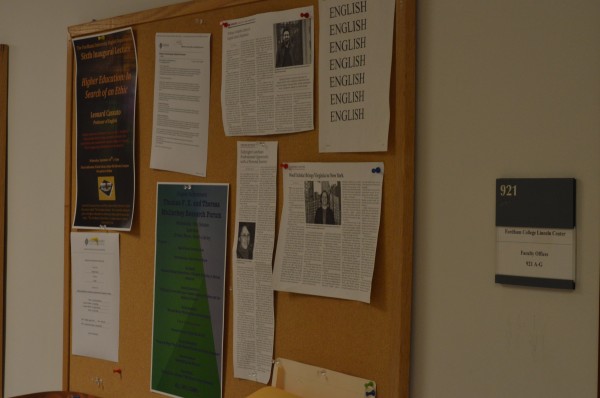 Fordham graduates with English degrees and their counterparts from George Mason University earn more money than those from other American universities. This is true at both entry and mid-level salaries, according to the 2013-2014 PayScale College Salary Report.
While the average mid-career salary of an English major is approximately $71,400, the mid-career pay of Fordham English major is $95,000, according to the study.
According to Janis Barry, associate professor of economics, students are starting to shift away from majoring in English and gravitating more towards science, math and business degrees. "American students will be well advised to go into the business-related majors, the science-related majors or the math-related majors," she said.
However, this decrease in the amount of students majoring in English is very slight, according to Glenn Hendler, associate chair of the English department. Currently, there are over 200 students at both Fordham College at Lincoln Center  (FCLC) and Fordham College at Rose Hill that are studying English. "I think that [decreases in English and humanities majors] is not true. [Employers] want people who question critically what is going on around them," he said.
"The English major leads to any number of tracks. People in business prefer those with an English major because they can think critically," Hendler said.
When asked what might have contributed to Fordham's English department's success, Sarah Zimmerman, assistant chair of the English department said, "When you take [the salary of a graduate of the English department] with a grain of salt, there are a lot of possible [factors] for this ranking."
The strength of the faculty, according to Zimmerman, contributes to this ranking. "I would say that we have such a strong faculty—[Fordham's English professors] come from both a literature and scholarly background," Zimmerman said. In addition to career services, Zimmerman said that many faculty members in the English department have the ability to assist students. "In New York City, our professors have a lot of connections to possible careers for students."
Along with the strong faculty, Fordham's location and accessibility plays a minor role in regards to the ranking. "We live in New York City—that's part of it but not all because then New York University (NYU) and Columbia University would be at the top. I think that Fordham does a good job with placing students in jobs," Hendler said.
"Students have the access to many careers," Zimmerman said. "Also, many of the literary publishers are stationed in New York—it provides English majors with access to jobs in publishing."
Furthermore, Zimmerman also contributes the rank of the English program to the integration of the creative writing and literature at Fordham. "Part of the reason why the English department is so strong is because [creative writing and English literature] are all under one English department," she said. "In other college and universities, the creative writing department doesn't communicate with those in the English department. It makes [the English department] stronger as a department, as a whole."
Students majoring in English are not concerned about possible job prospects and salaries. "I've never worried about getting a job; English is such a versatile major," Alyssa Carolyn, FCLC '14, said,  who is an English major. "The college degree is what matters, not so much what you study."
Ross Lampert, FCLC '16, who also majors in English, agrees with the flexible nature of majoring in English. "I never worried about job opportunities or salaries," he said. "I could do anything, like writing newspapers, articles, journals and more."
Students decided to major in English because of interest in English writing and literature. "I've always loved to read—I decided pretty early on that I wanted to major in English. I wanted to study something I enjoyed," Carolyn said.  "English and literature is always something I enjoyed and loved from an early age. I much rather do something that I love—you can never buy happiness," Lampert said.