Noonday Demons Opens at the Kehoe Studio Theatre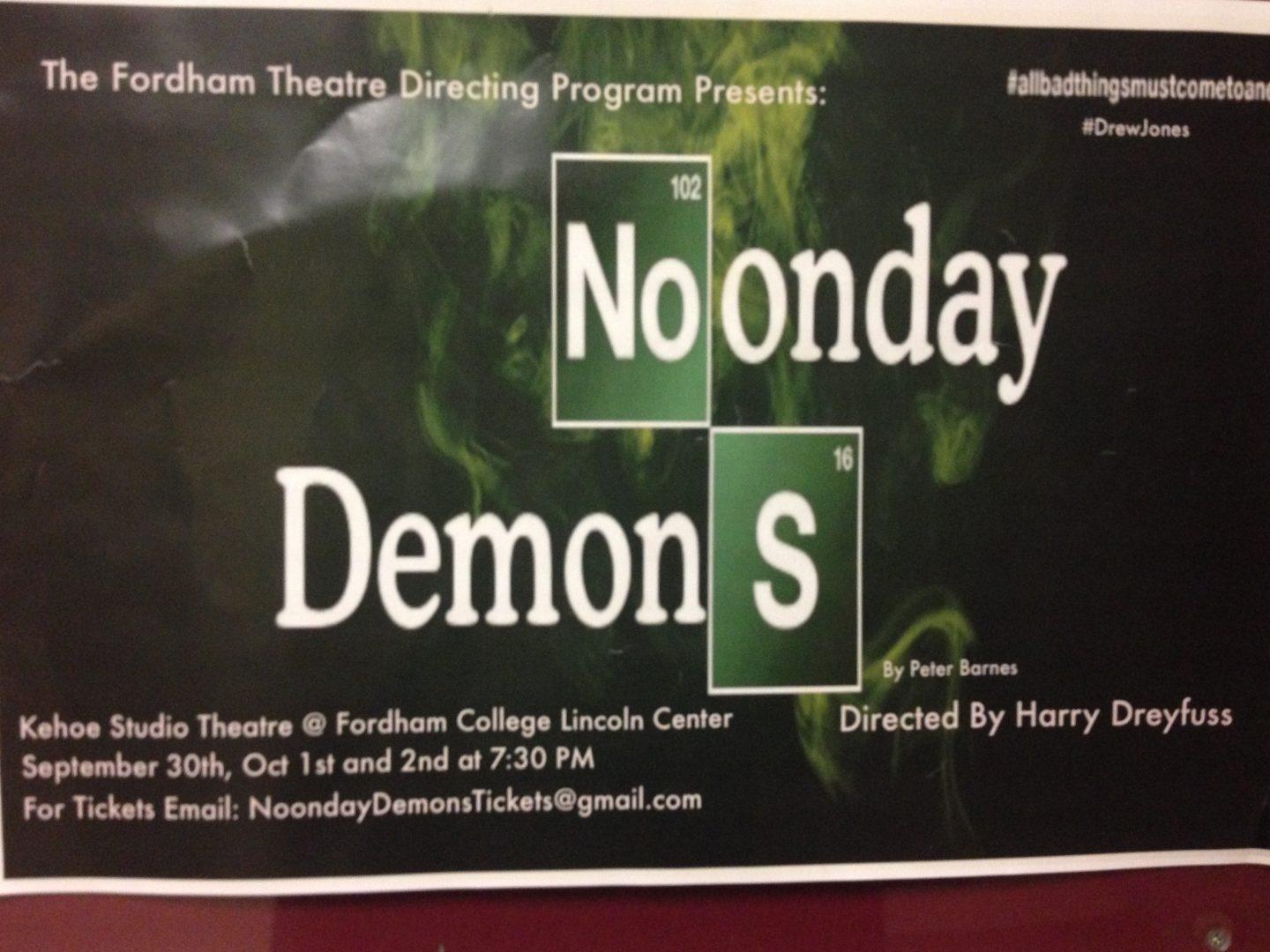 Two reclusive saints, a war of piety and a mound of petrified human feces—continuing with the theme of "A Season of Facing Demons," Fordham College at Lincoln Center (FCLC) premieres "Noonday Demons" Monday, Sept. 30 in the Veronica Lally Kehoe Studio Theatre. Written by Peter Barnes, the play explores the human phenomenon of faith that is so strong, it proves fatal.
"Noonday Demons" focuses on the trials of St. Eusebius, a hermetic monk who believes piety can be found by rejecting the human world. He is plagued by maggots and demonic possessions and has only the remains of his excrement for company; that is, until he is challenged by a rival devotional hermit, St. Pior. The resulting feud of piety explores what a person can do in the name of God with equal measure of absurd humor and harsh drama.
"This is the most challenging thing I've ever had to do," Drew Brandon Jones, FCLC '16, who plays St. Eusebius, said. "The first 23 minutes of the play is just me."
Jones explained that while his character used to be a wealthy man, he gave up all his worldly treasures, exiles himself from the world and "suffers and sacrifices, what he believes, for God." A mix of comedy and extreme seriousness, Jones said that the tone of the play elicits "very English sort of laughs, but looking deeper into it there's certainly a lot of tragedy and pain for both characters."
"["Noonday Demons"] can be pushed to all the extremes," director Harry Dreyfuss, FCLC '14 said. "I wanted to do a play where I could basically exercise every theatrical muscle." Dreyfuss certainly capitalizes on this directorial flexibility, even using the audience as a prop, referring to the general audience as the pile of aforementioned feces— "When [Eusebius] thinks about humanity and the pleasures of the world, the whole world of the flesh, all he sees is sh-t."
Dreyfuss uses his directorial prowess and gifted team of actors to explain the central question of "Noonday Demons:" Who is more deserving of the holy land?
IF YOU GO
Where: Veronica Lally Kehoe Studio Theatre – Fordham College at Lincoln Center
When: Sept. 30, Oct. 1-2 at 7:30pm to 11:30pm
Reservations: Admission is free, but reservations are required. Email [email protected] to place reservations.