Reckless: FCLC's First Show of the Fall Season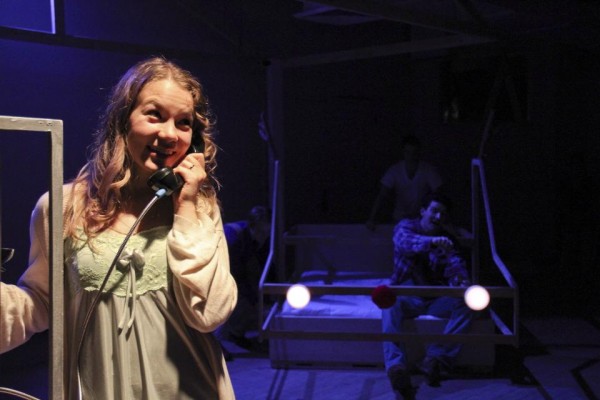 What do you do when you wake up on a beautiful Christmas morning and your husband tells you he hired a hitman to kill you? That's precisely what happens to Rachel–the protagonist in Craig Lucas' "Reckless"–which opens Thursday, Sept. 26 at the Whitebox Studio Theatre at Fordham College at Lincoln Center (FCLC).
The dark comedy premiered off-Broadway in 1983 and was later adapted into a film in 1995 by director Norman René, starring Mia Farrow and Mary-Louise Parker. The play first premiered on Broadway in 2004, starring Mary-Louise Parker as Rachel and featuring a cast that included Debra Monk and Thomas Sadoski.
Rachel, played in the FCLC production by Shea Kelly, FCLC '14, is a modern-day Alice in Wonderland, as she is thrown out the window of her home and into perilous adventures that include game shows, assassination attempts, embezzlement scandals and unstable therapists that lead her to question her own sanity.
"Rachel is very chatty and eager and delightful in life, but there's also a lot of tragedy in her past," Kelly said. Figuring out how to "ground myself in a past marred by tragedy, but also to have the lightness and the quickness" necessary for the role was the most challenging part of playing Rachel.
Director Patrick Dooley, FCLC '14, chose this play because he "wanted to do something that was much different and much more complex" than his previous directing work here at FCLC. After reading many plays, Dooley found that he was really drawn to "Reckless." "It's a magnificent story," Dooley said. "It's so funny, it's so hilarious and very poignant. "
For Kelly, the play speaks to her as she prepares for her final year in school before becoming a young adult in the real world. "Being a senior in college, there are a lot of chances we're going to need to take in the next few years as we embark on our young adult lives," Kelly said.
The protagonist of the play is a lot like us, too.  "Rachel puts up a lot of façade, but in a deep way," Kelly said "We all do that. We all have our social selves that we are in public. The façade isn't any less a part of who we are, it's a part of how we live our lives."
In his research, Dooley found that, "Most of the productions have really realistic interpretations," Dooley said, which he "didn't think that this play required." The set, designed by Dan Geggatt, FCLC '14, is bare bones, functional and inventive; what was a bed in a previous scene becomes a truck in a later scene.
The cast and crew have been in rehearsals for over three and a half weeks.  Auditions and callbacks took place during the first day of classes, Wednesday, Aug. 28; it was concurrent with main stage auditions and rehearsals, which began that Friday, Aug. 30. "It's been a lot of work but worth it," Dooley said.
"It is completely student produced in every facet. It is student- directed, every designer, all of their assistants [and] the entire cast [are] all students,"Dooley said when asked why FCLC students should come see Fordham Theater's first studio show of the semester. In addition, the production features "magnificent work from the actors and equally magnificent work."
"[There are] a lot of seniors who are doing some of their last shows," Dooley said. "So get to see them now before they're [the next] Taylor Schilling."
IF YOU GO
Where: Whitebox Studio Theatre – Fordham College at Lincoln Center
When: September 26 at 7:30pm to 11:30pm; September 27 and 28 at 7:30pm
Reservations: Email  the number of seats you would like and your name to reckless.ford[email protected]; Admission is free, but reservations are required.