Obama Aims to Reduce Debt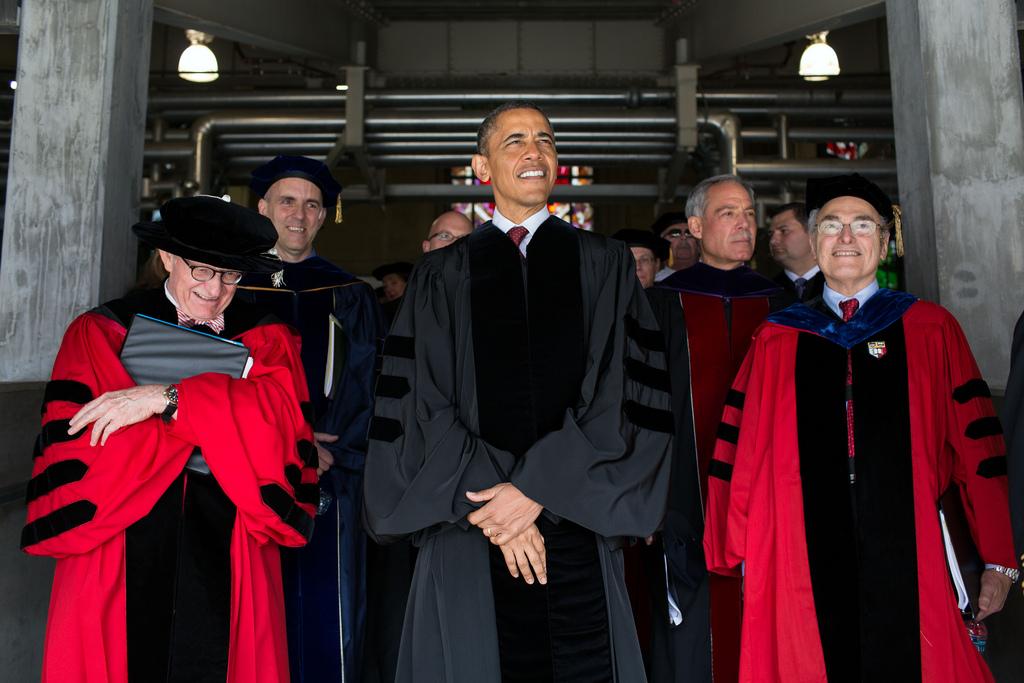 Late this last August, President Barack Obama planned on lowering the cost of student loans by proposing an official ranking system of colleges and universities. While some faculty and students of Fordham College at Lincoln Center (FCLC) think that this action to lower student will work, some view this way of method as inefficient.
According to an article by Tamar Lewin in The New York Times, this ranking system would show ratings of colleges based on data regarding "tuition, graduation rates, debt and earnings of graduates and the percentage of low-income students who attend [the college or university]." As highlighted in the article, it is important to have this ranking system so that "colleges offer good value for their tuition dollars, and that higher education offers families a degree of security so students aren't left with any debt they can't pay back."
The ranking system would be an action by Obama to, according to a trending chart on Econbrowser, lower the student loans, which have recently reached over $11 trillion. According to Janis Barry, associate professor of economics, student loans have reached this hike because of the lack of employment and the "ascendency of the financial sector as an engine of the overall American economy."
"Given the labor market that many young people face after going through college, and certainly even law school, many of them, through no fault of their own, aren't able to find employment that will allow them to pay back this massive debt," Barry said. "Thus, looming in the shadows, is a debt default for students."
According to Barry, Obama's proposal of a ranking system is a smart idea to lower student loans. "I think [Obama's proposed ranking system] is wonderful," she said.
"The American system of education has created a fairly large, reliable pool of institutions that will give you similarly, a good bedrock 4 year, liberal college education. [Even though there is a ranking system], there are very little differences between places," Barry said. "[This ranking system] measures, a lot of the time, the alumni network. It entitles students to these connections, which are useful after graduation."
For FCLC students, Fordham's ranking against other schools, coupled with the cost of tuition, should be highly considered when coming to the school. According to Dylan Reilly, FCLC '16, Fordham's competitiveness and financial aid were significant factors in choosing the school. "I knew [Fordham] was considered competitive, which was a plus; that means about fifty percent who apply get in. For me, I think that's an important criteria," he said. "Pricing was also a big deal. Fordham gave me a good aid package—it was very important that I am able to afford it."
However, some students said they considered Fordham's tuition and loans more than the quality of the education. According to Mary Jaquez, FCLC '14, although Fordham is an academically competitive school, the affordability of Fordham is an important factor. "[Fordham] is a good school, and I wouldn't say it is the best; it all depends on how much you're paying for it," she said. "But I think if [Fordham] didn't give the students enough money, I don't think they would come here," she said.
Like Jaquez, Nairee Djirdjirian, FCLC '15, and Ivy Vallejo, FCLC '14, thought the financial aid package was more important than the school's quality and ranking. "Fordham is a great school, but obviously, financial aid is something for everyone to really think seriously about," Djirdjirian said. "Out of all the schools I was accepted in, Fordham was the most competitive. But I wouldn't have gone without a good financial aid package," Vallejo said.
If the overall education of Fordham was compared to its tuition, students say that the value of classes and professors at Fordham make the school worth its cost. According to Reilly, the professors add to the quality of FCLC. "Most of the professors are good – maybe there is one every other semester that's just terrible. But, by in large, the majority [of professors] is fine. Most are pretty exceptional, actually," he said.
Unlike Reilly, some students do not think that Fordham is balanced with the cost of tuition and loans. According to Djirdjirian, the amount of classes is not enough for the amount of tuition that students pay. "It upsets me how we are limited to 18 credits, when we're already paying a lot for tuition and loans," she said.
Overall, students find that Obama's proposal will not sufficiently lower the amount of loans. Reilly said that the plan would not work, and only result in more student loans. "The loans are tied to the price of college; if you can't meet that out of your own pocket, then you're going to have to take loans," he said. "Unless the government provides more loans, it will just result in more student debt. [This proposal] isn't going to help too much."