A Season of Facing Demons
"Americans have difficulty facing crisis," said Matthew Maguire after being questioned on the significance of the chosen theme of the 2013-2014 Fordham Theatre season: "A Season of Facing Demons." This dilemma of how we choose to face our internal and external fears will be explored on the mainstage through four different perspectives. Four plays are lined up to explore four different demons, the first of which deals with poverty and hunger, in Maria Irene Fornes' "What of the Night?"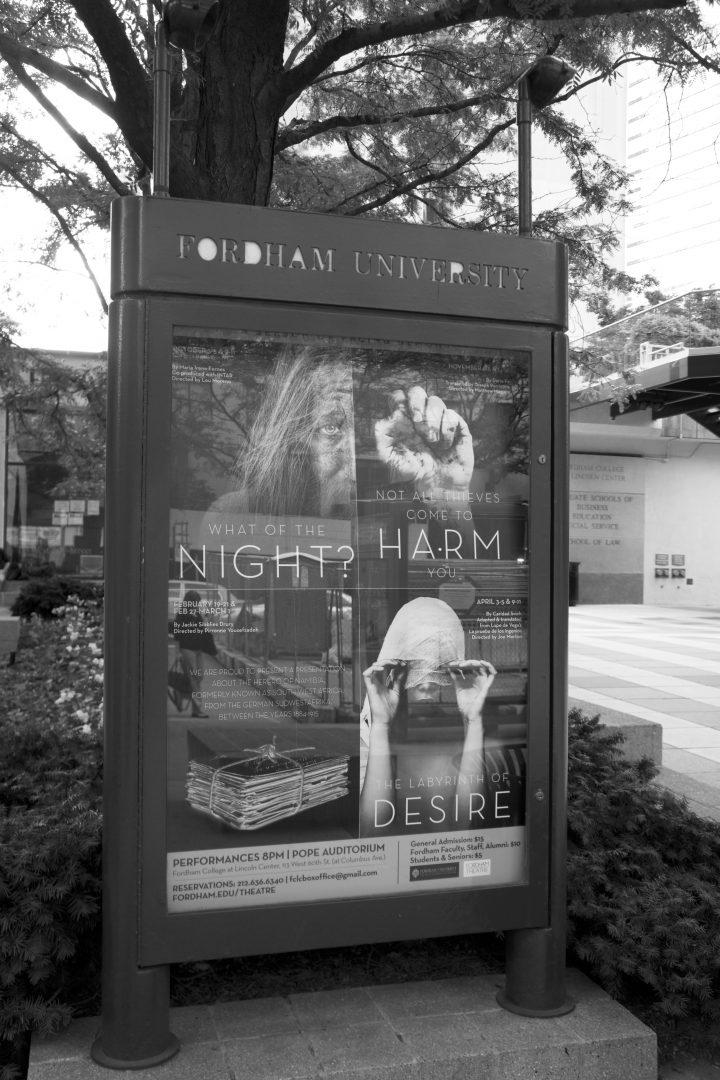 Maguire said that this play was the "kernel" of the season selection process, that poverty and hunger is "something that is consistently denied in mainstream political debate." This piece is a cycle of four one-act plays exploring the detrimental effects of poverty in America from the Great Depression to 1998. In the spirit of collaboration, this play will be co-produced with INTAR theatre, and directed by its artistic director, Lou Moreno.
The second piece is Dario Fo's farce: "Not All Thieves Come to Harm You." It was translated by Fordham professor Joseph Perricone, Professor of Italian and Comparative Literature, and will be directed by Maguire himself. Dario Fo's satire explores the class divide by bringing together characters that belong to different class levels. While the play does aim to entertain, it also aims to teach something of value to its audiences. As Maguire said on the goals of this season, "Foremost is attuning everyone to the present moment: what is happening now, and how do we respond to it as artists?"
This question lingers as the third play of the season comes into view, Jackie Sibblies Drury's "We Are Proud to Present a Presentation About the Herero of Namibia, Formerly Known as South West Africa, From the German Sudwestafrika, Between the Years 1884-1915." This time, the focus is on race and racial identity, with Pirronne Yousefzadeh at the directorial helm. This piece focuses on the genocide that took place in German Southwest Africa at the beginning of the 20th century. Theatre major Mandy Heiser, FCLC '16, said, "I'm really excited for 'We Are Proud to Present a Presentation' by Jackie Sibbles Drury. It's a fresh new show that presents the story of a 20th century genocide in Namibia, an event seemingly far removed from present-day America, to reflect on how the ways we look at race today are different and how they are strikingly similar."
The season closes with another hotbed topic, homophobia and LGBTQ rights.  "The Labyrinth of Desire" by Caridad Svich was adapted and translated from Lope de Vega's 17th century work "La Prueba de los Ingenios." This piece is about a woman who goes undercover in an effort to win back her disenchanted fiancé. Former Denzel Washington Chair in Theatre Joe Morton will direct the production.
With all of these pressing topics in the upcoming season, it seems that Fordham theatre aims to use the craft as a medium to initiate change and spread awareness. Theatre major Aja Singletary, FCLC '16, said, "During and after each show, I want each person to step into someone else's shoes." The discussion on facing demons will surely continue long after the curtain goes down. Matthew Maguire sums up his intentions for the season in one concise statement: "I would hope that our audiences walk away moved and entertained and thinking about the questions the plays and our productions raise." He paused, and then added: "In the best case scenario, theatre can change lives, perhaps not in instant revelations, but through the planting of seeds that blossom into illuminations over time."
IF YOU GO
All Shows
When:8pm
Where: Pope Auditorium
Price: $10 Fordham Faculty, $5 Fordham Students, $15 General Admission
More Info:(212) 636-6340, visit the box office (Wednesday – Friday, 3-6pm), or email [email protected]