Rice Remembered as Respectful Player, Coach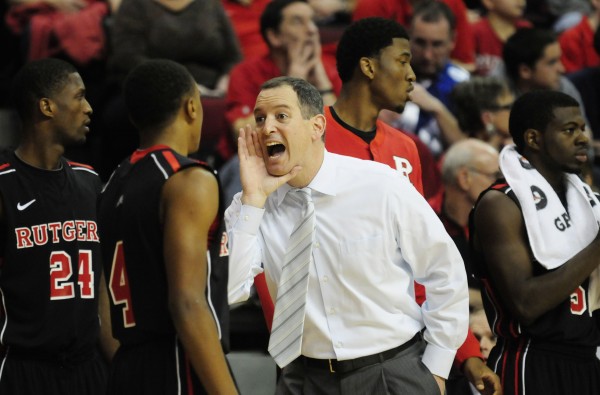 Former Rutgers head basketball coach Mike Rice graduated from Fordham College at Rose Hill in 1991, playing basketball as a three-year starter between 1988 and 1991. His coaching career also began at Fordham, serving as an assistant coach from 1991-1994, where he made impressions on Fordham staff that conflict greatly with the ones that many now have of him after seeing the footage compiled of Rice's practices.
Rice was a stalwart defender as a member of the Fordham team, a key part of a defense that helped the Rams go undefeated at home his senior year. That same team finished first in the Patriot League with a record of 25-8, as did the following year's team during Rice's first year as an assistant coach, going 18-13 with an 11-3 conference record.
Current George Mason University head coach Paul Hewitt, another former assistant coach for the Rams, recalls Rice as being a good teammate and first-year coach. "[Rice was a] very respectful teammate," Hewitt said. When asked about abusive behavior or violent outbursts, Hewitt said, "No, not that I saw in him, no." Speaking about Rice's first year as a member of the coaching staff, Hewitt remembered him having the demeanor one would expect of a first-year coach. "He was a first year coach. He was very quiet. He listened a lot. He took instructions. Mike didn't say a whole lot that year. He was a first-year guy. He kept his mouth shut and did his job."
Hewitt was as surprised by the behavior of his former colleague. "Yeah, I was as surprised as anybody else," Hewitt said, "but also, being in this profession for 20 years… I'm going to paraphrase Mike. There's no defending what was on those tapes, so I'm not attempting to defend it. But being in the profession for over 20 years, you can put together film the way you want to, it can tell a story that may not be 100 percent factual."
The film in question shows Rice berating his own players by pushing, kicking, cursing and throwing basketballs at them. It was compiled from hours of footage taken by Rice's then assistant at Rutgers, Eric Murdock, and has been edited down in most broadcasted forms to be just about a minute in length.
In reacting to the scandal, Hewitt had hopes that his former colleague would land on his feet. "I hope Mike gets another opportunity, you know," said Hewitt. "He made a mistake, he recognizes he made a mistake, using his words, there's no excuse for what was shown on those videos. But I also know that the majority of his players spoke on his behalf and in his defense. You would hope that someone would give him the opportunity to show that he's learned and that he will not repeat those mistakes. Just the same way you would with a colleague that you know who made a mistake, you hope they'd get a chance. That's all I can say."
Though Hewitt had a fair amount to say on Rice's behalf, he made it clear that the behavior was out of the ordinary for coaches in his experience. When asked if the behavior was something he'd call typical of college coaches, Hewitt plainly said "No, absolutely not," adding that he knew of no other coaches who had behaved in this way with their players.