Seniors Awarded at Leadership Dinner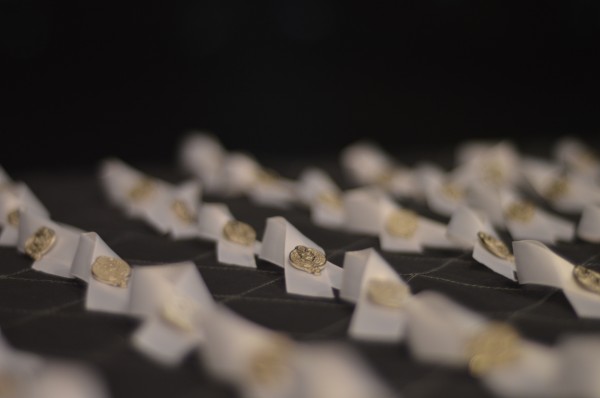 On April 29, the senior leadership awards dinner was held on the 12th floor lounge at 5 p.m at Fordham College at Lincoln Center (FCLC), honoring students who won Senior Leadership, Alumni, Journalism or Community Service Awards.
One of the recipients was Kevin Quarantino, FCLC '13, who was awarded a Senior Leadership Award, an award given to those seniors who have "the ability to lead, organize, empower, and inspire fellow students," according to the Office of Student Leadership and Community Development (OSLCD)'s website. When asked what his reaction was when he found out he received the senior leadership award, Quarantino said "I was very surprised. I didn't know I won because I looked at the pamphlet; I walked in and saw my family."
During his time at Fordham, Quarantino was involved in numerous clubs. He was a general member of the Commuter Students Association (CSA) his freshman year, became treasurer of CSA for his sophomore year and was eventually elected president during his junior year. He was also a commuter freshman mentor during his sophomore and junior year. In his senior year, Quarantino became the vice president of student affairs of the United Students Government (USG) and became involved in programming some of the events such as the Winterball and Under the Tent.
"All of the events that have occurred are because people have helped me and supported me. Collective effort happens because people are willing to give you their time," said Quarantino.
Alexa Rodriguez, FCLC '13 was awarded the Alumni Award, an award presented to a senior with an oustanding record of co-curricular achievement and whose academic record is commendable, according to OSLCD's website. "I was really shocked [about receiving the award]. I felt very lucky to be in the presence of such great company," she said.
Rodriguez became involved in USG in her freshman year and went on to be President of USG in her senior year. She was also one of the orientation coordinators for the incoming freshman class of 2015. During her senior year, Rodriguez was involved in the GO! New Orleans project, which worked with various organizations that were affected by Hurricane Katrina.
Nusrat Jahan, FCLC '13 was also awarded the Senior Leadership Award. "I saw it [receiving the award] in the book but it sort of hit me when Dean Eldredge was reading parts of the nomination speech. It was a very nostalgic moment," Jahan said.
Jahan became involved in CSA and MSA, eventually becoming president of MSA. She was also one of the Orientation Coordinators for the incoming freshman class of 2015.
Alexander Lupo, FCLC '13 also received the Senior Leadership Award.Aisha Blake, FCLC '13 received the Community Service Award, given to "a senior who has exhibited excellence and leadership in serving others," according to OSLCD's website. Harry Huggins, FCLC '13 and Michael Madden, FCLC '13 were recipients of the Journalism Award.