Buck and Harvey Lead Mets to Early Success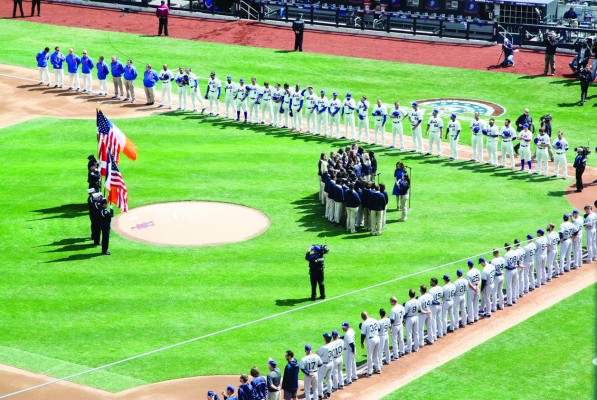 Spray painted onto either side of home plate were the words "Opening Week" in red, white and blue. After six months off, April 1 indicated that the 2013 baseball season for the New York Mets had finally begun. Now, two weeks into the season, the Mets are doing better than expected, with an 8-4 record and a second place spot in the National League East division. The team's top two players, John Buck and Matt Harvey, are a big reason why the Mets have been doing so well early on.
The Mets offense exploded on Opening Day with an 11-2 win over the San Diego Padres. Many members of the team went on a hit parade against Padres pitcher Edinson Volquez, pushing him out of the game after just three innings. Even Mets pitcher, Jon Niese, who pitched a fine 6.2 innings, went 2-for-2 and batted in a run. Outfielder Colin Cowgill knocked a grand slam in the bottom of the seventh inning to put the game to bed and ensure a Mets win. However, as any Mets fan knows, the team could be hot for one game and then not contact the ball for the next ten games. That is, until Buck arrived.
At 32, old in baseball, Buck has lifted the Mets with his offensive and defensive skills. Buck was a member of the dismal Miami Marlins last season, a team that traded him to the Toronto Blue Jays in November. He was a Blue Jay for a month before he was traded to the Mets in December.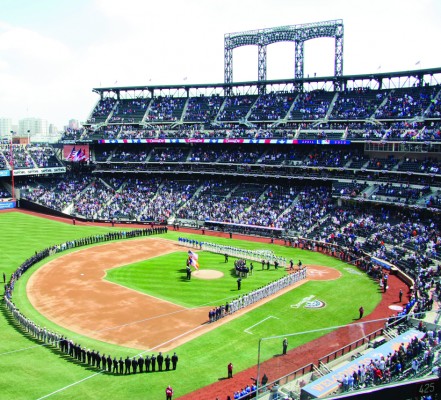 The Mets signed Buck as a placeholder in the catcher position while their young catcher, Travis D'Arnaud, gained experience in the minor leagues. Teammates including pitchers Jon Niese and Dillon Gee have rallied behind Buck, saying that he develops an excellent relationship with each pitcher and is a natural leader in the clubhouse. "He's so locked in behind the plate, and that spills over to the pitchers. You can tell he's been around a long time, and you don't second-guess him," Gee said to SportsNet New York (SNY) reporters.
Buck lacked offense in Miami, collecting just 66 hits in 343 at-bats and hitting a mere .192, but so far in 2013, he has torn up teams with an offensive resurgence. In ten games with the Mets, Buck has a .317 average with 19 RBIs and six home runs. He is only one of four major leaguers to ever hit 19 RBIs in the first ten games in a season, according to ESPN Stats and Information Group the other three being Lou Gehrig in 1927, Manny Ramirez in 1999 and Chris Davis this season.
Buck's RBIs are also the most ever for a player in his first 10 games with a new team.
In fact, Mets blog reported that Buck, on his own, has now out-homered the total number from Mets' catchers last season by one run, already totaling six to last season's five.
After hitting a grand slam against the Minnesota Twins on April 12, he spoke with SNY reporters about his offensive success. "I'm benefiting from last year. I tried too hard. Now, I am just going up there trying to hit the ball solid," Buck said.
Buck's teammate Harvey has also been spectacular during the first two weeks of the season. Coming into the 2013 season, much hype has been made regarding the 24 year old's pitching, and so far he has been fully living up to it. In three starts, he has pitched 22 innings and walked just six. But more impressively, Harvey has only allowed six hits and two runs, one being a home run. His ERA is a sparkling 0.82, placing him ninth lowest in all of the majors. He was named NL Player of the Week, the first Met to do so since Johan Santana pitched his no-hitter in 2012.
Harvey's efforts on the field have won him a few famous baseball fans on Twitter. On April 4, David Price, veteran pitcher of the Tampa Bay Rays, tweeted out, "Matt Harvey is my new favorite pitcher outside of current and former teammates!! He's nasty." The tweet followed Harvey's first game on April 3, where he allowed just one hit over seven innings of work.
Dwight "Doc" Gooden, a legendary strikeout machine for the Mets, also gave high praise to Harvey. On April 9, after Harvey's game against the Phillies, Doc tweeted "I am sitting here watching @MattHarvey33…this kid is better than advertised…looking forward to watching him every 5th day." Matt struck out nine of the Phillies' batters that night and outpitched veteran Roy Halladay.
When pitching against the Twins on April 13, Harvey gave up two hits over eight innings and struck out another six batters. In 22 innings, Harvey has struck out 25 batters, and Doc loves it. "We need to come up with a nickname for this kid…He's the real deal… Matt "THE REAL DEAL" Harvey," Doc tweeted.
Neither Harvey nor Buck shows any signs of slowing down. Their drive and determination on the field continues to affect their teammates as the team gets set to face a difficult schedule in the months ahead.