Fordham Professor Takes On Jackie O, Nominated for Lucille Lortel Award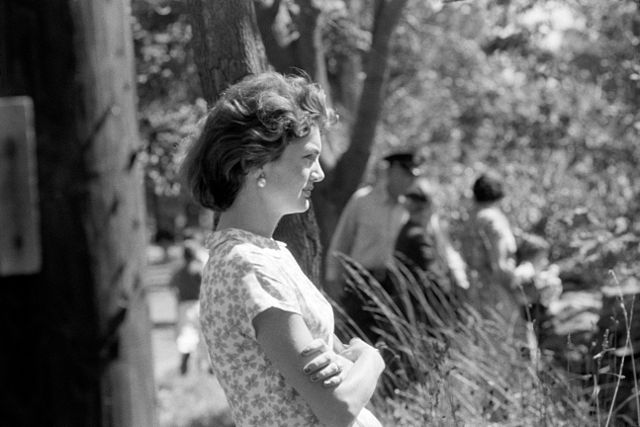 On April 3, Fordham College at Lincoln Center (FCLC) professor Tina Benko was nominated for the Lucille Lortel Award for Outstanding Solo Show for the Women's Project Theater's production of "Jackie," which ran from Feb. 24 to March 31.
A graduate from Carnegie Mellon University, Benko has taught acting and has collaborated with the playwright program at FCLC for seven years now.
Balancing her academic and stage career is not easy, confessed Benko, but her students inspire her. "They make me be a better actor. I'm never more terrified than going out and seeing a row full of my students," Benko said.
Benko often feels more pressure when students come to her performances than when critics do. "It's more terrifying than The New York Times."
"Jackie" came to fruition at the conclusion of a workshop of a new piece called "A Light Design," when director Tea Alagic approached Benko to read for the part of Jacqueline Kennedy Onassis, explained Benko. "The text is this avalanche of muscular words and imagery," Benko said, finding the experience scary, "but also exciting and thrilling."
The Associated Press heralded Benko's performance in "Jackie," as "irreverent, sharp-eyed imagining of the former first lady. Witty and haunting." The New York Post described her performance as "magnetic" and "stunning."
Benko recently toured internationally as Desdemona/Othello in the theater piece "Desdemona," written by Toni Morrison, who will take the piece to Amsterdam this summer, said Benko. She can be seen onscreen in "The Avengers" and "Admission," as well as on three seasons of Showtime's "Brotherhood" as Kath Parry.
According to the Women's Project, "'Jackie', an intensely theatrical dissection of Onassis and the myths surrounding her well-coiffed veneer, is a disturbing exploration of submission, power and the hypocrisy of everyday life."
"Very few people know the real Jackie," said Benko, discussing how the play doesn't portray Onassis as the wholesome, demure First Lady. "We weren't trying to sustain a Jackie impersonation, as we know her, the whole time."
The play, which juxtaposes Marilyn Monroe against Onassis, showed that while Marilyn was this open wound crying for help, "Jackie was screaming inside."
Written by Austrian playwright Elfriede Jelinek, who is best known for her semi-autobiographical novel "The Piano Teacher," which was later turned into a film by Michael Haneke in 2002, "Jackie" takes place in a no-man's land, after the death of President John F. Kennedy, according to The New York Times.
"Jackie" played Women's Project Theater's new home at New York City Center Stage II, a stone's throw from FCLC. In addition to being nominated for Outstanding Solo Show, "Jackie" also received a nomination for Outstanding Sound Design, by Jane Shaw.
The Lucille Lortel Awards Ceremony will take place on May 5 at NYU Skirball Center.