Internet Overreacts to Bieber Comment
In today's celebrity-obsessed world, it should come as no surprise that Justin Bieber is under scrutiny for the note that he left in the Anne Frank House museum's guestbook. Bieber signed the museum's guestbook with a note that read: "truly inspiring to be able to come here. Anne was a great girl. Hopefully she would have been a Belieber." Social media users immediately attacked the teen heartthrob, calling Bieber everything from ignorant to vain for leaving that note.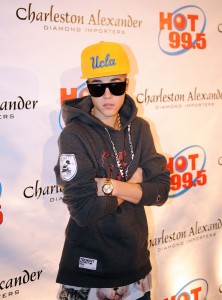 I read comment after comment with furrowed brows. Vain? Ignorant? Contrary to the beliefs of the Internet world, I couldn't find anything offensive in what Bieber wrote.
Bloggers and online critics insist that the note was "insensitive" because he supposedly made his visit more about himself than Frank. However, the Anne Frank House museum was so pleased with the note that they even posted their support of Bieber on their Facebook. If they like Bieber's note, then why is the public so outraged? Frank filled her room with various posters and pop culture-related items of the time. Had she been born in the early 2000s rather than in 1929, it is very likely that a 13-year-old Frank would have been a Justin Bieber fan herself.
I find it very hard to believe that Bieber was purposefully trying to make a self-centered remark or stir up negative attention from the media. I understand that the public is concerned that Bieber is making light of a very serious event in history. What happened to Anne Frank is horrifying and tragic, but attacking Bieber for his note only creates more problems than what it's worth.
Maybe if Bieber jotted down an anti-Semitic comment I could see the need for public outcry, but criticizing Bieber for hoping that Frank would have been a fan is a waste of our time and energy. At the end of the day, Bieber is just a 19-year-old boy struggling in his transition from innocent adolescence to adulthood. Sure, some of recent shirtless pictures are questionable, but we've all had our angst-filled teenage years. We were just lucky enough not to have our every move documented and then criticized by the media.
With so much tragedy going on in the world, is the latest Bieber faux pas something really worth our time and attention?