LC Students Talk of Their Off-Campus Digs
Despite the Cost of Living, Students Love Living Fine-Free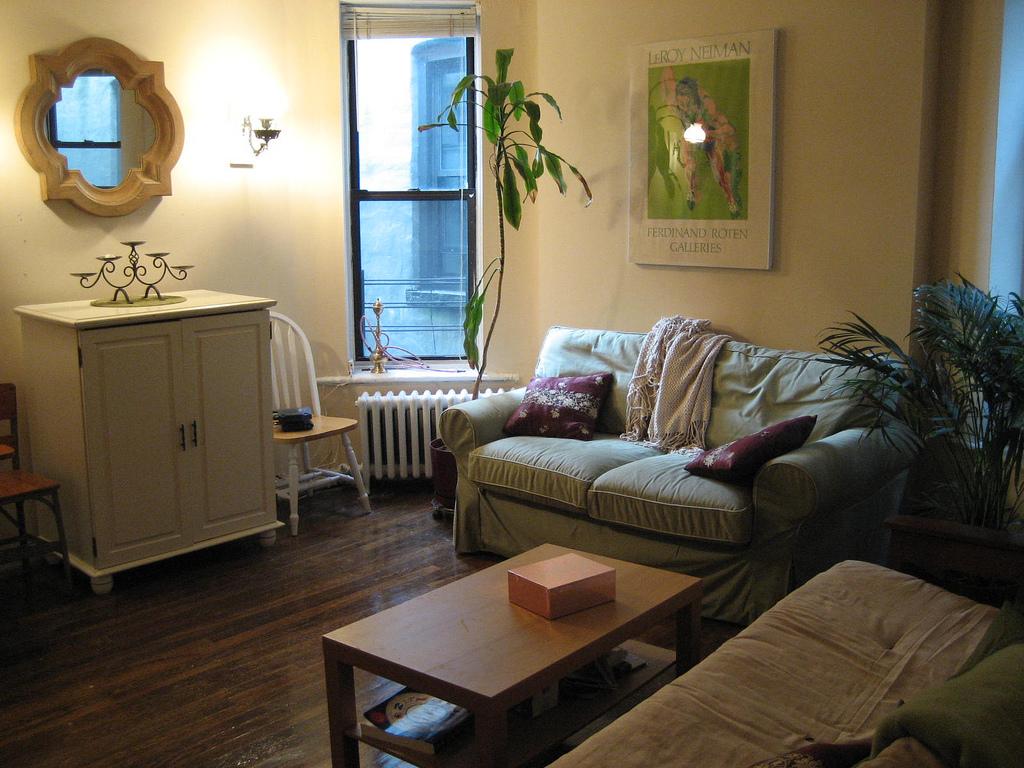 Published: April 3, 2008
As an eager, wide-eyed freshman, living on campus seems like a dream. Surrounded by friends 24 hours a day, parties seven days a week, no parents, no curfews, no rules….right? POP! The Residential Life handbook puts a pin in this dream bubble.
Suddenly, the parties consist of you and the two other people you're allowed to sign in to the dorm. Freedom with your significant other is reduced to you two sitting on the curb in front of McMahon at 3 a.m. And a list of fines begins to appear under your bursar account. (Won't your parents just be thrilled?) It quickly becomes apparent that living on campus may not be all it's cracked up to be.
Many students have sacrificed conveniences like free laundry service and the ability to walk in slippers to class, resolving to move out of McMahon into their own apartments. What convinced them to go? How do they afford living in New York? And how are they enjoying the most enviable lifestyle in their own pads in the city?
Of her apartment in Astoria, Queens, Katie Schneller, FCLC '09, said, "It's a really good location for Fordham students because it's right across the water. It's really affordable and the neighborhood is awesome." After living in four different apartments, Schneller is currently calling a house she shares with three roommates home. "I have my own kind of studio in the basement with my own bathroom and kitchen.  They share the top floor, and we all share the kitchen, dining room and living room."
Schneller added, "The dorms are all well and good, but living in an apartment in the city gives you confidence, your own space that you can usually do whatever you want with, and they are often cheaper." Schneller could convince anyone that an off-campus apartment is the way to go, as she even found positives about the commute to school.
While her previous apartments were in Manhattan, closer to campus, she doesn't mind the subway ride. "Honestly, the commute is not a bad thing. I get to experience the city that I moved here for; I have about 20 minutes of downtime on the train, and I like having my own neighborhood."
Schneller has never lived on Fordham's campus, but many of us could tell her that McMahon is not your typical dorm experience. With furnished apartments and private bathrooms, it provides a living experience different from many colleges.
Ex-McMahon resident Marie Larson, FCLC '10, doesn't seem to fret over the loss. "I love living by myself! It is amazing. The best part is probably no RAs, and I can be as loud as I want and I can have parties," said Larson of her studio apartment on 54th Street and 9th Avenue. "I think living by myself has definitely given me a jumpstart, because you start to realize how much the cost of living in NYC really is when you have to buy not only the apartment, but also all the furniture and stuff."
But Larson didn't move out of the dorms by choice. "The reason I am in an apartment is that I transferred to the business school at Rose Hill, and they didn't have housing available over there. So it was either to live in the Bronx or suck it up and pay to live in Manhattan, and that's what I did!"
While living off campus continues to sound great, it still isn't an option for everyone because of the price tag. Larson admitted, "The only way I can afford it, sad to say, is through my dad." While Schneller said, "I work as a nanny and I pay for the majority of my living expenses on my own, but my new place is a little bit more expensive than my old one, so I use a bit of loan/scholarship money to make ends meet."
Mia Dixon, FCLC '10, is one of the many students who longs for a place of her own. "Freshman year was fine in the dorms; it helps you meet people, and it's easy to get to class on time, which is something I had to adjust to. But now that I am used to the college schedule, I'm ready for a place of my own." Up until now, money has prevented Dixon from even considering moving off campus, but recently, after a friend offered her a room in his apartment for an affordable price, she began to consider it as a major possibility.
While money seems to thwart many plans for living independent of McMahon, Schneller said, "It is significantly cheaper than dorm living," which leaves hope for students with the desire to find their own places.
Cost definitely depends on location. While you may be forced to hand over big bucks for a Manhattan space, the boroughs offer cheaper options that are often bigger. And while it may be stressful at first to find an apartment and get used to living on your own, it may save you the panic after graduation in the long run. "I know how to find apartments on my own, I know how to deal with landlords and I know my rights," Schneller said. "I hear a lot of my dorming friends talking about the stress of graduating and how they have to find an apartment. I guess I have a lot of confidence because I know I can take care of myself, pay my bills, and get cable, electric, Internet, etc. all set up."