Kelly Oxford Celebrates Book Release at Housing Works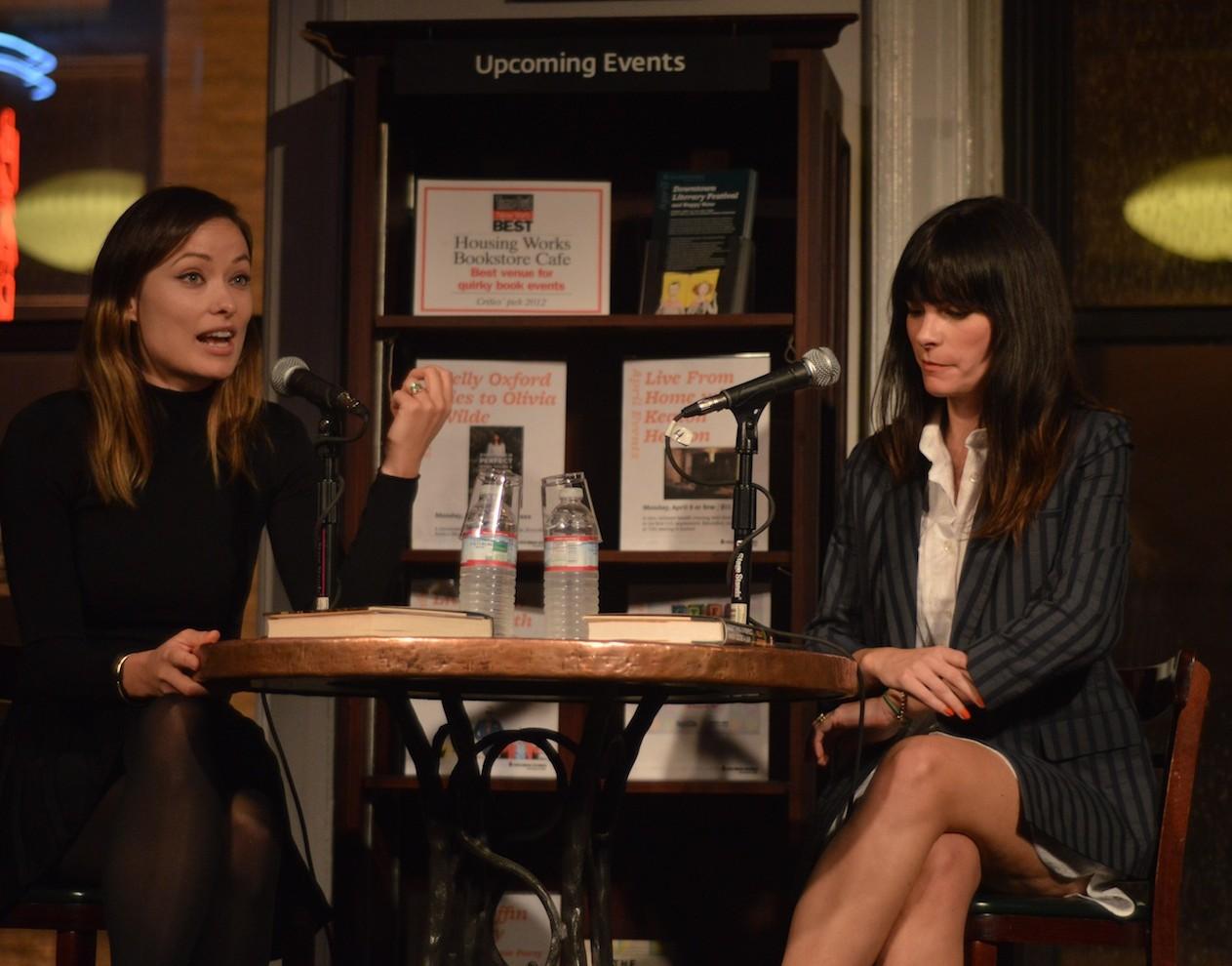 Kelly Oxford, Twitter phenomenon from Canada, promoted the release of her first book, "Everything is Perfect When You're a Liar," at Housing Works Bookstore Cafe on April 1. The event, "Kelly Oxford Lies to Olivia Wilde," began with a conversation between the author and Wilde, an actress, activist and a fan of Oxford's tweets, and culminated in a book signing session.
The conversation focused primarily on Oxford's unorthodox origins and path toward publishing, with Wilde noting that she is potentially one of the first truly successful social media-to-traditional media icons. Oxford praised the power of the Internet in the successes of her and other creative type; "The Internet is so great because anybody with any creative content in their head can self-publish, and then it's accessible to anyone," Oxford said.
The conversation, a seamless banter between friends, went on to discuss several chapters of the memoir, including Oxford's trip to Las Vegas to visit magician David Copperfield and her family trip taken to Disneyland, which resulted in a panic attack for her husband.
"I'll write another book. I'm not sure what I am going to write about yet, but I am going to write another one," Oxford said in the last portion of the conversation.
The crowd at Housing Works Bookstore Cafe was comprised of about 200 fans and even included Oxford's daughter, Salinger. Also in the audience was Jason Sudeikis, "Saturday Night Live" cast member and Wilde's fiancé.
[nggallery id=32]
The Observer was fortunate enough to receive an advanced copy of "Everything is Perfect When You're a Liar," officially released on April 2. The book is a collection of 15 experiences from Oxford's life and includes an introduction and epilogue, both transcripts of conversations between Oxford and her children.
While Oxford's followers will undoubtedly be pleased that her ferocious Twitter wit has been flawlessly captured in "Everything is Perfect When You're a Liar," old fans and newcomers might be pleasantly surprised to find that the collection of memories doesn't gloss over some of the more personal aspects of Oxford's growth: the book outlines the fears of a forever-evolving person, the troubles associated with facing some of the more unsavory moments of the past (a heinous act she calls her "terrible horrible"), and, most importantly, dealing with idiots in every aspect of life.
The book is a chronological account of Oxford's life, from bespectacled, precocious Canadian child to mother of three, a slice of life in major points Oxford's life: child playwright, child laborer, an unsuccessful Leonardo DiCaprio stalker, a van-inhabiting pothead and a David Copperfield fan-turned-friend to name a few.
Her penchant for cursing and overt capitalization reads more like a one-sided conversation from a friend with little social awareness, a refreshing take on the autobiographical essays that have flooded the market (Tina Fey, Mindy Kaling, and the upcoming Lena Dunham book). Her ability to be completely candid about everything from her problems with urination (her actions are dictated solely on her need to pee in several instances) to her reactions to her encounters with the elderly during a stint in rehabilitation assistance creates a cohesive work, allowing us to understand every inch of Oxford's psyche.
The book reveals a lot about the enigmatic Oxford; while a screenwriter and blogger, this marks the first published work for the Canadian mother of three. An excerpt from her book explains how one can be successful without being known; she explains to a mischievious Vegas taxi driver that she has written, "A few pilots for NBC and CBS. A book. I just sold a movie to Warner Bros. Actually, absolutely nothing I've written has been produced or published yet. I guess it's pretty much a bunch of bullshit."
Bullshit is one thing this book is not. The tales are outrageous and hilarious, the connection to the reader strong and heartfelt. Oxford draws us the full portrait of her life with just 15 small segments, capturing everything from points of potent elation and moments of incredible distress, all the while making sure to find the humor in each and every one of her life experiences.