Rangers Running Out of Time For a Turnaround
The New York Rangers had stratospheric hopes and expectations pinned on them at the beginning of the 2013 season. The Rangers held the best record in the East last year and made it to the Conference Finals, before adding Rick Nash, an elite forward, to their roster over the summer. Fans and pundits alike saw a team with a tremendous foundation add a marquee talent, and predicted a dominant season and strong playoff performance.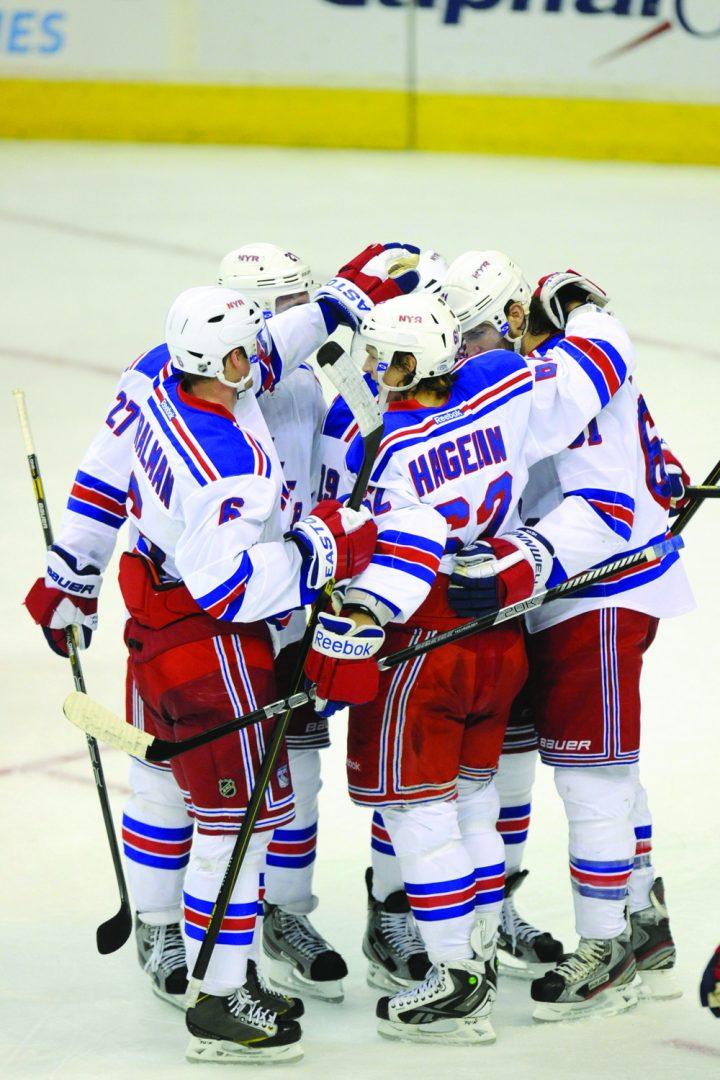 Instead, the team finds itself straddling the line that divides playoff teams and those that pack up early. Currently in ninth place, the Rangers have spent their season jumping back and forth over this line.  Last year's campaign— built on grit and a defense-minded system—appears to be more of a fading mirage than a harbinger of things to come with each loss.
So what ails this team? There are a myriad of reasons. As any hockey fan can tell you, diagnosing a sickly team doesn't necessarily mean curing them. But it is worth exploring why this club has struggled so mightily to live up to the expectations set for them.
A lack of a team identity, underperforming stars and the letting go of several players who proved intangibles has caused the downfall of this team, and it has been compounded by injuries to key players.
The Rangers have struggled to find an identity in this shortened season, making fans particularly restless following a campaign in which the team played with a specific style of snarl and commitment. Players like Brandon Prust, Brandon Dubinsky, Ruslan Fedotenko and Artem Anisimov who provided both scoring depth and a combative ferocity were all let go over the summer.
Anisimov and Dubinsky were traded to Columbus for Nash, while Prust and Fedotenko were offloaded as they demanded a higher salary as free agents. Prust's fighting spirit and Dubinsky's heart and soul style have been sorely missed on the current Rangers' roster.  Anisimov and Fedotenko provided timely goals and allowed Coach John Tortorella the freedom and confidence to roll three scoring lines.
While Ranger Nation bid a fond farewell to these beloved players, no one foresaw just how much they would be missed. The current Ranger lineup is having immense trouble getting goals from secondary sources other than their top lines, and isn't playing with the same toughness and spirit. Prust, who signed with the Montreal Canadiens over the summer, has helped reinvigorate what had been a slouching Montreal team, and his is the name most commonly associated with the Rangers' current lack of zeal and zest.
The style of play associated with these players was a defensive mindset and blocking shots was a huge part of the 2012 Rangers' identity. The Rangers would spend long stretches of time absorbing pressure while still winning hockey games. With the addition of another super star in the form of Nash and the dumping of some of these role players, it appears last year's holdovers have struggled to adapt to a more offense-oriented team. Calls for Tortorella's head have grown louder as critics have slammed his unwillingness to adjust the star studded lineup to a more offensively-minded machine.
But therein lays another crucial issue for the Rangers. Whether or not Tortorella conforms to the tools at his disposal, two of his most talented— and highly paid— stars have struggled to produce. Brad Richards, a marquee free agent signing two summers ago, and Marian Gaborik, last year's leading scorer, have both struggled to hit the heights they are capable of.
Richards, a playmaking center whose subtlety and poise on the puck have devolved into slowness and poor decision making, has become a lightning rod for Rangers' fans. Richard's tendency to give away the puck is being met with increasingly boisterous howls of frustration and derision from the Garden faithful. The fact that he is signed to a mega-contract through 2020 certainly does not help his case.
Gaborik is a pure goal scorer, but his recent form has seen him disappear and stay on the fringes of games. Gaborik led the team with 41 goals last year but faded in the playoffs. His downturn coincided with a shoulder injury that required surgery over the summer.
Both Gaborik and Richards are elite players in the NHL. Gaborik has scored over 40 goals three times in his career and is still capable of producing goals at a high rate. Richards is also a highly-skilled playmaker who appears to have lost his way. If both men can rediscover what made them such superstars, then it would absolutely turn around this team.
A rash of injuries to key players throughout the year has prevented the Rangers from discovering exactly who they are this year. The team now only misses defenseman Marc Staal and has shown flashes of what an elite team they can be. Gaborik and Richards have shown signs of revival. The Rangers rank fifth in goals conceded and 27th in goals scored. For a team with so much firepower, and such a solid defense on which to build, this is not good enough and certainly not up to the standards of a contender. Because of the struggling stars, the Rangers power play has been inept, and their five-on-five play has not produced goals.
The Rangers can still make noise in these playoffs. There is simply too much firepower on this team, and they have too good of a defense, to suffer so ignominious from grace. It is in the revivals of these two players, Gaborik and Richards, on which the Rangers' chance of a Cup rests. While hope fades with each loss, a team this talented is apt to light up at any time. First, they need to make the playoffs.