Mainstage Play Explores the Measure Of A Life
How large of a sacrifice are you willing to make to save the life of someone you love?
Fordham College at Lincoln Center's (FCLC) Theatre Program will be putting on a unique rendition of Shakespeare's "Measure for Measure," a play that tells the story of Isabella, a chaste young woman preparing for the nunnery who is bribed to give up her virginity in order to save her brother Claudio, whose life was put at risk by Lord Angelo, the ruler of Vienna.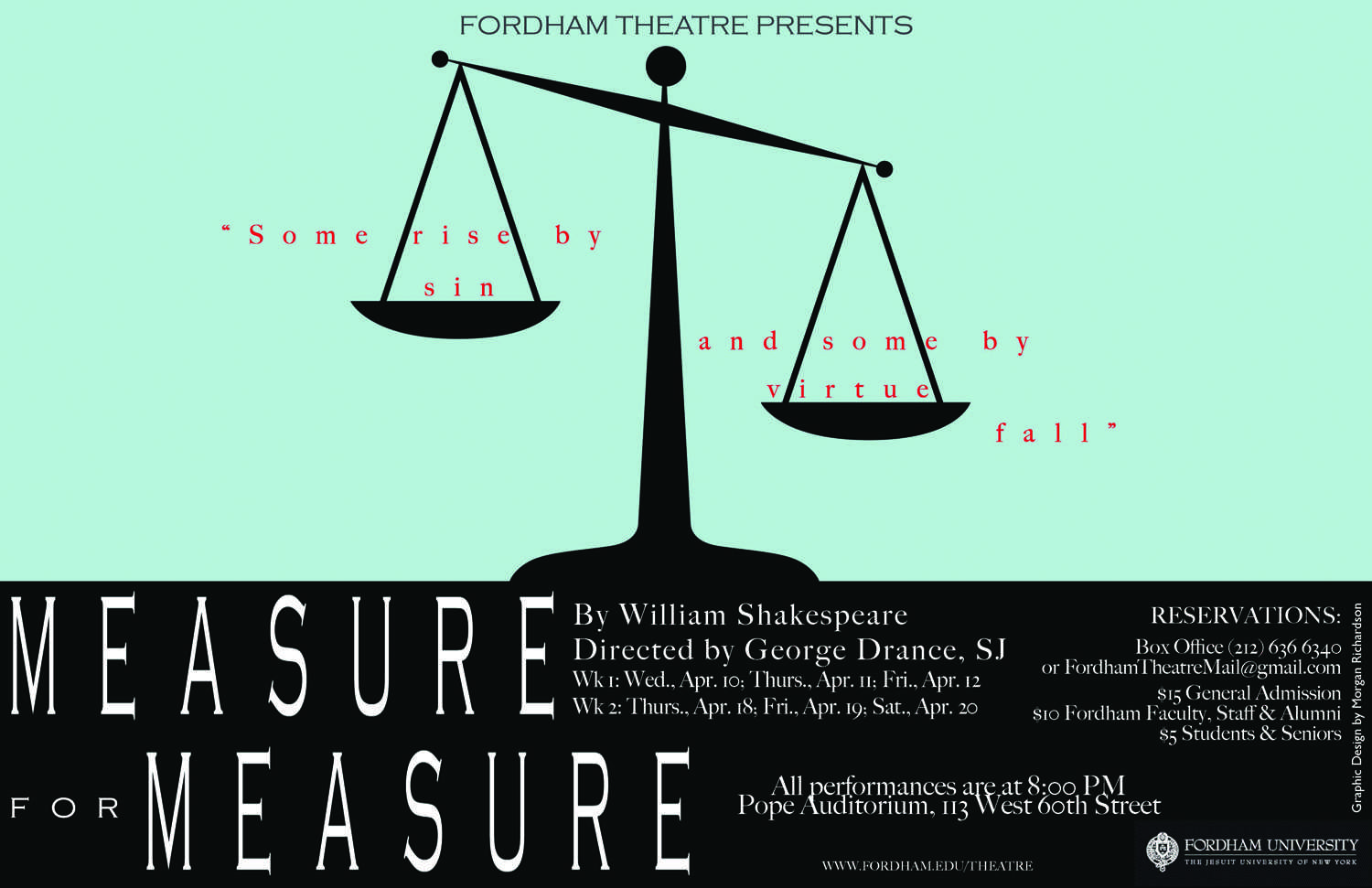 "Many students mistakenly think that Shakespeare's plays are too lengthy, boring and unexciting," Sarah Spring, FCLC '13, said. However, that is not the case for Fordham's unique interpretation of "Measure for Measure."
"It's an interesting production," Gregg Ellson, FCLC '13, said. Ellson plays the part of the Duke, a man who disguises himself as a friar to observe the city under another's rule.
Ellson explained that some lower class characters in the play, who would normally be pimps and prostitutes, are somewhat similar to "Jersey Shore" characters in this production. "We modernized the play to make it relatable today."
To those who wouldn't typically go see a Shakespeare play, Ellson said, "It's a matter of completely understanding what the subtext is. If I was saying it in Shakespearean dialogue, would those ideas still come across as it would in modern English?"
Ellson believes that watching the physical embodiment of the character through the actor will help the audience members understand the words one wouldn't normally comprehend if he or she was just reading it off the page.
Spring plays the part of Isabella. "Preparing for Shakespeare is exhausting," Spring said. "It requires every ounce of one's body, soul, intellect and imagination." Nonetheless, Spring believes she's a perfect fit for her character. "We share a love of reason and debate and logic. She's an unapologetic idealist; I am too."
Spring said she is honored to portray Isabella because she is one of Shakespeare's strongest heroines. "Many people ask themselves why she doesn't just sleep with Angelo," Spring said. But Spring says the question they should be asking is, "How could Angelo put her in that position, especially since he is in a place of authority? It's so hypocritical and cruel."
Dylan Ungaretta, FCLC '15, who plays the heinous Angelo said, "It was really hard preparing for this role, especially since I haven't played a villain in a while." Ungaretta studied the facial expressions, physical appearances and natural tendencies of contemporary politicians who had dealt with corruption in office, like Richard Nixon, Anthony Weiner and Bill Clinton.
Ungaretta said, "Through the characters, costumes, setting and technology we use, the audience will learn that 'Measure for Measure' is a timeless play and much more relevant to today than we think." He added, "The play is a phenomenally hilarious, dark comedy, and people will enjoy themselves more than they predict."