Students Critique Ram Café Changes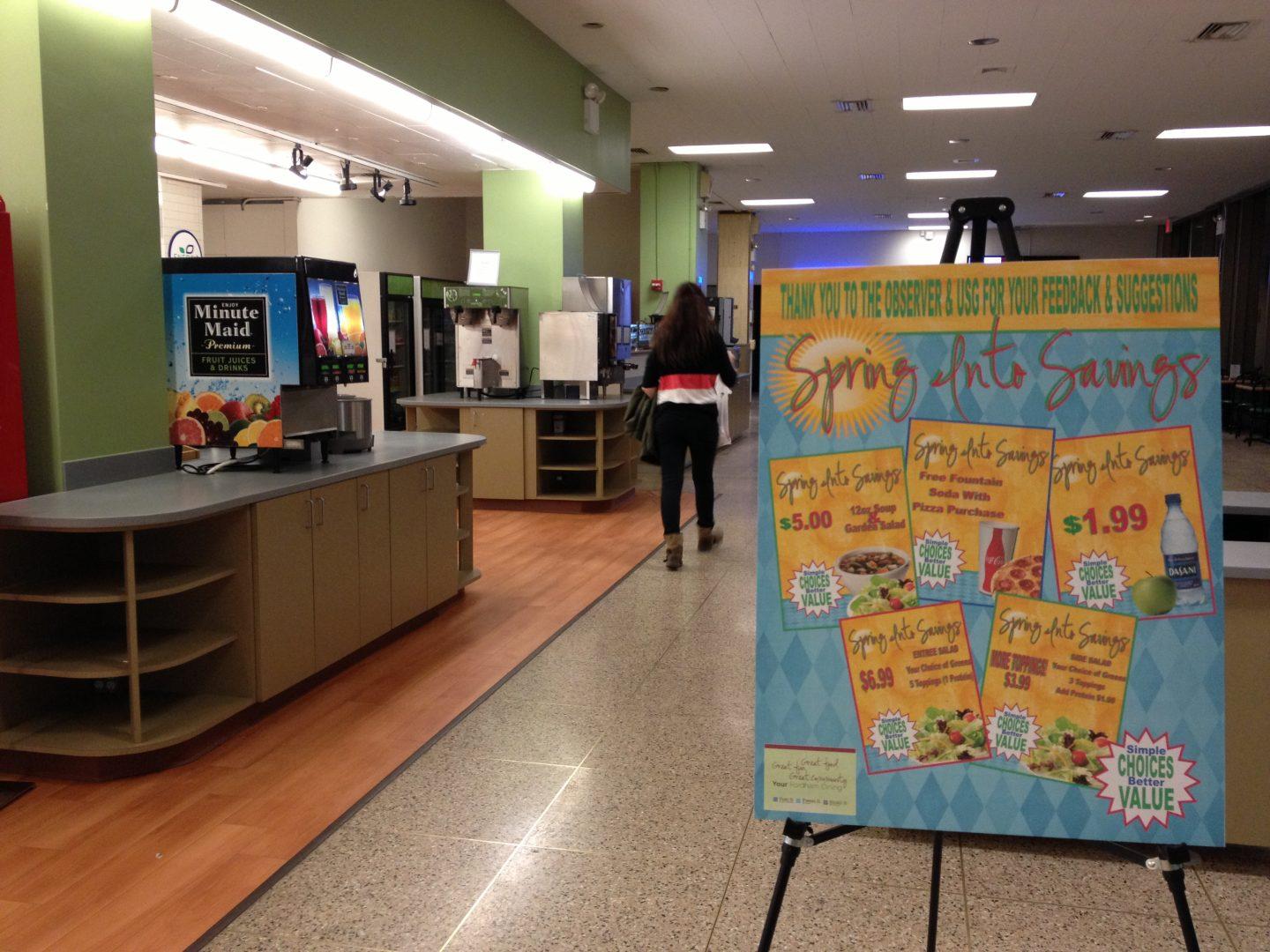 On Thursday, March 21, the Commuter Students Association (CSA), Resident Hall Association (RHA) and United Students Government (USG) hosted their first Dining Services Open Forum in the Student Lounge at Fordham College at Lincoln Center (FCLC). The forum's goal was to allow students to voice their feedback, preferences and concerns regarding the Ram Café's dining service.
The Melissa Gazal, FCLC '15 and president of CSA, Aisha Blake, FCLC '13 and president of RHA, and Alexa Rodriguez, FCLC '13 and president of USG, are members of the Student Engagement Committee. Their role consists of gathering student opinions and suggestions on how to improve the quality of service at FCLC. According to Rodriguez, the two sessions of the Dining Services Open Forum were meant to receive students' general take on the dining service. "Overall, we [the Students Engagement Committee] would like to hear what students want to see changed when dining at Fordham," she said.
A mix of commuter and resident FCLC students participated in voicing their concerns at the forum. Many remarks addressed the problems students had with the service and quality of food offered by Red Mango, Energy Kitchen and Sodexo at the Ram Café.
Students were generally satisfied with the food offered and sold at Energy Kitchen. Participants at the forum agreed that the selection at Energy Kitchen is an improvement from food offered by the Ram Café before.
Likewise, when the committee asked students whether they would like to continue seeing Red Mango, all agreed that the frozen yogurt vendor should stay.
But although many were satisfied with Red Mango and Energy Kitchen, students preferred to see more of a variety of food not offered on Red Mango or Energy Kitchen's healthy menu. When Rodriguez asked forum participants whether they wanted to continue being served a healthier, more expensive menu, a majority of students would rather see a greater mix of healthy and unhealthy items sold at the Ram Café.
Students, particularly commuters, also argued that the food preparation at Red Mango and Energy Kitchen is slow. According to Tamaris Askarova, FCLC '16, the time it takes to prepare the food should be much faster. "I am a commuter. Sometimes I need food quickly for class—those preparing my food take a really long time. The service shouldn't be that slow," Askarova said.
Students were also concerned about the prices of food at the Ram Café. Many agreed that the food portions and items at Energy Kitchen were largely overpriced.
According to Georgina Owobali, FCLC '16, "The prices of food are way too expensive. And for the price that it's worth, the food isn't filling at all; the salads are really expensive and aren't filling." Agreeing with Owobali, Ceara Hershberger, FCLC '16, said, "We are paying so much for the tuition at Fordham as it is—the price of food at the Ram Café shouldn't be another burden on us either."
To improve the service, variety and pricing of food, committee members suggested a number of possible changes that students might want implemented at the Ram Café.
First, the committee representatives introduced the possibility of new food vendors to offer students more variety of food. Many students suggested many popular vendors and new kinds of foods, such as Subway or sushi. According to Anny Bogum, FCLC '16, "It would be great if there was a Starbucks on campus; I think many students would want to see that."
The committee members also told the forum of combo deals, which would potentially lower the price of food at the Ram Café. According to Rodriguez, "By offering a combo, it will be so much easier for us to save money when buying food," she said.
Additionally, the committee gave the possibility of further advertising the Ram Café's menu. "Many students aren't aware of the food options at Fordham; an online platform can inform students of the different specials. Also, it would be a great way for students to offer more suggestions on improving the dining service," Rodriguez said.
According to Rodriguez, the committee will bring these concerns and preferences to a consultant hired by Fordham. "The consultant will look over our suggestions, and try and see how Fordham can best serve its students," she said.
The committee, along with other FCLC students, will attend the Dining Service Vendors presentation at Rose Hill on April 3 and 4. "Students will have a chance to see the potential future food vendors of FCLC," Rodriguez said.