Taylor Swift and America: Never Ever Getting Back Together?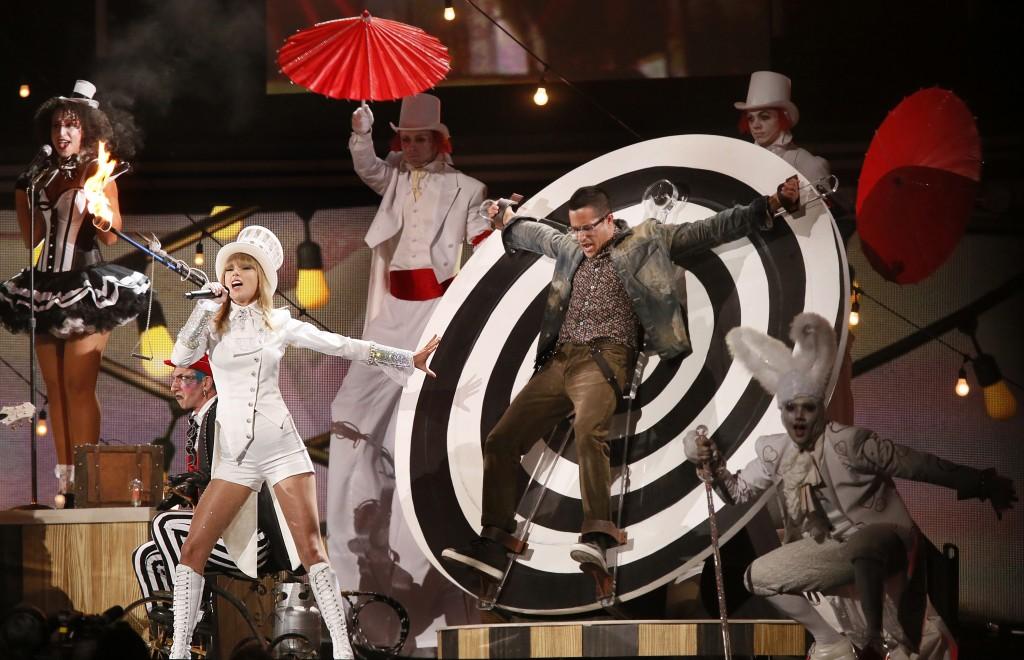 Taylor Swift's cornflower-blue, anime-sized eyes and Goldilocks-esque hair have been gracing dozens of magazines, awards shows and even internet memes with especial ferocity in the past few weeks. Unlike the typical tone of most of Swift's publicity, however, recent stories seem almost exclusively negative.
With all of the bad press from her love life (from memes of her supposed cornucopia of lovers to viral videos where she's replaced with a goat), it seems like the once untouchable Swift is at least temporarily in America's bad graces. Is this just the normal up and down of a career, or is America's love affair with the girl-next-door finished—and what caused this shift?
One simple answer can be explained using Swift's own lyrics: "People throw rocks at things that shine." The 23 year-old is a mega-millionaire, has a career that most people dream about and is a classically beautiful blonde with crazy long legs who has datedsome of the hottest men in Hollywood. Everyone would hate her, if she didn't seem so sweet. And that is exactly where the chasm of Taylor Swift fans and haters began: those that didn't fall in love with her charm found her cloyingly sweet. They didn't buy it, especially as time went on and she didn't have the public breakdown we've come to expect (and, more sickeningly, savor).
Anyone who has watched the Golden Globes or uses the internet is familiar with the running joke on Swift; that she has too many lovers to count, who have become moving targets for her songwriting.The really funny thing is that, according to a Vanity Fair interview, Swift claims, "since 2010, I have dated exactly two people." America has unleashed all its enmity on the previously untarnished singer based on the assertion that she "dates too much." Is there a calculation that can be used to figure out how many lovers are acceptable for her to maintain her good-girl status? Does anyone have the right to even try?
For all the waxing on the anti-feminist themes of her work (that she pits women against women for male attention in her music videos, that her music is trapped in junior high, even her supposed tiff with comediennes Tina Fey and Amy Poehlerwhen Swift reacted negatively to the duo teasing her about her love life during the Golden Globes), it seems rather rich to propagate this bit of sexism in the same breath. In the same Vanity Fair interview, Swift makes the point that when her famous exes, or men in general, date around they're rewarded. John Mayer and Harry Styles, two of her most notable exes, are also famous for their bevvy of lovers, yet they're celebrated for it. As Swift says, "They're 'playboys,'" and "'having fun.'" The terms for women who do the same are far less genteel. And when Swift even makes reference to her famous paramours, as she purportedly does in "Dear John" and "We are Never Ever Getting Back Together," she's all but crucified for it.
While she does write about love and romance and weaves in her songs, she has made a point of never publicly denouncing a romantic partner in any of them. Her own admission is that she's only dated two people in years, and even if that were not the case, twenty–somethings have an almost constitutional right to date (and make mistakes) with impunity. Her music actually seemsto be the last topic of conversation; while musical taste is inherently subjective, people seem much more interested in who she's dating. Her voice hasn't changed drastically since her debut andhigh ticket and record sales prove her talent is still appreciated. The only conclusion left is that the American consciousness is fickle, easily bored and likes falling in and out of love. Chances are, America will be falling back into the arms of the country-pop princess quite soon—it's a love story, baby just say yes.