Liberals Aren't Exempt from Bias
The Federal Bureau of Investigation is now launching an investigation on Oberlin College after a series of hate speech incidents prompted administrators to cancel classes on March 4. Throughout February, Black History Month posters and academic buildings were vandalized with the hate speech geared towards queer people and people of color. The incidents soon escalated from verbal to physical harassment, as students were chased and barraged with racial epithets by unidentified perpetrators in cars. Administrators finally intervened when someone in traditional Ku Klux Klan garb was seen roaming the campus.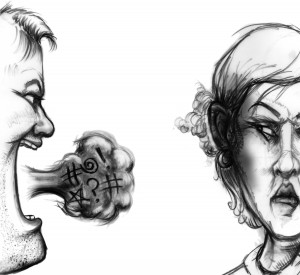 These episodes took me off guard as these were by far the most extreme examples of bigotry I had ever seen reported on contemporary college campuses. However, I find the everyday microaggressions that occurred on Oberlin and college campuses across the country leading up to these horrible and cruel acts more troubling. Most people are quick to profess their disgust at bigotry and violence in extreme instances. But understanding and addressing the language and conduct that (though not always intentionally) stereotype and insult people of color as well as of marginal gender identities and sexual orientations is just as important.
Discriminatory acts like this aren't so foreign to the Fordham community. Just a year ago both the Lincoln Center (LC) and Rose Hill (RH) campuses were also defaced with racial epithets, as a black Resident Assistant came home to her RH dorm one night only to find the N-word written in graffiti on her door. Only days later, homophobic slurs were scribbled in the stairwells of McMahon.
Ironically, when I first heard of the black RA's misfortune, I barely blinked. I am someone who's literally been called a monkey by a classmate old enough to know better, followed by suspicious boutique-owners on the East Side and groped by strange men that mistake me for some mute sex toy. As a result, I found myself oddly dispassionate about the incident, tainted and disinterested as a result of the frequent injustices I saw and experienced everyday.
This is the danger of microaggression.
If we do not make the effort to intelligently discuss the small episodes of prejudice in our everyday lives, we will never be able to fully comprehend and eliminate the more dramatic episodes of bigotry that affect larger groups of people like the ones we have seen occur at Oberlin. My feeling of disinterest may have felt natural during the graffiti incidents at our university but it was highly problematic in that it blocked me from thinking about the incidents' important implications for me and my fellow Fordham students, especially me being a woman of color. Bigotry doesn't start with a lynching or a hooded-white costume. It starts with a foolish assumption and an insensitive comment. Whether we like it or not, bias lives in each and everyone of us—even those of us studying in one of the most liberal colleges in America. I don't believe that we are all doomed to a world of hatred because of this. I simply believe that recognizing bias and lack of sensitivity within ourselves is a step we need to take.