Ram Café Removes Sugary Beverages Over 16-Ounces
Beginning March 12, Sodexo at Fordham College at Lincoln Center's (FCLC's) Ram Café will no longer be allowed to offer and sell sugary drinks in cups, cans, bottles or containers that exceed 16 ounces.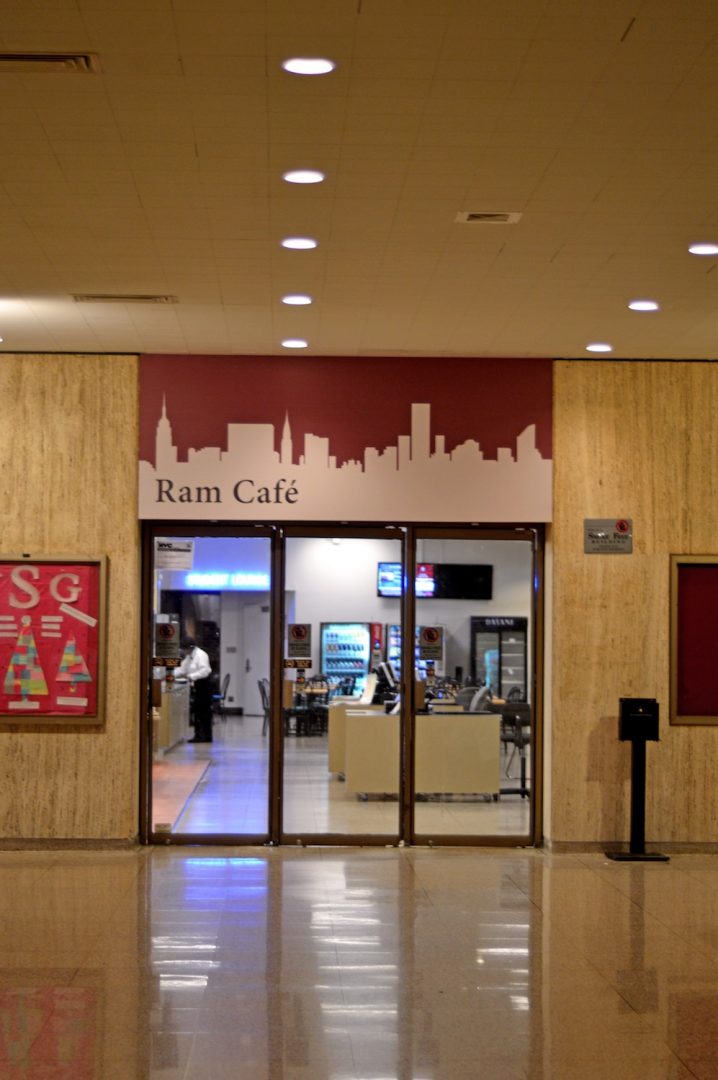 The New York City Department of Health's enactment of the New Beverage Portion Rule causes the beverage restriction; it will affect all restaurants, cafeterias and food vendors with a NYC Health Department rating, including Sodexo's services at the Ram Café. By prohibiting the purchase of sugary drinks sold in 16-ounce containers, the Health Department is looking to reduce the consumption of sugar, and to address the obesity epidemic in New York City.
According to the General Manager of the Ram Café, Brian Poteat, the New Beverage Portion Rule is considered a ban on the café. "The New Portion Rule is banning us [the café], including those who are also regulated under the Health Department, from selling 20-ounce sugary beverages. It may be confusing for students – the beverage vendors and bookstore are allowed to sell sugary drinks over 16-ounces, but we [the café] aren't," he said.
The New Beverage Portion Rule will start affecting the drinks sold at the Café after spring break. "While students are away during spring break, it will give us [Sodexo] time to work on replacing the bottles and containers of the drinks. The Café will be different when the students come back and purchase beverages," Poteat said. "We [Sodexo] will try to deal with the change in the least confusing way."
According to Poteat, sugary drinks, such as non-diet soda, energy drinks and fruit drinks will now have to abide by the new beverage portion policy, and be sold no more than 16-ounces. "The café will have to remove many of those 20-ounce sugary drinks, and replace them with the 16-ounce sizes. Smoothies and juices served at Red Mango, and coffee at the nearby Starbucks may be affected by the it [the New Beverage Portion Rule]," he said.
However, certain non-sugary drinks can still be offered over 16-ounces at the Ram Café. "Beverages like Diet Coke, Smart Water, Vitamin Water, fruit juice with no added sugar, diet tea and drinks with no more than 25 calories are allowed to be over 16-ounces; those beverages will not be affected. And since coffee is already self-served and our cups are not exceeding 16-ounces, they won't be affected either," Poteat said.
Despite the restriction of sugary beverages exceeding 16-ounces, the size change may be beneficial to students. "The price of 16-ounces will obviously not be the same price as the 20-ounce drinks. Therefore, the price will be much lower for students when purchasing the drinks. It will be good for students – they pay less but they get less," Poteat said.
Some students do not appreciate the removal of the 20-ounce sodas and teas from the Ram Café. According to Collin Heyward, FCLC '16, the restriction of the usual large bottle after spring break will not be good news to many students. "Most of my friends and I will really be unhappy when they remove the 20-ounce drinks from the café. I like to drink a lot of soda, and only the small 16-ounce bottle will not be enough for me," he said.
The lack of size variety will also be dissatisfying for students. According to Michael Bruno, FCLC '16, "Having only smaller portions of a beverage does not help at all. Overall, I think it should be your choice whether you want to get a larger or smaller size; they shouldn't restrict our choice and just have sizes that do not exceed 16-ounces," he said. "With only the smaller size, I feel like I would just keep buying and wouldn't save; at least with the larger size, it would last me longer."
However, some students think positively about the ban on 20-ounce bottles.  According to Josh Yi, FCLC '16, the removal of the 20-ounce bottle will only help students make healthier choices about their diet. "I think the removal of the 20-ounce container is a great idea. It will just help students to continue eating and drinking healthier, and plus, it's cheaper. I see it working to our benefit," he said.
According to Marina Elgawly, FCLC '16, the change will not affect many students. Furthermore, it will prevent students from wasting their beverages. "The size change is not that huge – I don't think many students will feel effected because Fordham is a healthy school in general. And most people can't finish the 20-ounce beverages anyways; it only goes to waste. Students will be able to finish the 16-ounce bottles while being healthy and saving plastic," she said.