Fordham Baseball Opens to 5-3 Start
Fordham's five-game winning streak came to an end on March 3 when the team was shut out by Lehigh University. The game wrapped up the Rams' opening week of their 2013 season, which was a week of ups and downs ending with an overall record of 5-3.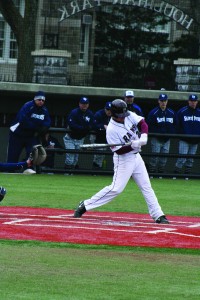 The Rams were scoreless for the first time this season as Lehigh University's Mountain Hawks won 6-0. Fordham's starting pitcher Chris Pike, Fordham College at Rose Hill (FCRH) '14, gave up five runs on eight hits, four walks and six strikeouts in four innings. Brett Kennedy, FCRH '16, came in from the bullpen to relieve Pike after four innings. He pitched four more with one unearned run allowed and had five strikeouts. Meanwhile, Fordham's offense was brought to an absolute halt. The Rams were held to just five hits and no one had a multiple-hit game. For Sam Careccia, FCRH '14, it was his first career hit since joining the Rams as a freshman.
Before the start of the season, Fordham was picked to place ninth of 15 in the Atlantic 10 conference by a poll of the league coaches. Head Coach Kevin Leighton did not agree with the prediction for his team. "I don't like it. It gives us a starting point and something to shoot for as far as we don't want to be in that position. Ninth place is not where we expect to be or where we want to be at the end of the year. We use it more as a motivator, but in no way do I think that's an indicator of our team or any other team because a lot changes year to year," Leighton said.
The Rams opened their season on Feb. 22 against the University of Michigan Wolverines at the New York Mets Spring Training Complex in Port St. Lucie, Fla. The Rams lost to the Wolverines 9-1, with pitcher Joseph Charest, FCRH '13, getting the loss. In 5.1 innings, Charest allowed five runs on four hits, as well as two walks and four strikeouts. Jimmy Murphy, FCRH '13, then came in for relief and gave up four runs in 2.2 innings. Fordham's only run of the game came in the fourth inning when Ryan Phelan, FCRH '14, scored off a double by Ian Edmiston, FCRH '16. The Rams left a total of 13 men on base with many missed opportunities in the loss.
On Feb. 23, Fordham played a double header against Michigan, and won one of the two games. Game one saw Fordham lose big once again to Michigan by a score of 10-2. The only offense for the Rams came in the sixth inning. Tim Swatek, FCRH '14, was hit by a pitch and then scored on an RBI-double by Ryan Lee, FCRH '13. Michigan's pitcher, Evan Hill, balked and advanced Lee to third. Lee scored when Mike Mauri, FCRH '13, had a sacrifice fly to right. Fordham's starting pitcher Rich Anastasi, FCRH '13, gave up four runs in 3.2 innings, and his reliever, Brett Kennedy, FCRH '16, gave up another five runs in 2.1 innings.
Game two of the doubleheader was not much better for the Rams' pitching, but their offense certainly improved. The Rams scored four runs in the first inning and five runs in the second. The team tacked on more runs and eventually beat the Wolverines 14-11. Pike earned the win, striking out seven batters in five innings and allowing four runs. But the biggest star of the game was Matthew Cianci, FCRH '15, who had his first career four-hit game. Cianci went 4-for-5 and scored two runs for the Rams. Edmiston also had a good game, going 3-for-5 with two RBIs and a double.
Fordham played yet another double header on Feb. 26, this time at home against Saint Peter's College. Cody Johnson, FCRH '16, threw a complete game with just two hits allowed for game one of the double header. Fordham won 1-0 when Swatek hit a triple and was eventually singled home by Joseph Runco, FCRH '16, in the second inning. In game two, the Rams held onto a 4-2 win over the Peacocks. Cianci had another great game, going 2-for-4, and Edmiston and Charles Galiano, FCRH '16, got an RBI in the fifth and sixth inning. Brett Kennedy came in to relieve John Porter, FCRH '14, who gave up two runs. Pitching three innings in relief, Kennedy earned his first career win by striking out eight of the 10 batters he faced.
Charest rebounded from his opening day loss by leading the Rams to a 4-3 victory against Iona College on March 1 in the Bronx. He allowed three runs, seven hits and seven strikeouts in his fifth complete game win of his career. Mauri and Edmiston both had a pair of hits and Runco knocked in two RBI. On March 2, the Rams continued their winning streak with an 8-4 victory over Lehigh University. Although Fordham's starter, Anastasi, got a no-decision after four innings, reliever Joseph Serrapica, FCRH '16, earned his first career win. Serrapica allowed one run over four innings and struck out three. Jonathan Reich, FCRH '14, struck out two and closed the game for Fordham. Lee, Galiano, Edmiston, and Swatek all had a multiple-hit games.
Leighton is hopeful that the Rams will find their way to success this season, but he recognizes the challenge ahead of his team. "You've got to play the games and see what happens. The [Atlantic 10 Conference] is very difficult. There are no cupcakes in our league as far as easy wins. Every game in the conference is a challenge."