William Wu: From Black Box to Broadway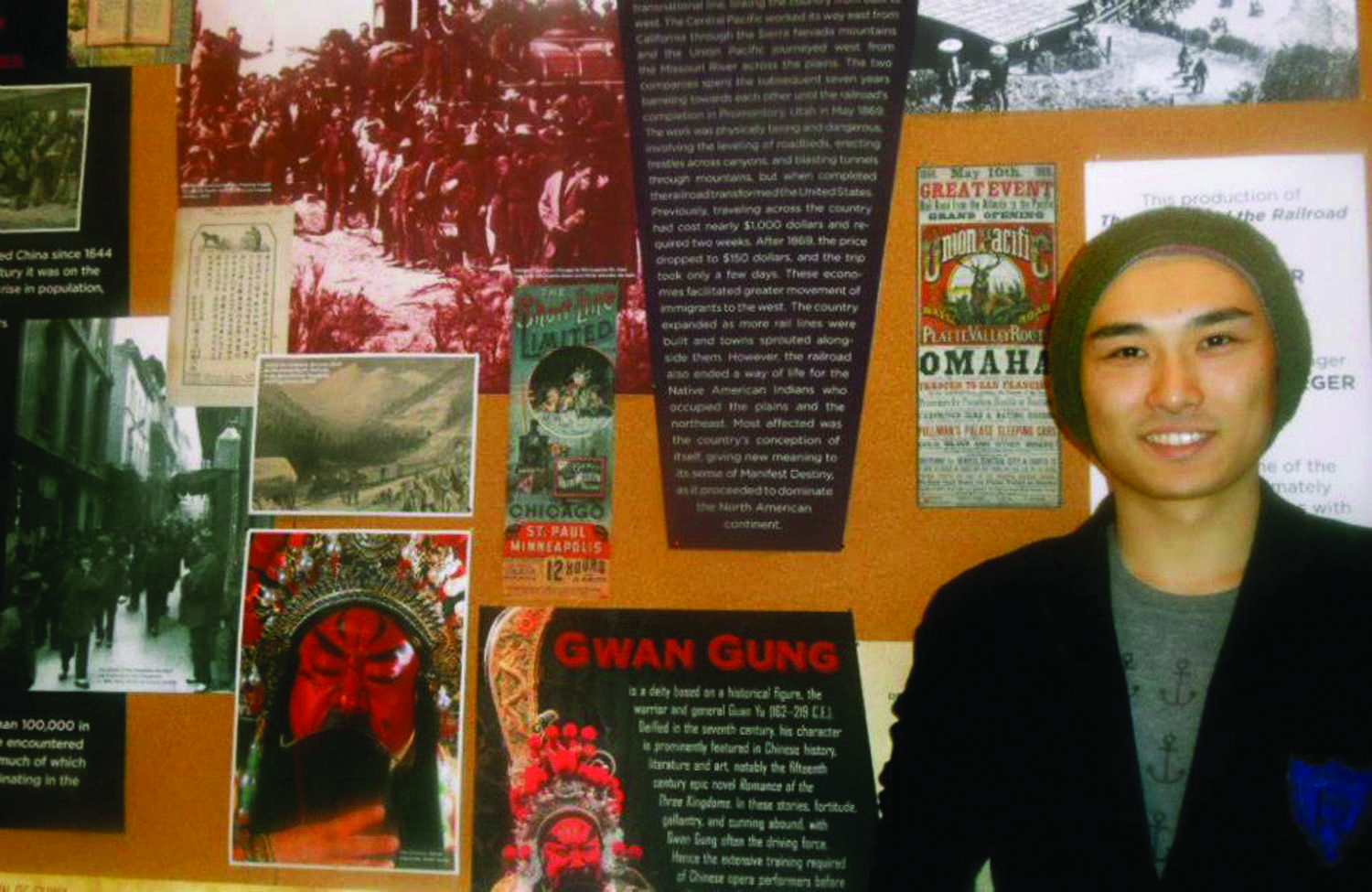 William Yuekun Wu, Fordham College at Lincoln Center (FCLC) '12, is a graduate of the Fordham theatre program and seasoned actor currently starring Off-Broadway in Signature Theatre's production of David Henry Hwang's play "The Dance and the Railroad." The Observer sat down with Wu to discuss his past experiences at Fordham and his current experiences with Signature. "The Dance and the Railroad" runs until March 24 at the Pershing Square Signature Center at 480 W. 42nd St. The Center also features a bookstore and a café with live music. Tickets are $25 and can be purchased through their website at signaturetheatre.org.
THE OBSERVER: Tell us a little bit about your background. Where did you grow up and how did you find your way to New York City?
WILLIAM WU: I was born and raised in Shenyang, China. It was my father's idea to move to Flushing, Queens. I came here with my whole family when I was 21. I didn't know the language. I didn't know the culture.
It's like teleporting a tiger to Africa. The tiger doesn't know what to do, doesn't know how to adjust. I still wanted to be an actor, so I enrolled in the BFA program at Hofstra University for two years, but I wanted to be in New York City. So I started talking to people, getting information, that's when I found out about the Fordham theatre program.
When I first came here, I kept two copies of my address in different pockets. I just stuck to places that I knew, my wife really helped me to learn more about the society and little by little I learned to live in it. I used to be a bartender, so just living in the language every day helped me a lot too.
It wasn't easy. The first time I dreamed in English, I freaked out. But I think I've come a long way.
OBSERVER: How did you get involved with theatre and the performing arts?
WW: My paternal grandparents were all Beijing Opera actors. I was sent to train for the opera when I was eight, trained at a conservatory for six years, and performed as a Beijing Opera actor for three years. It is really tough training, but when I started working, then it was fun!
OBSERVER: During your two years in the Fordham theatre program, what are some of the challenges that you faced as an actor, and how did you grow from those obstacles?
WW: My first year at Fordham, in acting class, that was a real challenge. I felt like a robot actor, like I could not get it, but that is normal! Now, I just think, save the pain, save the experience, because you will use it later. When I feel down or tired, I just think that something happened, as opposed to nothing happened.
Also, the faculty and student body at Fordham are very supportive. The faculty is very nurturing toward the students. On top of managing their own careers, running their own companies, they still find time to teach. I find that very admirable.
At Fordham, I focused entirely on school because the core is hard. But I like it because I have a genuine interest in a lot of subjects. I like the core, because a good actor needs a good education.
During my two years there, I felt like a part of something bigger, like I was needed. My teachers and experiences there make me want to help others as well. It's like a big family. I learned so much, and gained a lot both academically and culturally. I gained a lot of confidence. It's important, how you carry yourself! I was kind of shy at first, but through Fordham I got to be more comfortable with who I am here, in my skin. I stand up straight. I speak with my full voice.
OBSERVER: Past casting controversies, such as "The Nightingale" at La Jolla Playhouse, and "The Orphan of Zhao" at The Royal Shakespeare Company, all feature caucasian actors in Asian roles. What are your thoughts on these issues?
WW: I think there is no reason you shouldn't use Asian actors if there are Asian characters. Asian-American actors need to be together and back each other up.
I think it is incredibly important for minority artists to create their own work as well. For example, where would Asian American actors be today without David Henry Hwang?
But of course, there should not be a battle between people of different cultures or ethnicities. We need to work together to create change.
When I first came here, I didn't see myself as "in the minority." Because I was never the minority in China! But it's hard! Here, a lot of people are in the minority. Your face doesn't look familiar. People have a certain idea in their mind when they see your face.
But I feel like a full American, and I feel good about myself. I feel no less than anyone walking down the street in America. Besides, you are not native either. You were born here maybe, but that doesn't mean you are more American than me, right? How do you count that? I'm pretty American, and I'm Chinese too…so I'm cooler than you! I'm a good driver, I'm bad at math, and I'm breaking all the stereotypes!
OBSERVER: What was the casting and rehearsal process like for "The Dance and the Railroad?"
WW: Our director, May Adrales, was a guest director at American Repertory Theater (ART). I saw her and thought it was really cool to see an Asian female director, and so I went up and talked to her. The audition for the show just came up in conversation with May.
When I got it, I went and talked to my teachers, and they were very generous. They told me I could either go back this year or next year, because they know how important this is for me. Rehearsal was very physical and tiring, but I am happy with the result.
OBSERVER: In "The Dance and the Railroad," your character, Lone, asks Ma, a younger railroad worker, "Yes, but are you willing to sweat after you've finished sweating?" Were there any instances, at auditions or in the classroom, where you felt that you lost the strength to sweat?
WW: For me, it was one or two years after my biggest failure in China. I was so close to something so great and I didn't get it. But I think you just need to remember it's not a big deal. It's not the end of the world, even though it might feel like that at the moment. The world is going to keep going, so you should too. Keep being humble. Be open, listen and look.
OBSERVER: What is your ultimate goal in terms of working in the theatre, film and television industries?
WW: Sometime later, I want to create work as well. I want to be someone who connects China and America more. I think that's good work in these worlds.
OBSERVER: What's next for you? What are your plans for the future?
WW: I just want to keep working. Realistically, I have a family, so I need to keep working to support my family. I just want to keep working and learning.
The show will travel to China this summer, for the Wu Zhen Theatre Festival. Wu Zhen is a water city next to Shanghai. And then I will go back to ART at Harvard. I like the program and I really like my classes there. I feel so lucky. I can't believe how lucky I am! I think I'm the luckiest person I know.
OBSERVER: Any words of advice for our seniors preparing to graduate this fall, and for the rest of the student population here at Fordham?
WW: In life, I am still learning, but here is what I learned so far: don't rush anything. Give things some time and space. If you desire something, you will get it. Also, feel comfortable with who you are. Help others, because then you will have done something good. And if you fail at something, keep trying. You must never give up.