Students Critique Ram Café Changes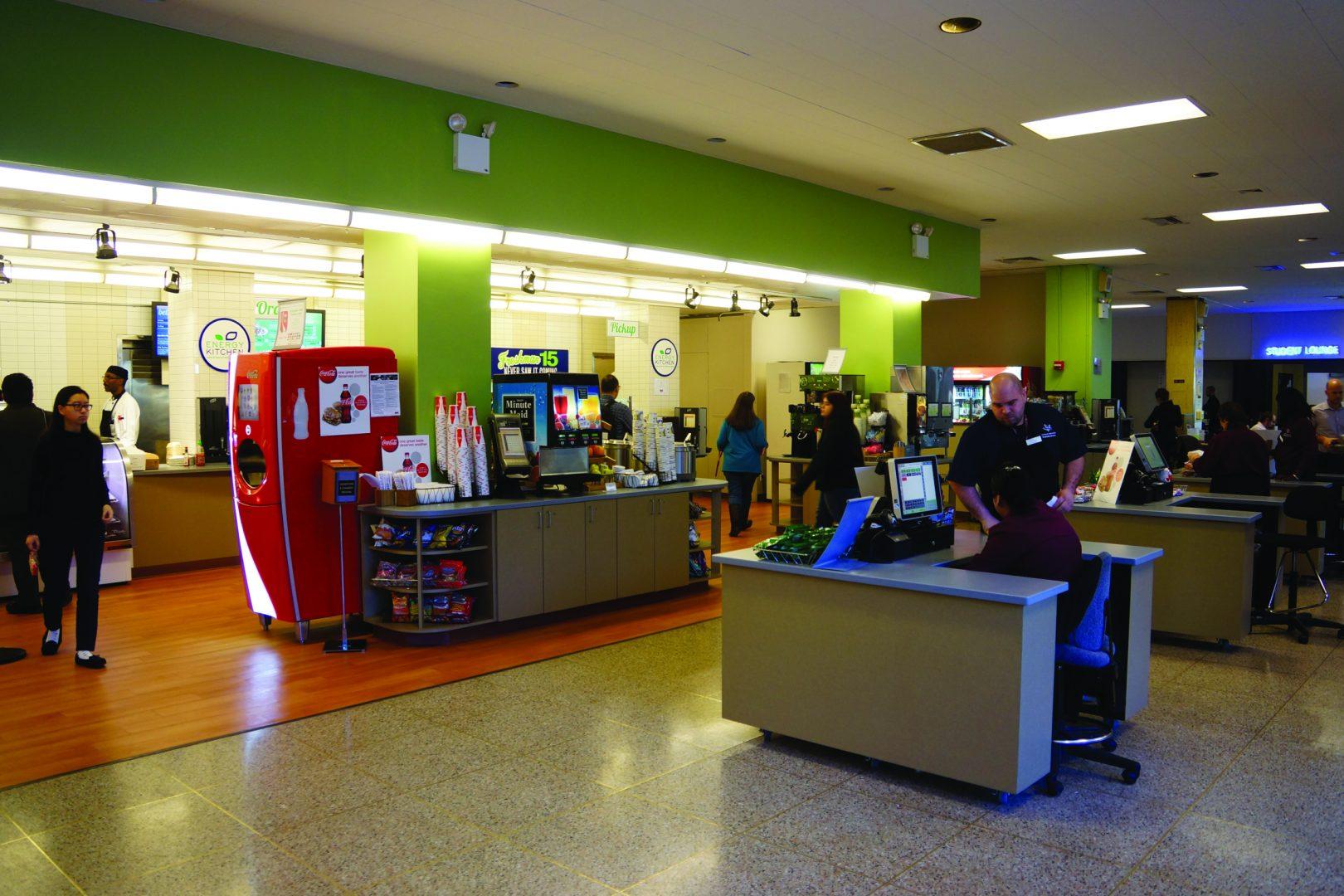 Fordham College at Lincoln Center (FCLC)'s renovated Ram Café has been open since the beginning of the spring 2013 semester. Although some students are content with the recent changes, many expressed their disappointment and said they see room for further development.
District Marketing Manager of Sodexo Rebecca Moore said that the overall response to the new cafeteria from students has been positive, and that the suggestions have helped add menu items and continue to improve service.
When asked what changes have been made since the new Ram Café opened in January, Moore explained the recent restructuring of the area and the reasons behind the additional modifications. "We added stanchions to a couple of areas to help with customer and operational flow, but there was also an increase in the frequency of customers leaving without paying for their food," she said. "So we added the stanchions to help direct them to the cashier stations."
According to Aleksandra George, FCLC '13, the area looks cleaner and more organized, but the stanchions often get in the way. "I don't know if this has changed recently but the sugar and forks and spoons were on the outside, and having to move around the ropes is annoying. Also, the paying and coffee areas get really congested and the setup, although organized, may not be so efficient," she said.
Regarding the food quality and taste, George suggested a greater variety in menu options and lower prices. "I like that the burgers are made on the spot. The taste is also better. But I would definitely suggest adding some foreign food options to the menu in order to attract people to eat in the cafeteria as opposed to grabbing something outside," George said. According to George, it is important that a New York City college campus integrate different cultures, and adding foreign meals to the cafeteria menu is one way to do that.
Other students agreed that the Ram Café is expensive and that there should be a better meal selection. Jodi Hines, FCLC '15 said, "I heard they're working on getting the nutrition facts up, so that's good. My only problem with them is that their prices are ridiculous. I feel like I still get more food outside for a cheaper price than in the cafeteria."
Noureen Qureshi, FCLC '15 said she would like to see "more options in the salad and soup selections."
Carinna Gano, FCLC '14 also said that the menu is still too limited and expensive. "I still think that there aren't many food choices," Gano said.  When asked if she has any suggestions to improve the service, she suggested charging less. "It's just too much," she said. Regarding the aesthetical appearance, Gano said she thinks the new cafeteria looks cleaner and nicer, and that she likes the green color choice.
Jaime Rodriguez, FCLC '14 had a similar response to the changes. "It's really expensive and it's just not really healthy. The food is not that changed," he said. "The burger is good, but the meals aren't filling enough, and you may as well just go to Burrito Box."
When asked what he thought of the food quality, Rodriguez responded, "I know not to expect much of cafeteria food. I don't expect Emeril in the kitchen, but it could be better." He added that residents have complained that their meal plan cards have been running out of money faster this semester because of the high prices. Regarding the setup, he said, "The lines are ridiculous."
According to Moore, there are additional changes planned for the Ram Café. "We will be adding to our present menu options, including expanding our salad toss menu, adding Limited Time Offers to Energy Kitchen and additional breakfast items. We feel it is essential to make changes and continuous enhancements to our services based on student feedback," Moore said.
Moore added that Sodexo conducts dining surveys and gets feedback from about 500 students each semester. Sodexo receives comment cards from students and aims to implement the changes that they suggest. "Energy Kitchen opened up this semester with breakfast sandwiches, and we're working on increasing offerings there," she said. "We also brought back the combo meals and we're still working with Energy Kitchen to do that too. We're going back and forth with Energy Kitchen, finalizing decisions."