Oscar Pistorius Doing the Crime, Not the Time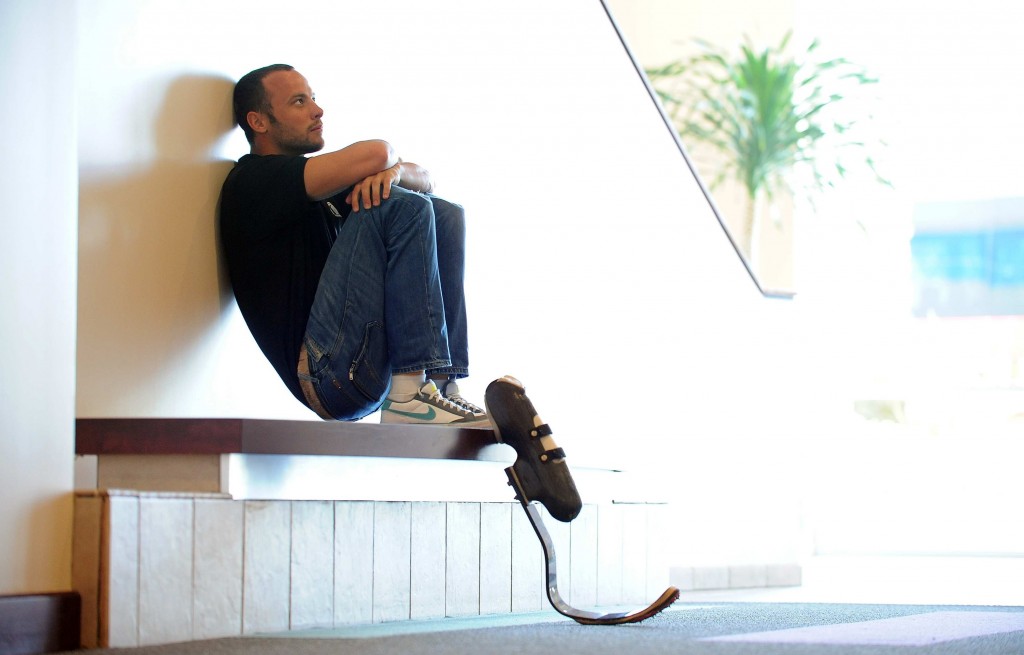 We're always shocked when a beloved (or sometimes not-so-beloved) celebrity commits a crime—and many times, we revel in the fact that someone so seemingly perfect is not who they present themselves to be. Despite this, we often treat celebrities with a great deal more leniency more for their transgressions simply because of their name— a practice which could prove to be dangerous.  And while this may be OK in our day-to-day lives, it cannot hold true in the courts.
On Feb. 22, Olympic runner Oscar Pistorius was released on a $100,000 bail (which seems low given the nature of his crime) for his murder of girlfriend Reeva Steenkamp, shooting her through the bathroom door after hearing a noise and mistaking her for a burglar. The fact that a bail was even set in the first place for someone who has confessed to murder is ridiculous. It's safer for the general populace to keep him in jail until it's really made clear if Pistorius shot Steenkamp in a twisted case of mistaken identity, or if he murdered her in cold blood.
If the case is the former then at least Pistorius isn't a threat to the safety of the people. But do we really want to run the risk of the latter being true?
Although Pistorius was released on bail chiefly because he was not determined to be a flight risk, letting Pistorius out on bail before his murder trial is dangerous. We don't yet know if the murder was an accident. I for one find the details surrounding the supposed accident extremely sketchy—why didn't Pistorius call the authorities after he thought someone broke into his home? Why did he take it upon himself to inflict vigilante justice? Furthermore, as Steenkamp was staying with Pistorius in his home—why would he immediately jump to the conclusion that the noise he heard was a burglar?
In addition to some of the shady details of the case, pretty damning evidence concerning Pistorius has recently come to light. Although Pistorius has claimed that he decided to shoot because he wasn't wearing his prosthetics and was in a vulnerable situation, analysis of the crime scene showed that the shots were fired down, and prosecutor Gerrie Nel and Officer Botha both suggested that Pistorius would have been standing and wearing his prosthetics. Botha himself, in a strange turn of events, was removed as lead investigator from the prosection for appearing to botch the case against Pistorius, and faces his own assault charges.
Pistorius isn't the only one who has received special treatment because of fame. On Feb. 17, Alec Baldwin grabbed a New York Post reporter telling her he wanted to choke her to death, as well as spewing racial epithets. Harassment and hate crime charges have been pressed, but if the way Baldwin's altercations with paparazzi and media professionals have been treated in the past is any indication, he's definitely not going to get what he deserves.
The list of celebrities who've gotten off the hook too easily goes on and on. In California, a domestic abuse conviction is punishable by a minimum of a three-year jail sentence. But Chris Brown got only five years of probation, some community service, domestic violence counseling, and the loss of a couple sponsors after he assaulted his superstar girlfriend, Rihanna.
Charlie Sheen also is no stranger to a history of violence. In 2009, Sheen was arrested for assaulting his then wife Brooke Mueller, but was released that same day after posting an $8,500 bond. A year later, Sheen was charged with only a misdemeanor and sentenced to a punishment wildly disproportionate to his crime—30 days in a drug rehab center, 30 days of probation and 36 hours of anger management.
The trend isn't only present among male stars. Brandy faced no criminal charges whatsoever (and was not even arrested) for killing the other driver in a car accident, and stars like Lindsay Lohan seem to run into the law almost weekly, with nothing coming of it. Lohan is most likely going to get off with a mere 60 days in rehab for her recent drunk driving accident, along with her charge of lying to police after the fact. In another case, Lohan spent only 35 days under house arrest for stealing a $2,500 necklace. She wasn't even prosecuted. Naomi Campbell, too, has a history of assault—but has never served jail time. The most she has ever been "sentenced" with is 200 hours of community service and a $4,600 fine for her assault of two police officers.
The treatment of celebrities compared to that of ordinary citizens is drastically different. James Satterfield, a man of no critical acclaim, was denied bail this Wednesday for threatening to kill, cook, and eat the family of the judge who presided over his divorce. His case was an example of how fair our courts can be. However, I can't help but wonder why Satterfield received a speedy conviction for a threat while Pistorius, who actually shot and killed somebody, whether or not it was an accident, was released on bail.
I think I speak for everybody when I say I don't want criminals roaming the street—and that's exactly what we're allowing when the rich and famous are given special treatment in the courts. They may be celebrities, but they're not above the law.