"Queer" Approved for Campus Social Events
"Prior to coming to Fordham, I wasn't really familiar with the word 'queer' and its significance within the LGBTQ community," Lauren Giangrasso, Fordham College at Lincoln Center (FCLC) '15 said.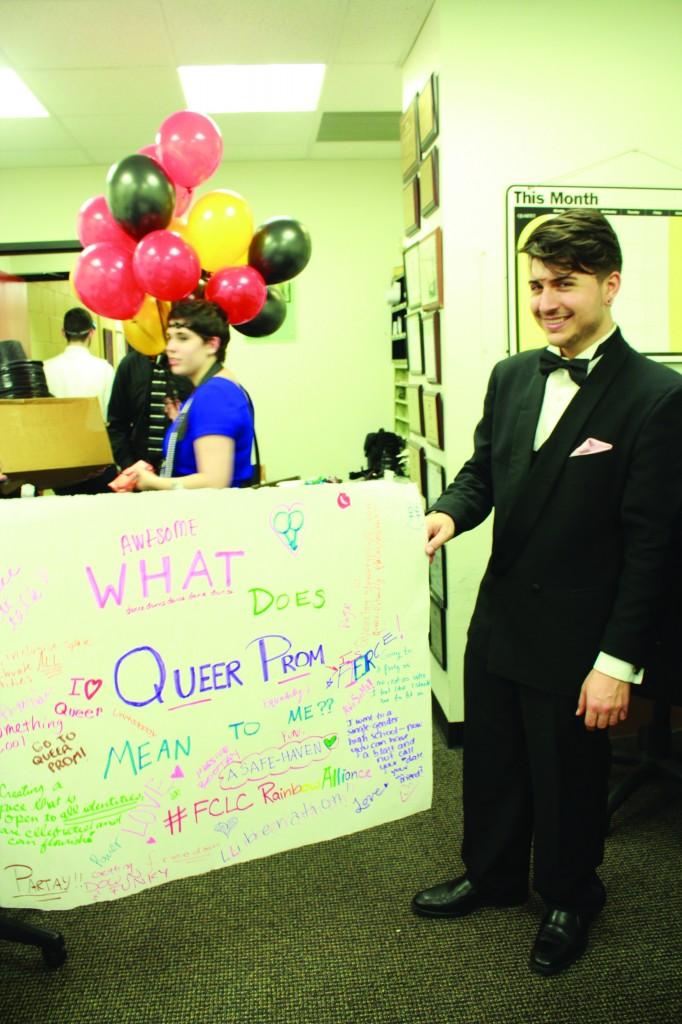 In April 2011, a task force of students and faculty launched a campaign to have Student Affairs officials allow the word "queer" to be used in club social programming. Dean of Students for Lincoln Center Keith Eldredge and Dean of Students for Rose Hill Chris Rodgers approved the measure in September, and on Dec. 4, Rainbow Alliance hosted its long-awaited "Queer Prom," the first social event to be held at Fordham with the word "queer" in the title.
"[S]tudents have taken this really impressive leadership role in this issue," Anne Hoffman, associate chair of the English department and advisor to the queer task force, said. "The university is a place of inquiry and freedom to explore and that the students have really shown us the way."
Students and faculty involved with the queer campaign said their work is not finished. Though the word "queer" can now be used in the titles of social events at Fordham, it still cannot be used in club names, constitutions nor administrative programs and literature such as the Counseling and Psychological Services' Spectrum: LGBT Group, the Office of Multicultural Affairs' LGBT and Allies Network or the Fordham website.
Students in Rainbow Alliance were first inspired to lobby for the use of the word "queer" in fall 2011, when editorial board officials expressed interest in changing the name of their organization as well as the name of their annual event, "LGBT Prom" to feature "queer" in them. When discouraged by school officials from using the word "queer," they decided to take action. The campaign began as a stream of events, such as performances held by LGBTQ students, dialogue sessions and academic panel discussions featuring Fordham professors discussing queer theory. Along with events, fliers were posted throughout Lincoln Center featuring quotes from students describing what the word "queer" meant to them as individuals.
"It was completely baffling to me [that we couldn't use the word "queer"] and I felt it was discriminatory against a whole host of people who claim queer as their identity," Dorie Goehring, FCLC '13 said, "so I didn't feel that that was acceptable, so I got involved."
From there, students including Goehring, Charlie Martin, FCLC '14 (now president of Rainbow Alliance), Nick Giordano, FCLC '14, and Nadia Pinder (now public relations officer of Rainbow Alliance) created a task force involving student leaders from different clubs such as ISIS, Amnesty International, Rose Hill's PRIDE Alliance and the United Students Government of both campuses, in addition to faculty members, focus on lobbying for use of the word.
The task force composed a proposal to present to Student Affairs officials to reach an agreement. Composed of original research conducted by members of the task force, Eldredge and Rogers were provided with information on other Jesuit and Catholic universities' policies around the use of the word "queer" as well as a definition and history of the word and official statements from allying student clubs and academic departments in support of the provision.
"[W]e didn't want to make any decisions that defined how folks used language to define themselves," Eldredge said. "Folks could use the word to describe their programs, their events, their activities, because that's a word that they're choosing to use as students and as a club at a university."
"The LGBT community is a part of the LGBT community, and it's equally a part of the Fordham community at large," Martin said. "So part of being queer at Fordham requires bringing together those two different communities and that is why I think that at Fordham it is extremely important that we try to stay up-to-date on other identities that are important to our community as a whole."
Attending events like "Queer 101" and "Q the Spotlight" (also hosted by Rainbow Alliance and occasionally supporting academic departments like women's studies), Giangrasso's understanding of the word "queer" grew, later taking on the identity for herself.
"In learning about the word 'queer' and what it has evolved into and now trying to get it as a more comfortable and common place term on campus, it's really provided a lot of comfort," Giangrasso said.
Though the meaning of the word "queer" highly varies in different contexts, it generally is used as an umbrella term signifying marginalized sexual and gender groups. The root of the controversy of using the term "queer" on campus lies in its past as a derogatory term used against people of lesbian, gay, bisexual and transgender identities. However, in social movements during the '80s and '90s, many people reclaimed term as a positive, more inclusive signifier for those assuming alternative gender and sexual identities.
"I think that the term 'queer' always evoked that rebellious edge, that constant questioning," Arnaldo Cruz-Malavé, professor of Spanish, comparative literature, and Latin American and Latino studies, said. Also an advisor to the queer task force, Cruz-Malavé added, "The students themselves that affirming their identity, they are affirming the fact that they are not only for justice, but that they are always questioning social terms and social givens."
Given this history, task force members felt it was important to use more inclusive terminology for sexual and gender identities that can make more students of marginal groups feel comfortable on campus, while educating older generations on the development of the word over time.
Even with the challenges that still face them in changing the policy regarding names and administrative programming as well as organizational literature, Martin does not appear discouraged.
"Even within the Fordham community, while we've seen that we've dealt with some challenges about being an open and inclusive campus, the decision of the community to accept a word like "queer," a word that invokes a lot of complex and intersecting identities, is a very positive step."