A Developing Blog for a Developing City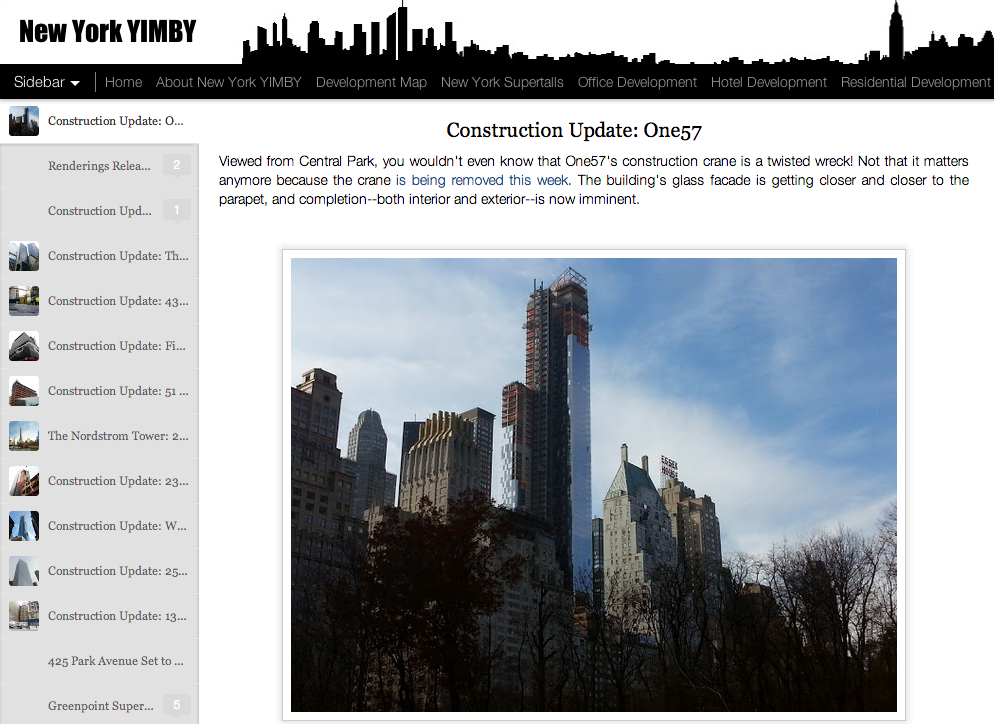 Fordham graduate, Nikolai Fedak, is the author of the popular pro-development architectural blog, New York YIMBY. He has all the inside information on construction around the city, so contributing writer Gigi Engle sat down with him to discuss the blog and his thoughts on buildings around the Lincoln Center campus.
Observer: So, first of all, what does YIMBY stand for?
Nikolai Fedak (NK): It's a play on NIMBY, which stands for Not In My Back Yard. YIMBY is the opposite—switch the no for a yes—as I'm very pro-development. It's funny because people are familiar with NIMBY but with YIMBY they have to ask, which is fine, but it shows how much more prominent NIMBY people really are.
Observer: And why did you start YIMBY?
NK: It was just a small thing at first, I started at the end of 2011. I didn't really begin developing the website until the spring of 2012. But to answer why, it's because there's really no voice for people who support development. It's weird because talking to most people, they actually do support development, which is maybe why the site is doing so well. I don't get too political—and don't get me wrong, not all development is good—but the attitude and stances of so many people in New York regarding development are ridiculous. But YIMBY has become much more popular recently, and it's up to over 100,000 views per month now, so obviously there's support.
Observer: What is your background and why are you so interested in buildings?
NK: I was a political science major when I went to Fordham. I also minored in history. But I took several classes relating to urban development and cities, as that's really my passion now. I've been obsessed with buildings since I could go on the Internet, and it's such a great time to be doing this blog in New York right now because so much is going on. But I'd like to get a graduate degree in urban planning or something related in the future. It'll happen soon.
Observer: What about Fordham's expansion? Do you think the new campus will totally ruin the character of Fordham College at Lincoln Center (FCLC)?
NK: I actually don't. Fordham is an institution, and at the end of the day they owned the land and it was just sitting there empty. FCLC is such a small community with just McMahon and Lowenstein, and the law school of course. It's a great community and everyone is close-knit, which is, I think, the only downside to the campus expansion, because in McMahon everyone really knows everyone. With the new buildings, FCLC will be much more comparable to Rose Hill in terms of size. I think once you move beyond one dorm and one class building, the intimacy of the campus will be gone and it will be a totally different experience. But that's not bad, and it's actually very good as Fordham continues to get better and it positions the university better to compete with schools like NYU and Columbia. First class schools need first class facilities and the current campus falls short of that. The new campus is going to be really great, really fantastic, and it's going to look amazing as well. The first new building is already nearing completion and it's great, the façade is a really nice change from typical glass boxes.
Observer: I know Fordham is working on its own construction, but what's going on over on Amsterdam Avenue where the other new building is rising?
NK: That's actually a tower being built by Glenwood, and there's going to be another apartment building on the corner of Amsterdam and 60th Street, where the tennis and basketball courts are right now. Both will be roughly 50 stories. Fordham sold them the land to help pay for the expansion of the school and I think that was a good way of going about it. Amsterdam along the 60s is completely sterile. You have Lincoln Center on one side, and it doesn't interact with the street at all. It's awful, just the garages and blank walls. And then on the other side you have the housing projects, and everyone avoids those because they're dangerous. So putting these new towers with real residents, not just students, is really great and will add to the neighborhood. I think the next step is the redevelopment of the Amsterdam Houses as they are so out of place in the neighborhood. They're awful.
Observer: Besides Fordham's expansion, what are your other favorite projects in the city?
NK: See there's actually a lot of stuff happening in Fordham's vicinity. There are several big projects around Columbus Circle. One57—the tower with the crane collapse—is great, and I give updates on that frequently. Fifty-seventh Street is going to be enormous, probably the tallest street in the world by 2020. What's really exciting is 432 Park, which will be on the corner of 57th Street and Park, and will be taller than the World Trade Center. The design is boring but it'll be huge, again for billionaires like One57.
But the best project is going to be on 57th Street between 7th Avenue and Broadway, and that's going to be the Nordstrom Tower. Nordstrom isn't in NYC yet so it'll be huge for them, an amazing store with huge ceilings, it'll compete with Bloomingdales and Saks. But above the store the tower keeps going, and they just announced the height will be at least 1,550 ft. So that's roughly two hundred feet above the roof of the new World Trade Center. It could be slightly taller too, but it's going to be absolutely enormous. And I think that's the most exciting project right now for sure, as the street presence of the tower will be phenomenal. It's going to bring a whole new energy to Columbus Circle and 57th Street and it'll be great.
Observer: So why do you support development so much?
NK: I don't support all development. Buildings are ugly, even new ones. We should have design standards in NYC. There are also historic districts and buildings that need to be preserved. But development is normally good for everyone. Vacant land should be fully utilized, and this is Manhattan—if you have a problem with tall buildings, you should leave. It's New York, it's the home of the skyscraper.
The worst NIMBY victory was with Jean Nouvel's Torre Verre which is going to be next to the MoMA on 53rd Street and 6th Avenue. That design was amazing, and originally 1,250 ft tall. The best design NYC has seen in decades. And the tower wasn't being built inside the zoning envelope, so it had to go through the land-use review process. And that was ridiculous because the neighbors complained about it being too tall. They said it was a mid-rise neighborhood—can you believe that, Midtown Manhattan a mid-rise neighborhood. So Amanda Burden, the head of city planning, chopped off the top 200 feet. So it'll still be built and it will still look amazing, but it's not what it should have been. And the worst part of it is that 432 Park will be just a few blocks away and that's rising to 1,400 ft. with a completely average design. I think it comes down to me being just a rational and reasonable person, because most people support development. It's just that some people are completely crazed and don't want anything to change. Seriously, calling Midtown Manhattan a mid-rise district? Please.