For the Vintage Purist in All of Us…
Your Guide to Manhattan's Best Purveyors of Sweet, Crackly Vinyl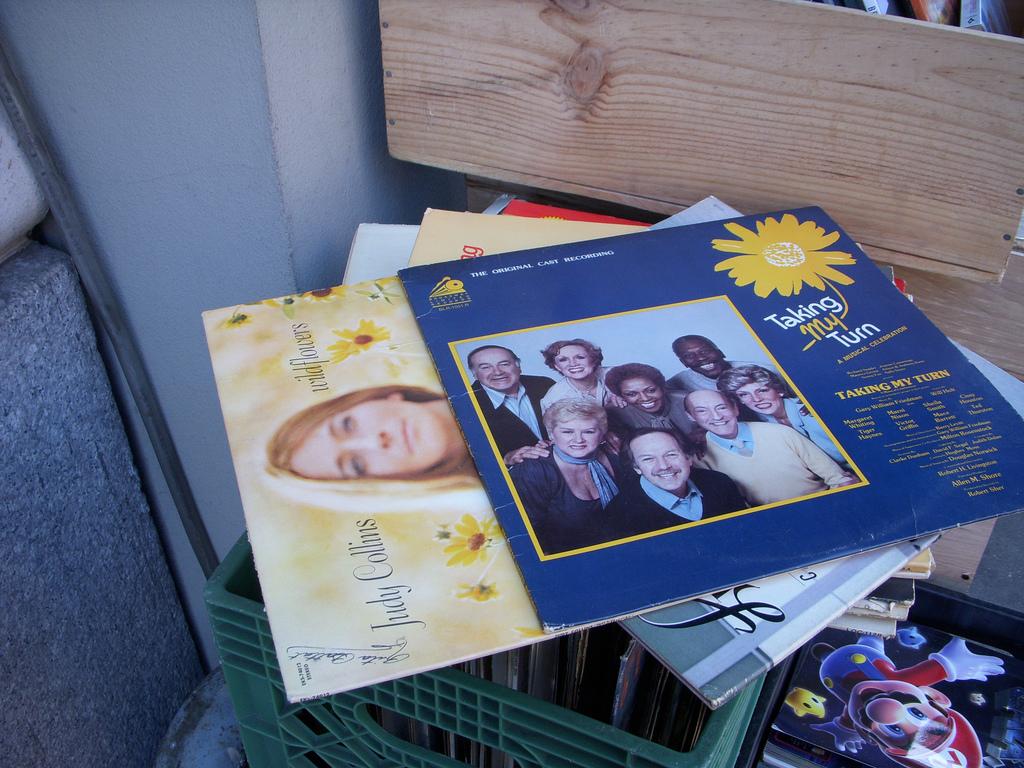 Published: Febrary 14, 2008
Amazon MP3. iTunes. Zune Marketplace. In an era of digital music downloads, is there any place for ancient technology like CDs and (gasp) vinyl records?
With the firm belief that some records just beg to be heard on those magical, crackling relics, I spent one Saturday afternoon scouring Greenwich Village for its best record shops. What makes a record shop one of the best? For me, it is a combination of several elements, including variety and breadth of selection, relative price, store organization and novelty of both inventory and atmosphere. So for all you nostalgic audiophiles out there, here's a sampling of some of the best Manhattan has to offer.
$=  Best bang for your buck
$$= Bring a few bills
$$$= You get what you pay for, right?
West Village Bleecker Street Records
239 Bleecker St. (One block west of 6th Avenue)
$$
Walking down Bleecker Street, you can see the sign on this shop a few blocks away, making this a vinyl hunter's landmark. Bleecker St. Records has a massive, well-organized inventory of both vinyl records and CDs, both new and used. Consisting of two spacious upstairs and downstairs rooms, the store is conducive to browsing, although if you're looking for any rare vinyl, you'll have to crane your neck a bit as the good stuff is all hung on the walls upstairs. Gazing up at said walls, you can find albums by Dylan, the Beatles and Cream—"Disraeli Gears" for $20 being my lucky find. Other noteworthy items were Russian pressings of Eric Clapton and Paul McCartney records. Overall, this store has a cozy atmosphere (the shop cat can be seen wandering around the upstairs room) with tons of choices, although slightly on the pricey side.
House of Oldies
35 Carmine St. (Just south of Bleecker Street)
$$$
An extremely tight space, this store makes up for it with its great organization and extensive selection of many classic rock and blues records. Unfortunately, the vinyl is fairly pricey—at least for a college student on a budget. However, I easily found several records I haven't been able to find anywhere else, like "Electric Ladyland" by the Jimi Hendrix Experience and "Nebraska" by Bruce Springsteen. When I visited, the store owner himself was there, genially telling one customer that if he had any problems with the 45 he was buying, to come back—"I've been here 40 years and I'm not going anywhere!"
Bleecker Bob's Golden Oldies Record Shop
118 W. 3rd St. (Corner of Macdougal St.)
$
Although the name of this shop is misleading (it's actually on 3rd Street), Bleecker Bob's has a lot to offer. A fair-sized inventory of vinyl from a variety of genres is the store's primary attraction, although the competent, affable help really contributed to my positive experience here. Finding the 3-disc set of George Harrison's solo album "All Things Must Pass" was a breeze—especially by comparison to other rummaging experiences. The real highlights of this shop? The great prices and organization—genres include classic rock, punk/new wave, jazz, R&B and even southern rock.
East Village Cake Shop
152 Ludlow St. (Between Rivington and Stanton Street)
$
Cake Shop seems like an appropriate name—at first glance, the emphasis seems to be on the café in the front of the narrow space, not the tiny record section in back. Despite my initial misgivings, I was pleasantly surprised once I started flipping through the vinyls—finding the Who's "Quadrophenia," all three studio albums ever released by the Police and a Johnny Cash record. As if that weren't enough, everything was extremely cheap. Additionally, Cake Shop projects a youthful vibe, doubling as a hang-out for the hipsters—there's a bar downstairs that plays host to in-store appearances by local bands like the Teenagers.
Turntable Lab 04 (formerly Stooz)
122 E. 7th St. (Between 1st and Avenue A)
$$
This shop is definitely designed for DJs rather than record collectors—turntables and lots of accessories are for sale here. A pleasant scent of incense lingered in the air as I flipped through an inventory of hip-hop, trance, post-punk and other obscure vinyl records. As a rock fan, I was somewhat disappointed, but I did manage to find the two complementary 45s of the new White Stripes's "Conquest" EP for a great price of $5.50 each (I had seen one at another shop for a costly $10).
Gimme Gimme Records
325 E. 5th St. (Between 2nd and 1st Avenues)
$$
This shop has a definite understated look—and for a reason. Although the store carried several genres on vinyl, the organization was lacking. Still, if you're a fan of punk/new wave or country, then this store has a large selection for you to dig through. Other genres include electronica, hip-hop, classic rock and reggae. Overall, not the best store I visited but still worth checking out if you've got the time.