"Anna Karenina" Proves Visually Stunning but Dramatically Hollow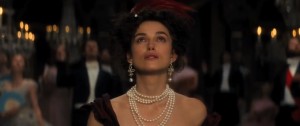 Awards season would not be complete without a highbrow period piece contending for consideration, and "Anna Karenina" seems desperate to fill that spot. In their third collaboration together, after "Pride & Prejudice" and "Atonement," director Joe Wright and Keira Knightley have once again adapted a complex work of literature to the screen, with results both lavish and middling this time around. Visually the movie is an impressive accomplishment, but its overt stylization ends up rendering the movie dramatically inert.
It's the late 19th century in the upper classes of St. Petersburg, a world populated with fur hats and rigid social structures. Anna Karenina (Keira Knightley) is married to Alexei Karenin (Jude Law), a high-ranking and influential state figure who has strict views when it comes to governing both the country and his wife. Upon traveling to Moscow to visit her brother Oblonsky, she meets Count Vronsky (Aaron Taylor-Johnson) a cavalry officer with whom she shares an instant and intense attraction. Anna indulges in an affair with Vronsky and eventually becomes pregnant, but her desire to leave her husband and start a new life with him proves difficult with the suffocating social mores and her own doubt about how to live her life.
Director Joe Wright has assumed a playful and heightened aesthetic in which to bring "Anna Karenina" to the screen. Rather than presenting the story with the usual straightforward period polish, the film unfolds with the implied conceit that the world its characters inhabit is within a theater. Several of its scenes take place on a stage, with many of its sets being maneuvered in and out of the space, as one would see the physical transferring of various sets in a theater production. When Anna dances with Vronsky at a ball soon after they have met, the partygoers around them are reduced to motionless figures, as if the couple's bourgeoning romance is so strong that the rest of the world is irrelevant. The movie is unafraid to reveal its own artificiality and revel in its own glorious stylization.
As much as this proves a testament to Wright's talent and imagination as a director, it ultimately undercuts the emotional urgency of the story. The "theater-within-the-film" device does not do the audience any favors in bringing us in to Anna's complexity as a character, instead leaving us further removed as her emotional trajectory gets lost in a series of immaculate yet empty images. One may liken the experience of watching "Anna Karenina" to looking at a snow globe; there is a lot to look at and it may be pretty to observe, but its contents are ultimately closed-off and out-of-reach.
"Anna Karenina" hits theaters on Nov. 16.