Ditch the Classics: Read for Pleasure with These Student Favs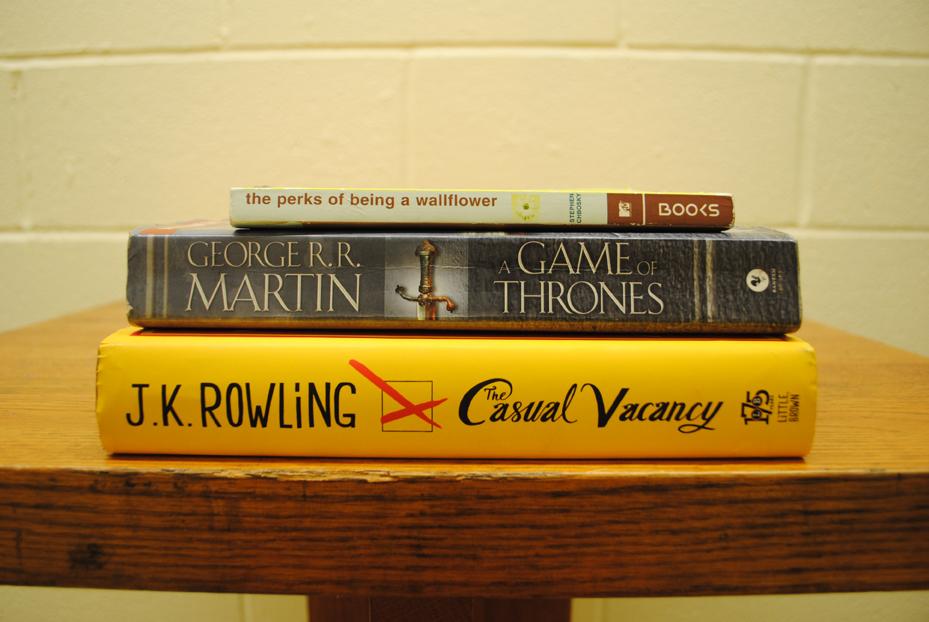 Classics are wonderful, as they have been read by many generations for a reason, but given the fact that college students are all forced to read the classics for class assignments, these may not be the preferred options for leisure reading. Here are the most popular books that Fordham College at Lincoln Center (FCLC) students are reading for pleasure.
"A Song of Ice and Fire" Series
Better known as the "Game of Thrones" series after the title of the first book, "A Song of Ice and Fire" is insanely popular among FCLC students. The fourth and fifth volumes were New York Times bestsellers, and the series is currently an ongoing HBO television show.
"They're fast-paced, have extremely compelling characters, and a super complex storyline that's fun to piece together," Jeffrey Cipriano, FCLC '14, said. "Plus they're long books with short chapters, so it's easy to break up around a hectic schedule—one chapter here, two chapters there."
"The Casual Vacancy"
J.K. Rowling's new book is her first since the Harry Potter series. In the U.K., "The Casual Vacancy" was the fastest-selling book this year and had a best-selling opening week. According to The New York Times, it was the 15th best-selling book of 2012 during its first week of release. Cosette Carlomusto, FCLC '15, said that though she's only partway through the book, she thinks it's very good, even though "it's not Harry Potter—it's very different."
Michael Ciaccio, FCLC '14, said, "I thought it was very impressive that she has a dozen fully-developed and complex characters without a single clear protagonist or likeable character. At the same time, you care about all of them equally."
"Everything is Illuminated"
Jonathan Safran Foer's "Everything is Illuminated" is a blend between fiction and non-fiction, and was adapted into a film in 2005. It was a 2002 New York Times Bestseller and won the National Jewish Book Award, The Guardian First Book Award and The Young Lions Fiction Award, among others.
Tori Campbell, FCLC '14, said, "I liked how clever this book was. It's the kind of book that when I finished it, I was left completely speechless. It was so amazing."
"The Alchemist"
A novel by Paulo Coelho, "The Alchemist" was first published in 1988 and was originally in Portugese. The book is now an international bestseller. According to the Agence France-Presse, a global news agency, it has sold more than 65 million copies in more than 160 countries. It has also won the Guinness World Record for most translated book by a living author.
Tanio Bello, FCLC '14, said that this book was enchanting. "It's one of those books that soaks you up, and you're left worrying about the character—what will happen to him, what will he do next. You care about the characters in a way you normally don't. I also liked the message at the end of the book: if you try, you can succeed."
"The Perks of Being a Walflower"
Written by novelist Stephen Chbosky, "The Perks of Being a Wallflower" was recently made into a movie with a cast that included Emma Watson.
Cipriano said, "It really strikes a chord with young people because it addresses their fears in a sincere way." These fears include starting high school, feeling unnoticed and so on.
"Anything"
"Anything" along with author John Green's other books "Looking for Alaska" and "An Abundance of Catherines," are favorites for college students. Green is a bestelling author on The New York Times bestseller list. Each book has won at least one award, which is almost impossible to do in a very competitive genre.
Joe Harris, FCLC '14, said the only reason he has read any of these books and the reason why he enjoyed them is because he really likes Green "as a person, and he's also a really good writer."